26th May 1996
| HOME PAGE
| FRONT PAGE
| EDITORIAL/OPINION
| NEWS / COMMENT
| BUSINESS
Contents
---
by Tharuka Dissanaike
As most Lankans sweated and cursed last week coping with the six-hour power cuts, the government announced emergency measures to try to bridge the worsening power shortage. The Ceylon Electricity Board, having apparently given up their efforts to fight the crisis, sponsored a week long pirith ceremony at the Mousakelle reservoir, hoping for showers of blessings. The entire country watched and waited for rain, while the government desperately sought ways of importing generation units in double quick time .
Watching these elected representatives of the people, as well as the bureaucrats and civil servants paid and sustained from public funds, one would have the impression that this crisis befell the country very suddenly. But looks are, of course, very deceptive. The power crisis was in the pipeline for many years. It was a looming threat the whole of last year. Everyone knew that. Except, it appears, the decision makers at the CEB and the Ministry of Power and Energy.
When the power cuts were imposed CEB chief, Dr. Leslie Herath went on record saying that he was not warned on time about the power shortage. Later, as the power cuts lengthened, the Minister of Power and Energy Anuruddha Ratwatte was quoted in the newspapers laying the entire blame of the present situation on the previous government . The Opposition meanwhile issued statements calling on the present government to accept responsibility for the crisis. Meanwhile, the country plunged deeper into darkness and economic loss.
The country was warned of an impending power shortage at least three years ago by the media. Even at that time engineers and onlookers who are familiar with the energy scenario, could see that the country was not gearing up to meet the ever growing demand for electricity. Rough estimates show that the demand for electricity grows by as much as 10 per cent every year due to an ever expanding industrial and commercial sector. The government of that era and the CEB were told to quicken the procedure of approving power projects in the face of the coming shortage.
But for the last seven years not a single power project was commissioned. Continuous tender bungling, bureaucratic procedure, suspicion of Build-Own-Operate (BOO) projects resulted in the power capacity stagnating while demand skyrocketed. Hence the present power shortage. Only two projects were given the go-ahead from 1989 up to date. They are the Kukule ganga hydro electric project for 70 MW which will be commissioned in the year 2000 and the 40 MW diesel plant on a soft loan granted by ADB at Sapugaskanda which will be commissioned in 1997.
Another agreement was signed last week allowing KHD of Great Britain to Build Own Operate a 51 MW power plant after much delay in the negotiations.
Many proposals that came to the CEB by private investors were not given the due consideration . The Engineers Union, although taking the credit for continuously issuing statements of warning to the public, as a policy, opposed private generation and in this a large number of potential investors were discouraged.
While predictions were that power shortages would start last year, the country was spared by benign weather gods, who sent down more rain than usual, keeping the reservoirs full. But this year the story was entirely different. By January, reservoir levels began plummeting and warning bells begun sounding stronger than ever.
The CEB Engineers Union claimed that there is no way out but to impose small-scale power cuts from January so that the country could survive without drastic power cuts until the May monsoons.
Unfortunately the government maintained that power cuts would not be necessary if quick measures were taken to improve generation capacity. A committee was appointed by the Ministry of Power and Energy to look into the impending shortage and recommend measures to overcome it until the monsoon rains broke out. The committee recommendations were not all carried out and whatever was implemented did not have a large impact on the situation.
Power cuts began late March. The delayed monsoon created a very grave situation - the minister himself threatened the country with day long power cuts and possibly a total black out. And now, it seems we can only pray for the rain.
The entire country has been paying an enormous price for the mistakes of their bureaucrats these past three months. All sectors, whether private or public, industrial or commercial , essential services and domestic sector has all been thrown into chaos because of the power cuts. The cuts have definitely taken their toll on the country's economy although the losses have not yet been estimated in terms on rupees and cents. Even essential services like hospitals are affected . Water supply to the Greater Colombo area and sewerage in the capital are also under strain. Chairman, Water Supply and Drainage Board T.B. Madugalle said that the board has generators now to pump water since the power cuts affect the pumping facility at Ambatale. If we stop pumping water for four hours or so there will be water shortage also, since we have to continue pumping throughout the day The Greater Colombo area needs some 100 million gallons of water per day and any delay in pumping would cause problems, Madugalle said. He said that the cost of operating pumps by generators would be absorbed by the department and not passed onto the consumers.
In the regional water supply schemes pumping is done at times outside the power cut for the lack of generators and many said that water distribution would be affected if the power cuts are lengthened.
The Colombo Municipal Council said that the city sewerage disposal unit has electric operated motors and pumps . During power cut times these pumps do not work, hence there is an overflow, which at present is termed manageable. Currently, households are not affected, but lengthier power cuts might result otherwise.
In the all important health sector, while city hospitals were equipped with generators, in rural hospitals, the picture was grim. Director of the Negombo Base Hospital, Dr. Sivarajah said that although they have a generator at the hospital it is totally insufficient to cater to all the hospital functions. He said much of their equipment could not work during the power cut such as sterilizers and X-ray machines. Doctors and nurses quarters are not supplied electricity either. The doctor said that a 400 bed hospital like theirs should have at least 100-125 kW generator to function properly during power cuts.
Dr. D. R Bandara, Moneragala Base Hospital said, We have 100 beds and a very small generator. Most hospital facilities and ray machines are defunct during power cuts. Even labour room functions cannot be carried out properly. If the power cut period increases then we will have trouble storing drugs also
The industrial sector also suffered a great deal. Last week power to Free Trade Zones which were not curtailed before was also cut off, throwing many foreign investors to the deep. Factories lured by concessions offered by the CEB and BOI opted to import generators and some companies are even prepared to use their generators full time without drawing from the gird at all, but others are discouraged by high fuel and maintenance costs of heavy duty diesel generators.
Deputy Chairman, Tri Star Apparels, Upali Gajanayake said that the company's 28 factories are all running on generators. When we built our factories we installed generators in all of them. Therefore we were not caught unawares when the power cuts came. .But he said the company is spending quite a bit more on the generator power than they would on grid electricity, but is meeting their orders on time.
Small scale traders and industrialists are by far, feeling the adverse effects of the power cuts more than large manufacturers. We met several traders in Pettah who claimed that business has never been this bad. Each day we are incurring a loss of about Rs. 3000-4000 in sales M. Kularatne a clothes trader in Front Street Pettah said. We are not getting goods to sell because factories are not sending them to us.
Usually we sell at least 100 pieces, a day said a bare bodied, sweaty cassette dealer on Main Street said. Without power cuts we have so few sales, it is difficult to earn enough to have lunch every day. It is also very hot in here without the fan
It is poor people like us who will always suffer. I have not paid my landlord rent for the last two months. From nine to one, all I do is sleep said a studio keeper, W. A. Piyadasa.
Even those shops which could manage to buy generators complained that they are spending heavily to generate power-if only for a few lights.
Every day the generator needs about Rs. 350 worth of petrol to run during power cut times while usually the monthly electricity bill is only Rs. 650-700 said a clothes shop owner in Pettah.
Most shops closed before dusk and traders were in a panicky mood, contemplating further cuts and the disastrous results that would bring to them.
Supermarkets and groceries in the city found it increasingly difficult to store items like
frozen meats, milk, chicken, fish or ice cream throwing large numbers of urban working-class people into difficulties. One grocery store in Colombo complained that they are losing heavily because of the inability to store these foods.
The country might never know the exact cost of the blackout. But as one Pettah trader put- Ò We will all begin to feel repercussions of this in an year or so
Each day last week the government decision makers were locked away in discussion, as their secretaries informed us when ever we attempted to contact them ( except on public holidays- crisis or not government servants need their holidays) . Each day, the reservoirs sank lower and the country was left looking upwards- searching desperately for signs of storm clouds.
---
From 1989 up to 1995 not a single power project was implemented.
In 1995 two projects got underway and last week a third project- an ADB funded 40 MW diesel plant project at Sapugaskanda was awarded. This too is surrounded by controversy over tender awarding. Tenders were called for in October 1992, but awarded in 1995 after three years.
Apart from this electricity generators imported by a contractor for another project were stuck at port due to lack of transportation facilities recently.
Japanese Government promised funding for Kukule Ganga Hydro electric plant in 1994, but this was implemented only in 1995.
Negotiations for another 51 MW thermal plant in Sapugaskanda on BOO basis was under way since 1993. Agreement was signed only last week.
In 1993 the Cabinet decided to withhold all ongoing CEB feasibility studies. One was a 150 MW combined cycle power plant which the Japanese Government had shown interest in funding. Last year this project was rejuvenated and Japanese OECF (Overseas Economic Cooperation Fund) has committed to fund.
The other was the upper Kotmale Hydro electric project which is being reconsidered due to environmental concerns.
<
---
1991		2742 GWh/annum		5.14
1992		2916 GWh/annum		6.3
1993		3270 GWh/annum		12.1
1994		3585 GWh/annum		NA
1995		3915 GWh/annum		9.8
---
Text by Shelani de Silva and Pix by Kumara Dayawansa Naneththi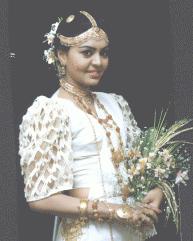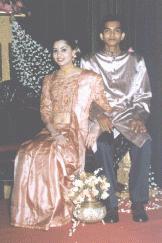 One time Model of the Year and former Miss Sri Lanka, Shivani Vasagam, said 'I do' on Wednesday, when she wed Chaminda Wedanayake at a simple ceremony in keeping with traditional Sinhala customs at the Trans-Asia Hotel.
Shivani beign a Hindu and Chaminda a Buddhist, both devout followers of their religions had decided to have two wedding ceremonies to adhere to the different marriage rituals. "Both of us were keen to follow every custom. I personally feel that such customs play a significant role in a marriage", said Shivani.
Since the Nakath time was set for 6.48 p.m., the poruwa ceremony took place at that time with the couple going through the Kovil ceremony the following day." The Kovil ceremony was not a grand affair, being only for the close family. It was important for me to get their blessings", Shivani said.
The happy couple met three years ago through a mutual friend. It had not been love at first sight, but Shivani explains, "We started off as friends and with time we discovered our feelings towards each other were beyond friendship. These past years we have had plenty of time to get to know each other before entering into marriage".
Unlike other couples who plan their wedding for months, Shivani and Chaminda needed only a month to make arrangements. "We strongly believed in nakath and about a month ago having decided to go ahead Chaminda checked for a Nakath day. We were told that May 22 is the best Nakath for this year. Since it means a lot to both of us we decided on the date", said Shivani.
One thing the couple had insisted on was a simple wedding and in accordance with their wishes only 100 guests were present. Shivani was dressed by Anoma and Angeeka of Shanaz Herbal Beauty Saloons and wore a Kandyan saree with all accessories for her bridal dress.The couple also decided to have only a two day honeymoon.
The obvious question one would ask is whether glamour girl Shivani would give up her modelling career. Clearly there are no doubts in her mind. "Definitely no. Chaminda will never ask me to do this. He is broadminded and we find it very easy to get along. We are mentally very compatible which is very important to me", enthused Shivani.
Continue to Plus page 2 - Reflections of faith * Christ's chromosomes
Go to Letters to the Editor
/BR>
Go to the Plus Archive
Please send your comments and suggestions on this web site to
info@suntimes.is.lk or to
webmaster@infolabs.is.lk