5th May 1996
| HOME PAGE
| FRONT PAGE
| EDITORIAL/OPINION
| NEWS / COMMENT
| BUSINESS
By Hiranthi Fernando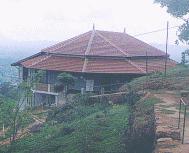 Situated on a lofty hill, against a backdrop of pine trees, the Dhamma Kuta Vipassana Meditation Centre commands a panoramic view. Rolling hills and valleys rise to mountains, fading away as misty peaks in the distance. On a clear day one could see Sri Pada. Foamy cascades of water, terraced fields of paddy and little villages are seen scattered over the green hilly expanse. The whole scene gives an aura of peace and tranquillity. It seems an ideal spot for meditation.
This meditation centre is located at Mowbray Estate, a few kilometers beyond Peradeniya on the Galaha Road. The two kilometer stretch of estate road leading to it steep and badly deteriorated after the recent rains. The centre consists of several buildings spread over a 13 acre extent. At the highest level, stands a small white stupa, with a Bo plant beside it. A large Meditation Hall has small cells for individual meditation on the lower level. A refrectory, blocks of individual Kuti or little rooms and bathrooms, dormitory blocks, teachers' quarters and a small office are spread over the rest of the area.
"One feels good vibrations here, which plays an important part in meditation", says an experienced meditator who has followed several courses. The Dhamma Kuta Meditation Centre is one of the few centres where courses are conducted. Here, Vipassana, the Buddhist Theravada Insight Meditation is conducted in accordance with the tradition kept alive by teachers since the time of the Buddha.
More recently, this form of meditation was popularised by Sayagi U Ba Khin, a prominant lay monk and Burma's first Accountant General. U. Ba Khin who joined this department as a junior clerk rose to be in charge of three government departments. Apparently, he attributed his success to meditation which he firmly believed increases one's capacity to work. This teacher also initiated the first President of the Union of Burma in Vipassana Meditation.
His pupil, Shri S.N. Goenka who follows the technique was responsible for the establishment of the Dhamma Kuta Meditation Centre. Goenka, an Indian businessman, met U. Ba Khin in 1955 while searching for a remedy for severe migraine headaches. Goenka accepted a friend's suggestion to try Vipassana meditation to cure his headaches. However, when he went to U. Ba Khin to join the course, he was told that the purpose of Vipassana was to liberate and not to cure. Hesitant at first, he finally decided to take to meditation. Soon, he was immersed in it and his headaches also disappeared. Goenka moved to India in 1969 and since then, he has been teaching the technique through the Vipassana International Academy which he heads. The Academy now has about 45 centres in India, Nepal, Burma, Thailand, Japan, Australia, New Zealand, Europe, U.S. and Sri Lanka. Hand picked, trained assistants conduct the courses at these centres using audio and video recordings of Goenka.
The Dhamma Kuta at Peradeniya is administered by a Board of Trustees and a Board of Management. Short courses of three to four days as well as longer ten day courses are conducted. Courses are structured in such a way that it introduces a participant step by step in to the techniques. No charges are levied for the courses, meals or accommodation. The participants often give voluntary donations which are used to pay the expenses of the next batch. The entire construction of the Centre has been achieved due to generous donations received. The centre can accommodate 40 to 50 resident participants for a course.
These courses of meditation require strict self discipline, explained a senior meditator. The principle of Noble Silence is emphasised during these courses. On the first day, participants begin by taking an oath of silence at all times for the nine days. Even communication by gestures is prohibited. If a participant requires any assistance, he could approach the voluntary helpers. During set periods, meditators are allowed to ask questions from the teacher. Writing, reading, radio, TV are all banned during this period. Until the final day of the course all communication with the outside world is cut off. Men and women are segregated. Diet is also important. Meditators partake of a light breakfast, lunch and evening tea. No solids are taken after 6 p.m. Experienced meditators refrain from taking solids after 12 noon.
The day begins with a wake-up bell at 4 a.m. and meditation starts at 4.30 a.m. Over ten hours of the day are spent in meditation, which includes about three and a half hours of group meditation.Vipassana is taught in two stages. Beginners first train their mind to become sensitive to physical sensations by concentrating on respiration. Seated in a quiet place with eyes closed, they focus on the breathing. In the second stage, they apply their heightened sensitivity to scanning their entire body.This exercise is compared to turning on a light in a darkened room.
An experienced practitioner of meditation says, "Vipassana meditation takes you to the highest state, the greatest purification of the mind. It brings about self discipline. Feelings of anger and hatred vanish. One's capacity to work increases. The mind by itself has tremendous powers".
---
By Sirancee Gunawardane
When schools were functioning normally, we once took a batch of history students on a three day historical excursion. We wanted history to come alive for them to feel the excitement of life in a bygone era.
One phase of our tour took us to Mihintale. Mountains are fascinating but this particular mountain was special not only because it towers one thousand feet upwards into the skyline, but because of its fame as the place where Buddhism was first introduced by Maha Thera Mahinda. This mountain was known in early times as Missaka Mountain and the 400 acre forest area was called Missakapabbata and it included 4 mountains, the Athvehera mountain and the Anaikutti Kanda, the Rajagirilena mountain and Mihintale.
In the 3rd century BC, during King Devanampiyatissa's time, it was heavily forested and wild animals roamed about and it was a favourite place for hunting. The King went deer hunting there.
Mihintale is 8 miles east of Anuradhapura, the city built on the banks of the Malwathu Oya, originally named Kadama Oya. A special feature of the mountain area is the rocky boulders scattered all over and the natural cave formations. The huge shade trees, the crystal clear ponds give this area a feeling of tranquillity and it was ideally suited for meditation. The Stupas which dot the mountain area lent it its name, Cetiyapabbata.
In Anuradhapura, I met one of my archaeology friends and he gladly agreed to come with us to Mihintale and take us round. I have been to Mihintale many times, but this trip was most enjoyable as we peered into every nook and corner.
We climbed the granite stone steps though now there is an easier route. Almost at the foot of the stone stairs is an ancient hospital which is most interesting. This hospital has been built by King Sena II, 853 883 AD and it is mentioned in the Culavamsa.
The hospital layout is interesting. There is a 118 ft. x 97 ft. hall and there are rooms which lead from it on either side. A shrine stands at one end and verandas on either side. An inscription in Mihintale refers to a doctor who could treat with leeches (Pahunda) and another orthopaedic physician (mandovuva) who would have worked in this hospital. There is a stone medicinal boat like a sarcophagus which was used to treat paralysed patients. There is a round hollow area to fit the head and it slopes towards the feet, with a depression for the buttocks. Patients were submerged in a medicated oil bath and their chest was covered with lotus leaves.
Climbing the first flight of stairs brought us to a plateau area. There are altogether 1840 stone steps leading up to the mountain. The Maha Saya is the largest stupa in Mihintale and the most impressive. We walked down a little path to have a look at the cave where Mahinda lived. There is a stone bed below the cave overhang. Mahinda Thero was Emperor Asoka's brother and he lived for 48 years in Sri Lanka preaching Buddhism and meditating among the rocky crags of Mihintale.
The first monastic building we saw was the Kantaka Cetiya. There are 68 cave dwellings on this mountain. Fa Hsien commented in the 4th century that there were 2000 monks who lived in Mihintale. The middle terrace has the Sannipata Sala or the Assembly Hall for monks. We were most intrigued by the large set of stone tablets which have some of the early rock inscriptions giving regulations to monks regarding their duties and allowance paid to employees. These tablets have been erected during the time of Mahinda IV in the 10th century.
Another feature which fascinated us was the enormous stone trough bath Oruwa which was for gruel for monks. It is in the court yard of the dana sala, the refectory for monks. The relic hall and assembly hall are all part of the monastery. Scattered about the hill are the cells where monks lived. One of the inscriptions state that a princess Sumanadevi who was the consort of Gamini Uti Maharaja, the younger brother of Devanampiyatissa donated a cave for monks to live. Brahmi inscriptions record a donation of a cave by Agi Anuradi the consort of Rajha Uti, daughter of Raja Naga. There is another inscription which states that a cave was donated by a commoner and this is most unusual.
The Ambastala dagoba has pillars round it. High up above is the Aradana Gala, the rock on which Mahinda Thero stood. It stands in stark splendour against the sky line. There is a small stupa, Mihindu Saya near the Maha stupa which is the place where MahindaÕs ashes were buried. It had been built by King Devanampiyatissa's brother and can be seen as a brick mound on this hill. The spot where King Devanampiyatissa was converted to Buddhism is on the opposite side.The Kantaka Cetiya and the Indikatu Seya are two dagobas made of brick.
The Kantaka Cetiya has elaborate vahalkadas which mark the north, south, east, west directions. The vahalkadas are heavily ornamented with bands of relief mouldings of elephants, dwarfs, birds etc. There is also a Ganapati which is a Hindu God with the elephant head on this vahalkada.
On our downward trek we saw the Sinha Pokuna the lion pond, with its outsize sculpture of a lion on its hind legs. Then we walked down a secluded pathway to have a look at the beautiful Naga Pokuna which has a carving in rock of a large serpent head referred to as Nagasondi in the inscriptions. The limpid waters and sombre rock formation was lovely to see. It was the main source of fresh water for the monastery.
We next went to an area which is about half a kilometre away from Mihintale, one of my favourite spots. It is a beautiful area known as the Kaludiya Pokuna complex. It is at the base of the Rajagiri mountain and on the western side of Mihintale. The Kaludiya Pokuna is encircled by a mountain range and the water is dark and sombre quite unlike the water in other places. Hence it is called Kaludiya darkened waters. The mountains beyond are lush and green and amongst the lush vegetation are the rock boulders and caves used by monks of old. Fa Hsien refers to one of the monks who lived there for 40 years. The natural rock shelters have the front section walled up and a door lintel has been inserted in some of them. The back drop of mountains and the black clouded waters makes this an unusually beautiful place.
Around the pond is the building complex which is attributed to the 10th century. Here one finds a brick stupa and a Uposathaghara where monks come for ritual purposes. There is also a meditation walk for monks known as a cankamana path, and also cells for monks, a library and a bath house with an unusual toilet seat, a special feature found in Dhammarchika monasteries. This is an unusual place to visit both beautiful and serene.
Continue to Plus page 3 - The bugs break out * Winged survivors
Return to the Plus contents page

Go to the Plus Archive
Please send your comments and suggestions on this web site to
info@suntimes.is.lk or to
webmaster@infolabs.is.lk