'Peacock Lament' goes to Goa IFF
View(s):

By Susitha Fernando


A ward winning filmmaker Sanjeewa Pushpakumara's newest film 'Vihanga Premaya' (Peacock Lament) has been chosen to be screened at 54th Goa International Goa Film Festival in India.

One of the oldest film festivals in the world, Goa IFF is considered as a prestigious film festival in the Asian region. Goa film festival is being held from November 20 to 28.

Earlier Sanjeewa's "Igilena Maaluwo' or "Flying Fish' was invited to be screened at the 42nd Goa IFF in 2011.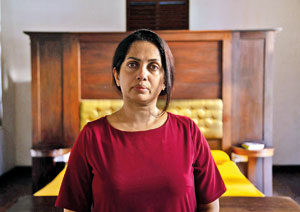 Veteran actress Sabeetha Perera returns with an outstanding performance after being silent  for nearly a decade.  Along with Sabeetha,  Akalanga Prabhashwara, Dinara Punchihewa, Mahendra Perera, Amiththa Weerasinghe and Italian actor Lorenzo Acquaviva feature in 'Peacock Lament'.
Earlier Peacock Lament won the Best Artistic Contribution Award at the Tokyo International Film Festival, where the film had its world premiere.
Written by Sanjeewa Pushpakumara, the film is co-produced by Chiara Barbo of Pilgrim Film and Sanjeewa himself for Sapushpa Expressions.
Behind the screen cinematographed by Sisikirana Paranavithana, art director is Manjula Ayagama and costume designing is by Ajantha Alahakone, sound editing and mixing is by Lal Dissanayake and Nanda Nandi Jayakody.
The film revolves around Amila who was born in a remote village. After losing his parents, he goes to live in Colombo. Here he works in a Chinese construction site and takes care of his four little brothers. His sister Inoka suffers from a congenital heart defect and the only way to save her life is an urgent and expensive surgery to be done in India. While Amila tries to find the necessary money, he meets the wrong person but at the right time, and finds himself involved in a trafficking of babies …
Earlier the film was selected as one of the 24 film projects of the fourth edition of European Work in Progress Cologne (EWIP) in Germany.
Searching for that next furry family member but couldn't find one in your area? Hitad.lk has the solution with our extensive listings of dogs for sale in Sri Lanka!