Sharing an alliance with scissors: A bond between barber and a tailor 'Film Kathuru Mithurur'
View(s):

Two friends sharing one common equipment for their respective professions, pair of scissors, make the story of 'Kathuru Mithuru' or 'loosely translated as 'Friends of Scissors' is now being screened in theatres around the country.
Directed by actor and writer Giriraj Kaushalya, and produced by Alankulama Films, the film 'Kathuru Mithuru'now screened at the CEL release circuit cinemas.

The late actor Jayalath Manoratne plays one of the two main roles along with veteran star Mahendra Pere-ra and other roles are played by Rodney Warnakula, Priyantha Senevirathne, Rasanjana Nandasiri, Sandani Hettigoda, Gihan Fernando, Kusum Renu, Maureen Charuni, Jayani Senanayake, Wasantha Vittachchi, Sampath Jayaweera, Saman Hemarathna, Chandrasoma Binduhewa, Daya Wayaman, Nimal Yatiwella, Ananda Athukorala, Shiromika Fernando, Sudara Randini, Gamini Ambalangoda and Mihiri Sirithilaka.
Set in a rural backdrop, 'Kathuru Mithuru' revolves around a traditional hairdresser and a tailor. One common instrument used in both their occupations is the pair of scissors and their friendship is revolved around it. The hairdresser has a daughter and the tailor has a son and both of them have completed their university education. Yet they don't have jobs and both the youngsters want to join their fathers' occupa-tions.
But their interests are strongly objected by both the fathers. Will the young couple be able to convince their fathers and take the traditions jobs to a new height? 'Kathuru Mithuru' continues with many hilarious and entertaining moments that take place at the barber and tailoring shops.
Behind the screen Ruwan Costa is the cinematographer, Ajith Ramanayake the editor, Priyantha Dis-sanayake the make-up artiste and Nilantha Priyadarshana the production coordinator. The executive produc-er of the film is Yasith Siriwardana while Basuru Siriwardana is the producer. Music direction by Rohana Weerasinghe while lyrics for the film are written by Bandara Eheliyagoda, Nilar N. Cassim and Achala Solamans.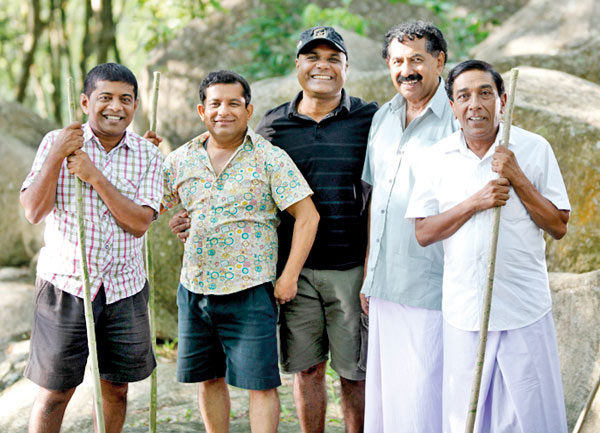 Having directed 'Sikuru Hathe', one of the popular and top rated comedy in the recent past, as his debut and followed by 'Suhada Koka' as the second hit, 'Kathuru Mithuru' is Giriraj's third directorial venture. Began his career in theatre Giriraj moved to small screen and later scripted a number of teledramas includ-ing 'Kathura', 'Ethuma' and 'Naana Kamaraya'.
Following the footsteps of his late father, Dhammika Siriwardena, Basura Siriwardena produced 'Kathuru Mithuru' as the seventh production of Alankulama Films.
Searching for that next furry family member but couldn't find one in your area? Hitad.lk has the solution with our extensive listings of dogs for sale in Sri Lanka!