Sustainable tourism and business competitiveness
View(s):
Why do some people pay so much to spend a day at your hotel?" I asked one day from the manager of a luxury hotel.
He said: "They are excited about different experiences of living and over-consumption of luxuries for which they pay. And after all, they can also get away leaving the mess behind for which also, we charge."
Although he said it as a joke, as for the rapidly growing global tourism industry, it gives a crucial message: The degree of sustainability! Unsustainable tourism has a high potential to damage environment. Some countries have been attempting to impose more regulations over tourism industry growth, which would look like "wrong answers to right questions".
International tourist arrivals reached 1.5 billion in 2019, while one-third of it, which is 500 million, has been added only during the last 10 years before that. Travel and tourism industry was subdued during the subsequent period of 2020-2021 due to COVID-led global health crisis. As the health crisis appears to be over now, world tourism seems to be picking up again since last year, 2022. It is nice to see the tourism industry growing in Sri Lanka too, but it has also posed a major "sustainability threat" globally as well as locally.
Changing business model
If ignored, the tourism industry tends to promote elements of "unsustainability" such as over-consumption, waste of resources, environment pollution as well as lack of responsibility on both demand and supply sides. The industry is recognised as a major global economic activity that contributes significantly to carbon emission, climate change, environment pollution and biodiversity loss.
Eight per cent of the world's greenhouse gas emission originates from this industry, according to new research findings; nearly half of that emanates from transport activity, while the balance comes from accommodation, shopping, food and beverages, services and other tourism-related activities.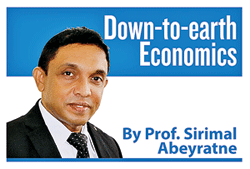 The world attitude over tourism has been, however, changing in the recent past. Majority of tourists are now looking for "sustainable destinations" to travel with a sense of responsibility. In response, industry suppliers too are shifting their tourism businesses to sustainable models.
And the changes from both demand and supply sides have been increasingly supported by international conventions and new research findings. Over 80 per cent of world tourists today believe 'sustainable travel' as important, according to a worldwide survey carried out in 2022 by Statista, a global data and business intelligence platform, as reported in its official website.
It's less-disputable that, if your business is in travel and tourism industry, then "invest in sustainability, they will pay for it". Today, 'sustainability' is part of the core business whether it is in tourism or any other, because such businesses are more competitive in the market and are rewarded more by the customers.
Sri Lankan initiative
Sri Lanka, through UNDP's Biodiversity Finance Initiative (BIOFIN) programme initiated in 2016, started scrutinising and prioritising a set of new finance solutions, as we discussed in this column last two weeks. The top and foremost finance solution that received priority in the list with a highest score was "Sustainable Standards and Certification" – that is, setting standards for businesses and certifying them by a competent authority.
Since it is not mandatory by regulation but voluntary by decision of a private business, the question was whether it would be a successful financing tool. While exploring such possibilities in the Sri Lankan context, the BIOFIN team found the need for better environmental management due to expanding tourism sector, highlighted in the "Tourism Strategic Plan 2017-2020", prepared by the Sri Lanka Tourism Development Authority (SLTDA).
The number of post-conflict tourist arrivals during (2010-2017) had already increased five-fold. In response the increased tourism service supply has created ever increasing pressure on sustainability: Over-usage of resources for production and consumption, environmental pollution and degradation, unsustainable solid waste management, and negative impact of tourism development activities on biodiversity and ecosystems are some of the prominent areas of increased environmental pressure.
Market demand
The world that has become increasingly sensitive to environmental damage of economic activities and has initiated sustainable development models appear to have created new market demand – demand for sustainable businesses and consumption practices. Thus, it was clear that the shifting in global market demand itself is an incentive to supply-side responsibility.
Accordingly, complying with sustainable standards and showcasing it with an authorised certification was in itself a business case for the Sri Lankan tourism industry. It is a value addition to the tourism service products which enhances product quality, market value, social appreciation and, global reputation. It enables the business sector to comply with international environmental standards and to improve the competitive market access and to strengthen the long-term cost advantage and business sustainability.
As the BIOFIN team anticipated, it is a new finance solution that would meet the existing expenditure gaps for conservation and sustainable use of natural resources in the country. As we have already discussed in this column in the last few weeks, the environmental financing gap has been widening over the years in Sri Lanka too as elsewhere due to the depletion of the stock of natural resources and the inability of the nation to recover it with current spending below the need.
The new finance solution – the sustainable standards and certification – would enable the country to avoid future spending, to deliver a better tourism services, and to re-align the existing business spending, all without burdening government budget.
Sri Lanka: a unique case
With the support of the UNDP under its BIOFIN programme, the SLTDA in collaboration with the Global Sustainable Tourism Council (GSTC) launched its National Sustainable Tourism Certification (NSTC) scheme in 2019. The scheme takes into account the UN's sustainability principles in tourism covering environmental, economic, and social aspects of tourism development ensuring the long-term sustainability.
The NSTC scheme was designed for the tourist accommodation sector, covering the providers of all types of accommodation – hotels, villas, bungalows and guest houses. The scheme provides a list of criteria representing sustainability principles, for which the accommodation units must comply with in order to be eligible for the certification.
The first batch of 37 hotels from among the applicants received the certification in 2019. They all were in the category of star-grade hotels and heritage hotels which were looking forward to promoting themselves in the high-spending global tourist markets. The other types of accommodation units had not yet applied for certification. The question remains to be answered as to why the other accommodation units did not respond to the SLTDA's call for applying to sustainability certification.
The launch of NSTC scheme in Sri Lanka is quoted among the BIOFIN-implementing countries in the world as a unique one. It is because Sri Lanka is the only country among them to launch such a scheme in the tourism sector, although there are many tourist destination countries in the BIOFIN list of 40 countries. Moreover, Sri Lanka has provided an example for some other BIOFIN countries such as South Africa, Kazakhstan, and Bhutan, to initiate similar schemes with UNDP assistance.
Moreover, Sri Lanka is the first country in the world to collaborate with the Global Sustainable Tourism Council (GSTC) to launch a "national" programme as such. The GSTC, which was established in 2007 with the support of UNEP (United Nations Environment Programme) and UNWTO (United Nations World Tourism Organisation) has so far been collaborating with institutions around the world in order to promote sustainability and social responsibility in the tourism sector.
Destination certification
The support of UNDP under the BIOFIN programme has now been extending its technical assistance to the SLTDA to cover total tourism services under its "destination certification". The initiatives are being taken to earmark nine tourist destinations in the country – one from each province – to transform themselves as "sustainable tourist destinations". The destination transformation and certification is based on an evaluation on environmental conservation, prevention of single plastic use, waste management, crowd-controlling and community involvement.
Destination certification is, however, much more complex than the certification of an accommodation sector. It involves collaborative efforts and coordination among numerous government agencies, private businesses and the communities located in the destination. But it's worthwhile for all stakeholders as well as for the country due to its potential benefits that the growing sustainable tourism demand would offer in the long-run.
 (The writer is a former Professor of Economics at the University of Colombo and can be reached at sirimal@econ.cmb.ac.lk and follow on Twitter @SirimalAshoka).
Hitad.lk has you covered with quality used or brand new cars for sale that are budget friendly yet reliable! Now is the time to sell your old ride for something more attractive to today's modern automotive market demands. Browse through our selection of affordable options now on Hitad.lk before deciding on what will work best for you!