To Laki!
View(s):
An 'Experiential art festival'  hosted by the Artra magazine will highlight little known aspects of this rare artist
Laki Senanayake was that rare artist. A naturalist who could capture the romance of our jungle, dry scrub and sea, an abstract sculptor who brought out the sweeping splendour of things animate and inanimate (from a leaping leopard and a bristling warthog to a jungle fountain made of silver leaves — seen on our Magazine cover); and a poet who delighted in Edward Lear-like verse.
Drawing or creating as the mood seized him, he remained essentially, unburdened by his genius or his oeuvre.
The art magazine Artra's next issue will be dedicated to Laki (1937-2021) as they host an 'experiential art festival' alongside the launch on March 4 and 5 at the Jetwing Lighthouse, Galle, where Laki's sculpted handrail –  majestic and breathtaking –  inspired by an old Portuguese-Sinhalese battle is a key feature.
Founder-editor of Artra, Azara Jaleel became a friend and regular habitué at Diya- bubula, the rustic retreat off Dambulla where Laki lived bare-chested in vibrant sarongs, and would have equally long 'banters' with the artist when he made one of his unwilling forays to Colombo when he would enjoy a fish roll with Dominic Sansoni and Azara at the Barefoot Garden Cafe.
The Laki that Azara knew was 'wickedly human' she sums up, and he shared a bond with her in that they were both drawn to trees and nature. Some of the most magical surreal moments at Diyabubula for Azara were at dusk, against the sculptures of owls and full blooded beasts in the jungle, when speakers would pour forth orchestral music.
The oncoming festival she says will be replete with art talks, exhibitions and tours (see box for full programme).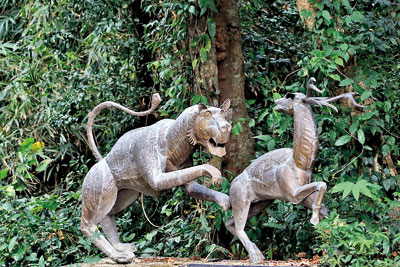 Azara says that while Laki's achievements in the public sphere are familiar  – the Parliament chandelier of silver palm fonds; the Kandalama sculptures and the ones at Bentota Beach Hotel; the batiks at the boardroom of the Chartered Accountants Head Office), the more intimate Laki is not known.
It is this aspect they will bring out, culling from personal collections of family and friends, from Laki's only daughter Mintaka to Dominic and Nazreen Sansoni, Anjalendran, Channa Daswatte, Michael Meyler and Murad Ismail.
The contributors at the festival are all experts, Azara says, from Laki's friends, architects Anjalendran and Ismeth Raheem to Michael Meyler who has done extensive research on Laki's currency notes, where Laki surpassed himself with designs of indigenous bird and beast poised against tropical flora; mynas and palm cats against talipot trees; spur-fowl and chameleon against orchid-wreathed forests.
Michael says the unusual currency notes were in circulation in the 1980s when he himself chanced on our shores but 'sadly not for long'.
An overlooked aspect explored is Laki's writing: as spontaneous and ebullient as the art. A poem dedicated 'to Eleanor Raheem' reads:
I left behind my kuday
In a wayside kadey,
And some feckless fella
Made off with my old umbrella.
So to ease the pain
I stepped out singing in the rain,
Slipped and fell in a drain,
And broke a bone in my collar.
The festival aims to look at the rare alchemy that made Laki Senanayake the unquenchable spirit that he was.
Jetwing and Sri Lankan Airlines are the main partners for the festival.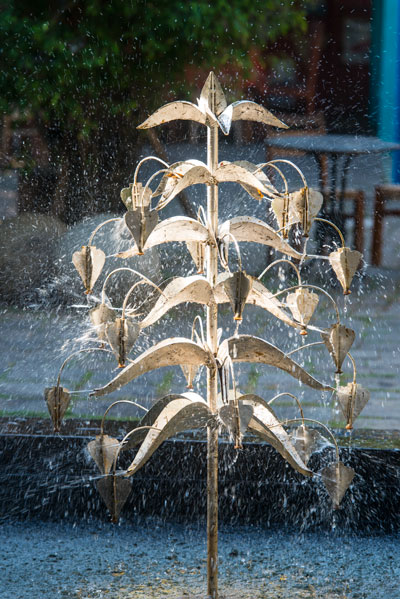 The festival programme at the Lighthouse HotelSaturday, March 4
2.15 p.m. to 3.15 p.m. | Art Talk
Sculptures, Drawings & Figurines of Laki
In conversation with Ismeth Raheem
Cinnamon Room
(Ticketed event) | Locals 3,500LKR | foreigners 20USD

4.30 p.m. to 6.30 p.m. | Official Launch of ARTRA Magazine's Laki Edition
Editor-in-Chief, Azara Jaleel in conversation with C. Anjalendran, Dominic Sansoni, Ismeth Raheem & Michael Meyler
With locally inspired culinary delights
Sunset Terrace
(Limited tickets) | Locals 7,500LKR | foreigners 50USD

7.30 p.m. to 8.30 p.m. | Art Tour
Launch of ARTRA Collection & Art Tour by Azara Jaleel
A focus on the works of ARTRA's Emerging Artists 2022
Reflecting Pond
(Free event – pre-registration required)

Sunday, March 5
9 a.m. to 10 a.m. | Art Talk
Laki's Currency Notes of the Late 1970s
In conversation with Michael Meyler
Coats of Arms Bar
(Ticketed Event) | Locals 3,500LKR | foreigners 20USD

10.45 a.m. to 11.45 a.m. | Art Talk
Recollecting Laki, a Seer & Soothsayer
In conversation with C. Anjalendran & Dominic Sansoni
Cinnamon Room
(Ticketed Event) | Locals 6,000 LKR | foreigners 40USD

3 p.m. to 4 p.m. | Art Tour
Laki's Artistic Expressions & Influences
An intimate tour of the iconic handrail of Jetwing Lighthouse by Laki Senanayake with Ismeth Raheem
The Staircase
(Ticketed Event – Very Limited) | Locals 6,000LKR | foreigners 40USD

4.30 p.m. to 5.15 p.m. | Art Tour
Tour of the ARTRA Collection tour by Azara Jaleel
A focus on the works of ARTRA's Emerging Artists 2022
Reflecting Pond
(Free event. Pre-registration required)
To reserve your tickets,
call +94 77 5701891
Searching for an ideal partner? Find your soul mate on Hitad.lk, Sri Lanka's favourite marriage proposals page. With Hitad.lk matrimonial advertisements you have access to thousands of ads from potential suitors who are looking for someone just like you.