Where two countries meet in spirit and culture
By Shannon Salgadoe
The Principal Architect behind the newly opened US Embassy in Colombo gives an insight into the design of the building
View(s):
In 2010, the US State Department's Bureau of Overseas Buildings Operations launched a programme to overhaul the architectural designs of their diplomatic buildings around the world, attempting to focus on more thoughtful design. The Design Excellence programme moved away from heavily fortified structures that largely lacked individuality toward more welcoming yet stately designs that were still secure.
The result? Twelve years later,  this week the US Embassy in Colombo opened its brand new building designed to reflect American values while respecting the culture of its host country, Sri Lanka. The contemporary structure designed by the American firm ZGF Architects places a large emphasis on sustainable design, as reflected in the firm's own philosophy. "The Embassy compound epitomises the enduring friendship between the US and Sri Lanka. We're committed to environmental leadership and sustainable design and construction," says Ambassador Julie Chung.
"Embassies are by nature iconic, irrespective of the design because of what they represent, particularly for the US. In a country like Sri Lanka, it's so important because it's really the view into local culture so we want it to be stately," says Peter van der Meulen, the principal architect behind the design, in a Zoom interview with the Sunday Times.  "We don't particularly want it to stand out per se. We want it to be welcoming and so for this project, we looked as we do for most projects in foreign countries, we look for clues from the local culture. As this is a tropical setting, the architecture of some of those that are well known from Sri Lanka, the most famous being Geoffrey Bawa of course."
Taking cues from Lankan architects such as Bawa, whose Tropical Modernism style takes into consideration the elements of a tropical island, the overall design was purposefully made to reflect simple form and includes a high-performance facade such as the use of broad overhangs on each floor level to shade the sun and provide cover from rainfall. Restful spaces are provided within the building and outdoor spaces are present in the form of terraces and gardens.
The landscape is utilised to the best possible advantage by the use of trees that provide shade and canopy and reflect the ecology of the island. Locally sourced natural stone and wood reference the region's rich material palette and the interior incorporates textures and patterns inspired by local culture and art.
"It's a real honour for us to just have the opportunity to design something of substance in a foreign country.  This project, like many projects, evolved as we developed. We had to figure out how to create half of the new compound, leaving half of the existing one in place," says Vandermeulen, referring to the still-existing old embassy building that is yet to be fully demolished.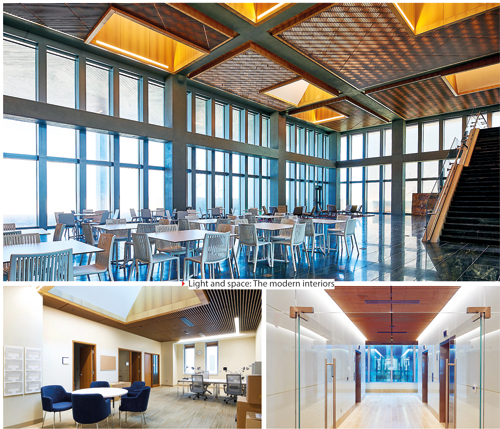 The new sustainable design reduces energy costs and greenhouse-gas emissions and augments renewable energy usage. A climate-responsive shell protects the interior from solar heat gain and photo-voltaic cells offset roughly 11 per cent of annual energy expenditure. An on-site wastewater treatment plant allows for grey water to be treated and recycled for irrigation. The project is registered with Leadership in Energy and Environmental Design (LEED) – a global green building certification that recognises best-in-class building strategies and practices – and is on the track to achieve Silver certification.
The open spaces – not often typical of embassies or consulates which serve both aesthetic and functional purposes are enhanced by the art collection curated by the Office of Art which includes paintings, photography, textiles and sculptures by both US and Sri Lankan artists, reflecting the diversity and richness of both the US and Sri Lankan ecology and cultural heritage.
The new compound houses the American Center which was opened to the public in late September and hosts library patrons, youth forum members and other programmes. "It is really a space for collaborative learning and digital engagement.  So, we'll continue to have media literacy, Science, Technology, Engineering, Arts and Math (STEAM) events. All these events are free.  There is no cost to any participant," notes the Ambassador. "We have also conducted many discussion sessions here already, for example on youth participation in democracy. We want to symbolize an exchange of free and open ideas here in
Sri Lanka."
"It's not just the US Embassy, it's the US Embassy in Sri Lanka. We want to make sure our spirit reflects that," she affirms.
Searching for an ideal partner? Find your soul mate on Hitad.lk, Sri Lanka's favourite marriage proposals page. With Hitad.lk matrimonial advertisements you have access to thousands of ads from potential suitors who are looking for someone just like you.