APPRECIATIONS
View(s):

A pioneer of Heywood and guide, mentor and role model to me

Dr W.A. Ariyasena

Dr W.A. Ariyasena who passed away on August 8 at the ripe old age of 92, was a lecturer in painting at the (then) College of Fine Arts, popularly known as 'Heywood'. He was one of the pioneers of the Government College of Fine Arts, under its founder Principal, the legendary J.D.A. Perera.

Ariyasena who was my mother's youngest brother, grew up with us like our own much loved and looked up to, oldest brother. For me, personally, he was a guide, mentor and role model.

Ariyasena had an inborn talent for 'drawing' as it was known in the school syllabus. He attended the Buddhist Theosophical Society Boys' School in Gampaha, now known as Siddhartha Vidyalaya, in the heart of Gampaha town. After passing the Senior School Certificate, he had the good fortune to enter the "Art School" in the 1940's, then part of the Technical College in Maradana. It is to the credit of J.D.A. Perera that in 1949, he succeeded in establishing the Government School of Fine Arts at the building known as 'Heywood' –  a legacy of colonial times in Horton Place, Colombo 7.

The Government School of Fine Arts comprised, in addition to the Painting Section, a Sculpture Section and Craft Section. It also included a section teaching Oriental Music and Dancing. In the painting section there were stalwarts like Perera himself and David Paynter who were both Ariyasena's teachers. The music and dancing sections included legendary figures like the musician Lionel Edirisinghe and the versatile dancer Pani Bharatha. Ariyasena himself was recruited as an instructor in painting in 1951. Many of the art teachers in our schools at the time, including his own wife Nalini Ariyasena (Nanda Kodagoda) who taught art at Visakha Vidyalaya, were Dr Ariyasena's pupils.

He continued to teach until his retirement in 1985. When the University of Visual and Performing Arts was established, the authorities, in recognition of his talents appointed him a visiting lecturer in which capacity he served the University for several years.  As tribute to his invaluable contribution as an artist, the University bestowed on him an Honorary Doctorate.

Ariyasena came to the limelight in 1956, winning the award for the Best Painting of the Year in the Ceylon Society of Art annual exhibition of art. It was a keenly contested exhibition where the best artists of the country participated. His painting was titled "The Red Youth." Ariyasena repeated his success in 1960 winning the award once again for his painting titled "Where Are We?"

In the same year, he won a scholarship offered for visiting leading art institutes in Europe which enabled him to enrich his experience as an artist and art teacher. He toured England, Germany, and Italy along with his friend and colleague Q.V. Salding who was also awarded the same scholarship.

Although Ariyasena obtained a good understanding of European art techniques, he remained a Sri Lankan artist in his choice of themes and technique. His favourite themes were from the Buddhist tradition. He had several paintings depicting the Mahabinishkramanaya (the Great Renunciation of the Buddha) and several on Prince Siddhartha cutting his hair (Kesa Chchedanaya) one of which he gifted to me. This is an oft depicted theme in temple paintings adorning many of the 19th and 20th century temples.

Towards the end of his life (he continued to paint even at 90) he derived inspiration from temple murals of the Kandy period.

Ariyasena was assigned the task of copying the paintings in the Relic Chamber of the Mahiyangane Dagaba which belongs to the Sri Lankan painting tradition displayed at Sigiriya. Having studied our painting tradition with deep understanding, he once told me that it appeared to him that the artist of Sigiriya was so deft in handling the brush, he seems to have held the brush in the middle rather than in the lower end as is usually done by artists.

Ariyasena was also assigned the prestigious task of designing the mace of the then Senate House in Parliament. This is kept on display in the Parliament building today as the Senate was abolished in the 1950s. He was also asked to design the Army and Navy emblems. He also designed several stamps, foremost being the centenary stamp of the Postal Services 1857-1957, the stamp in honour of Queen Elizabeth II's visit in 1954 and the 'Bandaranaike Commemoration Stamp' of 1957 and the 'Freedom from Hunger' stamp of 1957.

Ariyasena's paintings have been exhibited in several international exhibitions in Sao Paolo, Brazil, Japan, India and China as well as in our own country.

His Buddhist activities merit mention. Foremost among them is the 'Sisil Paen (soft drinks) Dansala' he inaugurated at Kataragama half a century ago, at the behest of his brother-in-law, K.N.O. John Appuhamy, who was married to his oldest sister. This has continued for over 50 years offering free iced soft drinks to thousands of pilgrims who throng the Kataragama shrine during the festival in late July/early August. Even when the country went through various calamities, the dansala was held because of the unwavering faith of Podimama, Chuti Nenda (his greatest asset) and their two sons Sajit Govinda and Udaya Indrajit and the generous support of numerous helpers.

May they both, Podimama and Chuti Nenda, attain the supreme Bliss of Nirvana.

 K.N.O. Dharmadasa
---
You were an inspiration not just to your children but grandchildren too
J.M.L. Perera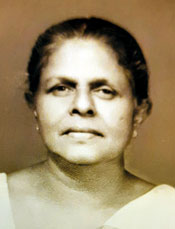 Amma, Laurine, JML, Miss, Madam are but a few names by which she was addressed. She was my role model, the lady who could multitask and still manage to find time for a chat and a hearty laugh with her friends. That was my mother.
She was born on 24th November 1932 as the fourth child of Mr and Mrs Cooray of Moratuwa. She was a student of Princess of Wales during her early education. With the passing of her mother at the early age of 12, she and her siblings had to transfer to a boarding school where life was not easy. She was a good storyteller. Her life at the convent and her adventures there were narrated to us with clarity and precision that we almost lived within those stories. She knew her gateway to freedom was through education. Therefore she studied hard even after she got married at 21, until she became a graduate a decade later as a mother of two sons and a daughter.
She always believed that anything was possible if you just tried hard.
She was strict but a very empathetic teacher at Isipathana College, Colombo. She served almost five decades at Isipathana after her teaching appointments at Jaffna Ladies' College and Buddhist Ladies' College Colombo. It was heartening to see how her students young and old used to reminisce about her with so much respect.
She was a great mother who did more than her best to educate all her three children. She was an amazing grandmother who was there in the lives of all her grandchildren.
She was the epitome of courage, perseverance, kindness, love and empathy. She could easily forgive the unforgivable. She never harboured any anger or resentment even during the hardest of times. She still managed to smile and bring joy to every one around her.
Amma, you were always my inspiration, and my daughter's too. You are our guiding light. Even though you are physically not there to guide us we know you are watching over us and each time we fall, you are there to catch us and make us stand again, stronger than ever.
You passed away exactly one year ago on October 30. Not even one moment has passed until today without you being in our thoughts.
Amma, you have done so much merit during your lifetime, that your journey through samsara will be short and you will attain the supreme bliss of Nirvana.
Your loving daughter Shiranthi
---
Wonderful memories
 Sunil Ediriweera
My father, Sunil Ediriweera was born in April 1948, in the hills of Nuwara Eliya. One of six children in the family, he was admitted to the student hostel of Dharmaraja College, Kandy as a tiny tot aged three. The large premises adjoining the hostel was paradise to a mischievous schoolboy.
My malli Chanaka and I always felt the strong bond between my father and mother, a maths teacher. We children received so much love and guidance from them, and they made many sacrifices for us.
Today my brother and I are married and have our own families. We all had a great relationship with him, and he especially doted on his grandchildren Dinuth, Ileesha and Ranuth.
When his illnesses surfaced at 60, my mother used to be the "sewanalla" (great shadow) behind him. She retired early to look after him. If not for her valiant efforts, he would have departed this life a long time ago. When he was sick and couldn't get around much, he would read magazines such as the "Reader's Digest", and in fact he was an ardent fan of the Sunday Times crossword puzzles. He  also wrote many articles, one of the most memorable titled "What else to do in Nuwara Eliya".
But alas! He suddenly got sick and was hospitalised on July 29th and bade farewell to us forever!
His beautiful memory lives with us. In this journey of sansara, we pray that we will meet him again someday.
Nirmitha Ediriweera
(daughter)
---
Missing you
Major Raja Amarasekera de Silva
Every person has to die someday, it is the only certain thing in life
But still, I miss your presence every day
And missing you, is a heartache that will never will go away.
Your everloving wife
---
Searching for an ideal partner? Find your soul mate on Hitad.lk, Sri Lanka's favourite marriage proposals page. With Hitad.lk matrimonial advertisements you have access to thousands of ads from potential suitors who are looking for someone just like you.