A rare insight into Lionel Wendt – the man, the artist
By Yomal Senerath-Yapa
'Wendt on Wendt'- a collection of photos and mementos will soon be on display at the Harold Pieris Gallery of the Lionel Wendt
View(s):
Who exactly was Lionel Wendt? We know him through his lens –  those epic images of lithe, swarthy nudes against lush palm fronds, fishermen and dancers, timeless landscapes, ancient viharas and scenes of a vanishing Lanka.
But the man behind the art (he was also a master at the piano and a filmmaker) remains a cryptic figure because he was to die young at 44.
It is admirable that the Lionel Wendt Memorial Fund is hosting a new exhibition titled 'Wendt on Wendt'- a rare collection of photos from the Fund itself, and mementos from the collection of Gladys Forbes, Wendt's close friend with whom he did concerts and shared a love for photography.
What is special about the exhibition is the captions and the information culled mostly from what Wendt wrote about the photographs and about himself.
It brings the celebrated  figure out of his 'closet' in terms of his imperturbability and gives a glimpse of what kind of a man he must have been; his photographer's vision as well as private self; his working ethos as well as his quirky sense of humour.
Curator Anu Weerasuriya (who better? daughter of renowned photographer Nihal Fernando and herself a veteran photographer) has put together the collection, corresponding with William Mackie (a centenarian this year) from Australia, nephew of Gladys Forbes.
As for the precise nature of the bond between Gladys and Lionel, it is quite open to speculation, says Anu.
The exhibition has a well-curated stock of classic Wendt photography, from rather cheeky nudes to coconut estates (either Harold Pieris's Orange Grove or Leonard van Geyzel's Garston) with their interplay of shadows, street scenes and such works as the whip-cracker.
Images like this last, he entered into photo competitions under the name T. D Newl (his name arranged backwards) having a good laugh when the judges rejected entries by Wendt and lauded the 'Newls'.
Amongst photos of ancient Buddhist sites is Sailabimbaramaya down South with its Kandyan architecture, where Wendt mourns the modern garish decor in temples –  "it might… prompt a thoughtful person to wonder why modern work of this nature is so thoroughly bad" (from the Ceylon Observer Pictorial of which he was editor).
The first part of the exhibition is thus a superb reminder of Wendt's sepia work.
The portion of the exhibition to do with Gladys Forbes, three years Wendt's senior but (it seems) his acolyte when it came to photography, is intriguing.  A planter's daughter, she is pictured in pearls and silk in Wendt's portraits.
These, says Anu, are evidence of what a master Wendt was in the dark room, the way he experimented as a printer with shading and lighting.
Some of the older photos of Gladys (not by Wendt) capture the colonial world with the British girls in Cinnamon Gardens bungalows with sambhur antlers on the walls and reclining chairs.
Many letters sent to Gladys by Wendt are also on show, providing an intimate look at Wendt's personality, some including whimsical references to the dogs Bimbo (probably Gladys's dog) and Wendt's pets Braque and 'Supercilious Tess'.
Writes Wendt:
Uncle Lionel thanks Bimbo very much for the lovely lupin-ish towels & wishes to point out two things:-
(1) Bimbo is some days out over Uncle's birthday
(2) Thank God these towels don't match the new bath towels which are hideous & don't absorb water.
Uncle also wishes Bimbo many happy returns of today & is joined in this, with some supercilious Tess, by the 11-year old Braque who also added that he couldn't for the life of him see how anyone could have an ice-cream in the post.
Also the following:
I was in the process of shaking off another bout of flu & bronchitis that began precisely at 3am on the 14th – I know because I awoke in a spasm of coughing and temp. was 103 – & it was all due to going to see 'Cabin in the Sky' at the Olympia 3pm show, where the atmosphere is like a pre-war chocolate cake (but uneatable), & it happened to the damp & chilly outside when we left the choc. Cake…
Breathing is still the usual adventure, but as I've accepted that it will always be so, it doesn't worry me.
Real problem at present is more food.      
Quite grand is the portrait of Gladys in fur and tiara.
Intriguing too is the scroll that was placed in a copper casket and buried in the foundations of his new home Alborada in 1928 (what is today the Lionel Wendt Theatre). It ended with the following wish:
 'May this house prosper. May all honest endeavor in the service of Beauty flourish therein,
And win the reward of inward content and Peace that is only in ceaseless effort.'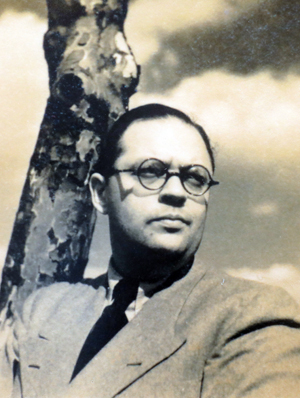 Anu points out that Wendt believed in sheer hard work and originality, a sentiment also at the core of the '43 Group –  their reward being not money but inner satisfaction.
Music being the other main interest in Wendt's life, Gladys and he would have concerts in Colombo, often with Hilda Naidoo (who had the propensity to sway and fall off the piano seat) and Brian Easdale.
They also travelled together and you see where Lionel influenced Gladys, with both having photographed the Kantaka Cetiya in Mihintale with its ancient friezes and Gladys attempting something very Wendt-like in her photos like "The Haul" with the backside of a nude worker.
Finally come some notes, postcards and illustrations, including a picture card with Sigiriya damsels where the caption is cut out and 'Ancient milk bar' written over it (!), and some quirky irreverent banter sent over from holiday destinations across the world.
It is a colourful Wendt who emerges, sans frown and pugnacious façade, from this heavily and fascinatingly footnoted collection: exuberant, funny, fallible and more.
Wendt on Wendt will be on display from November 2-13 at the Harold Pieris Gallery at the Lionel Wendt, from 10 a.m. till 7p.m. (closed on poya –  November 7). 
Searching for an ideal partner? Find your soul mate on Hitad.lk, Sri Lanka's favourite marriage proposals page. With Hitad.lk matrimonial advertisements you have access to thousands of ads from potential suitors who are looking for someone just like you.