Corruption, indecisive action must be deterred for a country to prosper
By Jayampathy Jayasinghe
View(s):
Most catastrophes and crises in the country are man- made including corruption and crimes committed by leaders of the country relating to the food industry and fertiliser and other issues affecting the less privileged and privileged segment of the society that finds it difficult to maintain the minimum quality of life that they were used before, said guest speaker N.R. Gajendran, Founder and Partner, Gajma and Co at the Sunday Times Business Club (STBC) monthly meeting held at the Movenpick Hotel Colombo last week. The club is hosted by Movenpick.
The government recently released proposals prior to the interim budget hinting at raising taxes to convince the International Monetary Fund (IMF) and other multilateral lending agencies to make the budget efficient. The proposed tax bill indicated that VAT is to be raised to 15 per cent and also the introduction of Goods and Services tax. However due to certain elements in that law the tax collected was not going to the Consolidated Fund but was channeled to another account, he said.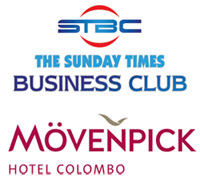 But when the bill was contested before the Supreme Court it was set aside as it was unconstitutional. As a result revenue proposed from Goods and Services Tax was lost altogether and the government decided not to reintroduce it again. Instead a social security contributory levy was introduced at 1.5 per cent on everything without any exemption with a cascading effect. There is no relief for the tax you pay. Although it is 2.5 per cent it goes up to 5 per cent and goes further up while VAT has gone up to 15 per cent. Businesses have to pay taxes and the impact of it is passed on to the consumer. But due to reducing all taxes earlier the state has lost nearly Rs. 500-600 billion and had shrunk the revenue from 13 per cent of the GDP to 8 per cent. "We had a huge fiscal deficit. If there is no way of raising revenue the other alternative is to print money by the state," he added. There was a deficit in the external account too and that was the reason to increase income tax. The social security levy now stands at Rs. 120 million. This is being done to stabilise fiscal consolidation and bring foreign exchange flexibility. On tackling corruption, even the US Senate committee on international relations has said that Sri Lanka must have targeted measures to prevent corruption.
The Electricity Board, Petroleum Corporation and the Sri Lankan Airlines are heavily protected by the state. They run deficits and people have to bear the costs. If a person had Rs. 100,000 in a bank before October you can buy X number of goods. But after October that purchasing power has come down by half. The price of bread, electricity, energy and basic essentials are also being affected as a result of demand and supply mismatch that is pushing up price and inflation, he said.
The legislated and unlegislated taxes will destroy the people. There is legislated tax due to VAT, Social Security and Income Tax. Unlegislated tax was due to rupee depreciation and the demand and supply mismatch.
"Whether you are an income tax payer or otherwise you have to pay consumption tax. At the lowest levels people are skipping meals at this juncture and this the predicament that we are in. If you keep quiet it will hit you more and more and even the Fourth Estate is relatively silent these days. You have to make your impressions felt and communicate where ever possible. There is a food security issue and what is happening now is that we have an artificial lifestyle. When IMF comes in one issue will be that we cannot print money and then what is going to happen? The 2023 budget is going to be worse than before." he said.
Hitad.lk has you covered with quality used or brand new cars for sale that are budget friendly yet reliable! Now is the time to sell your old ride for something more attractive to today's modern automotive market demands. Browse through our selection of affordable options now on Hitad.lk before deciding on what will work best for you!