Demands for state to shed waste, after burdens just got heavier for people
View(s):

By Nadia Fazlulhaq  

Many businesses are planning to increase the prices of products and services following the revision of electricity and water charges in September.

From the local eatery to fine dining restaurants, as well as laundry services, pharmacies, printing and photocopy service providers, supermarkets, grocery shops, and retailers, all are looking to revise their prices.

The effects of this will begin to be felt this month.

On Friday, the Central Bank of Sri Lanka said the headline inflation measured by the change in Colombo Consumer Price Index increased to 69.8 percent in September from 64.3 percent in August.

"Within the non-food category, increases were observed in prices of housing, water, electricity, gas and kerosene, restaurants and hotels, health, education (international school fees) and telephone charges," the Central Bank said.

Businesses that use electricity and water on a large scale, are the worst hit.

Mahesh Wickremasinghe, factory manager of a dry cleaning/laundry service with several branches, said costs have doubled during the past three months.

"A few months ago, washing a shirt cost us Rs. 120 and now it has increased to Rs.330. We are charging Rs. 340, barely making any profit. With chemical prices also skyrocketing we are compelled to increase prices," he said.

Retailers who have freezers said they will be forced to increase prices.

M. Wazeer, a poultry and meat shop owner from Dehiwala said he is planning to add Rs. 30-Rs 50 to a kilo, based on the September electricity bill.

Be prepared also to be surprised when you get your next dine-in bill as restaurants are planning to increase prices.

Harpo Gooneratne of the Colombo City Restaurant Circle said businesses have been struggling for the past few years and the utility tariffs increase is a big blow.

"We can't keep running on losses. With VAT, social security tax, and service charges, about 29.5% will be added to the bill. This will be quite a hit to the customer," he said.

Sarath Kumara, an owner of a grocery shop turned mini supermarket, said he will switch off the recently installed air-conditioner and use a fan.

Consumer rights activist Ranjith Vithanage blamed the Government for failing to address the cost of living issue.

"Shops that were paying an electricity bill of about Rs. 6,000 are complaining that they have to pay Rs. 17,000 to Rs 20,000. They will definitely increase prices of goods and services," he said.

"With water use restricted, food boutiques are reluctant to wash veggies and greens adequately. Similarly, shops with refrigerators are switching off for several hours," Mr. Vithanage said.

Deanna Anne Rizvi of the Housewives Association said many women are cutting all possible expenses.

"But these are out of our control. The Government should immediately intervene and reduce the burden on the public," she said.

Prof. W.M. Semasinghe, Professor in economics at the Kelaniya University said the Government can do very little.

"The utility bill increase comes as a condition placed by the International Monetary Fund (IMF). The Government should look into cutting down unnecessary expenditure such as maintaining large numbers of state ministries when there is no budget allocations made for projects under these ministries," he said.

"All previous Governments turned a deaf ear to the IMF when it repeatedly said to close down or privatise loss-making state institutions. At least now it has to be done. People cannot be burdened by losses caused by waste and corruption," Prof. Semasinghe said.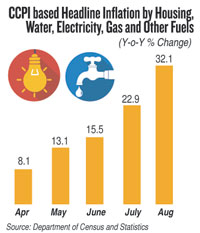 He said the Government should introduce a proper relief system for low-income groups based on data and not political recommendations. "The middle income earners will have to bear the brunt of the cost of living crisis.''
The Consumer Affairs Authority said it cannot do anything against traders or businesses that increase prices.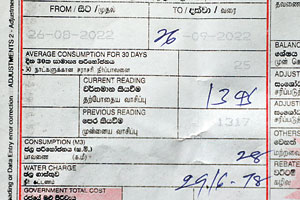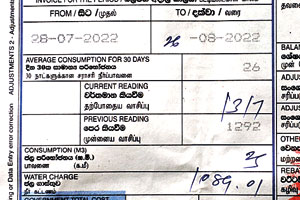 Hike within a month: A comparison of two electricity bills of a consumer
The best way to say that you found the home of your dreams is by finding it on Hitad.lk. We have listings for apartments for sale or rent in Sri Lanka, no matter what locale you're looking for! Whether you live in Colombo, Galle, Kandy, Matara, Jaffna and more - we've got them all!