US Ambassador Chung visits Dewatagaha Mosque, Colombo
View(s):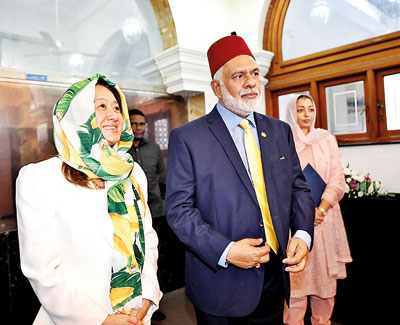 US Ambassador Julie Chung visited the Dewatagaha Mosque in Colombo recently at the invitation of Mr Reyyaz Salley and the Board of Trustees. Following are excerpts of her speech on the occassion:
"Like the United States, Sri Lanka has a rich diversity of faith communities who contribute much to their neighbourhoods, region, and nation. During my travels around this beautiful country, I have seen temples, kovils, mosques and churches, all coexisting side by side. This rich cultural heritage makes Sri Lanka a fascinating place. It is an amazing opportunity to live where my day starts hearing the Azhan call to prayer from the mosque and ends with the bana from the Buddhist temple in the evening.
As Sri Lanka faces its current economic crisis, it is a time for all citizens to come together in support of your nation's recovery.  The United States is committed to working with all Sri Lankans to realise this vision and stands ready to support the Muslim community as we have in the past. The United States remains a friend and partner to Sri Lanka, especially during this challenging period, in a true spirit of partnership.  Our support includes financial assistance and support for Sri Lankan people achieve their aspirations for a democratic and unified nation, inclusive of minority communities."