No pesticides to fight dengue, infections could rebound
View(s):

By Senuka Jayakody 

Dengue infections could rebound, health officials say, although there has been a drop in the past month after a record increase earlier in the year.

This year, so far, 56,032 dengue infections have been reported, an increase from the previous year when 35,944 were infected. But, in the past month infections fell to 2,264, against more than 11,000 in June and the same amount in July. Only 2,264 infections have been reported in September, so far.

Public health officials expect an increase in infections with the onset of the north-east monsoon.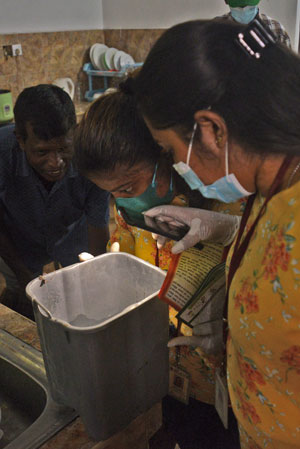 Colombo's chief medical officer, Dr. Ruwan Wijemuni said there are no pesticides and equipment. These have been out of stock for two months.
"We will be very badly affected when the rains increase in November and December,'' he said.
So far, 25 people have died.
Dr. Wijemuni said the increase this year by 50% was due to the economic crisis, as public health inspectors had not been able to travel due to the fuel scarcity. Also, technical equipment could not be bought because of the US dollar scarcity.
He attributed the population density for infections, since dengue is an "urban disease".
The Colombo Municipal Council has not reported any deaths this year.
Dr. Nimalka Pannilahetti, the consultant community physician of the Dengue Control Unit of the Ministry of Health, warned of an increase in infections based on the experience of previous years.
She added that due to the fuel crisis, PHI officers had to work according to rosters and the ministry has not been able to host seminars to educate people.
Weekly infections have dropped from around 3,000 in June to around 1,200 in September.
She said most reported cases are from Colombo.
Dr. Pannilahetti said measures are being taken to reduce dengue-breeding sites. She asked people to keep their surroundings clean and report to a doctor if they develop a fever.
She said there are enough hospital beds and saline for dengue patients.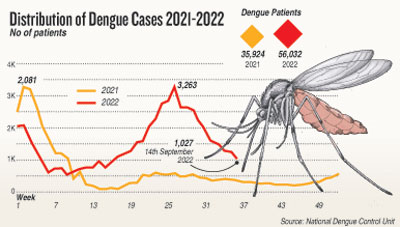 Mobile apps to track disease and infection sites 

The Dengue Control Unit has decided to introduce two mobile applications — the Dengue Free Child App and the Dengue Vector Surveillance App.

Through the app for children, if four to five students are diagnosed with dengue in a particular school, the area PHI will inspect the school, while the dengue vector surveillance app would provide GPS services to track dengue infected places.

"The system will be in place within the next few months, where patient information will be reported to the ministry on admission to hospital,'' said Dr. Lahiru Kodithuwakku, a medical officer of the Dengue Control Unit.

"We are considering introducing online services to combat dengue,'' said Dr. Jagath Amarasekara, community medical specialist of the Dengue Control Unit.
The best way to say that you found the home of your dreams is by finding it on Hitad.lk. We have listings for apartments for sale or rent in Sri Lanka, no matter what locale you're looking for! Whether you live in Colombo, Galle, Kandy, Matara, Jaffna and more - we've got them all!