Here's a look at Apple's new iPhone 14 (and a few other things)
View(s): By Mahesh De Andrado


At Apple's recently held iPhone event, the tech giant unveiled not only the new iPhone 14, but also a bunch of other devices as well. So what exactly are we looking at in terms of new (and/or improved) hardware? Well, read on and find out.

The iPhone 14 (now in additional flavors of Plus, Pro and Pro Max)

Being an iPhone event, the spotlight would obviously fall on the latest iteration of Apple's iPhone. With the iPhone 14 though, there's nothing much to write home about. Both the iPhone 14 and iPhone 14 Plus are powered by an improved version of Apple's A15 Bionic chip. The iPhone 14 packs the same 6.1 inch Retina XDR OLED display with True Tone and the iPhone 14 Plus (while doing away with the iPhone 13 Mini) bumps up the screen size to 6.7 inches. Both models have Haptic Touch, and up to 1,200 nits of peak brightness. Apple also announced that the iPhone now includes a safety service called Emergency SOS via Satellite. As the name suggests, iPhone 14 users can connect to emergency services even if they are  outside of cellular or wi-fi range, using satellites for communication. You can't use it to send tweets or Snap streaks, but you can use it to send your location or a short message to emergency services. The service is free for iPhone 14 users in the U.S. and will also be made available in  Canada.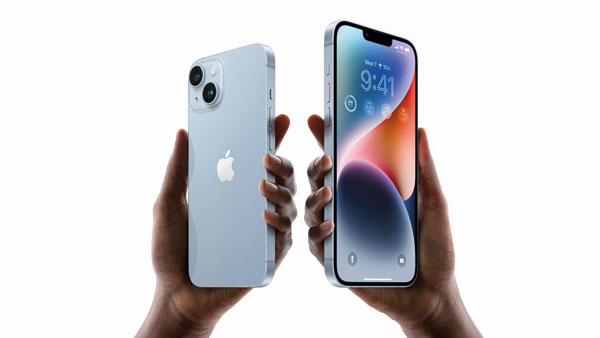 Meet the Apple iPhone 14 and iPhone 14 Plus (Image Credits: Apple.com)
The iPhone 14 will start at $799 and the Plus will cost $899. The iPhone 14 is already available for purchase, while the iPhone 14 Plus will be available in October. An interesting note was that all U.S. iPhone 14 models will no longer utilize a physical SIM card. Rather, they will shift completely to eSims that can support multiple phone numbers, and also offer better security.
The iPhone 14 Pro and Pro Max are powered by Apple's latest A16 Bionic chip, which according to Apple is built using a 4nm process. It also packs a 6.1" and 6.7" screen and for the first time, features an always-on display. With a variable refresh rate upto 120Hz, the iPhone 14 Pro and Pro Max are able to drop down all the way to a 1Hz refresh rate, saving battery with the always on display and also preventing screen burn.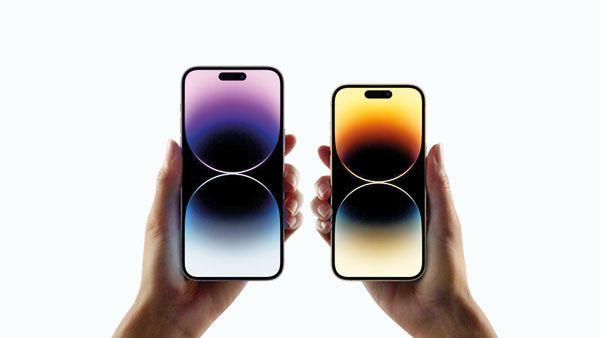 Say Hello to the iPhone 14 Pro and iPhone 14 Pro Max (Image Credits: Apple)
In terms of design, the iPhone 14 Pro and Pro Max feature a new front design with a small cutout for the front-facing camera. The cutout, called "Dynamic Island" expands in real time to show important alerts, notifications and activities across Maps, Music, timers, Live Activities, battery levels, Face ID, etc. It also packs a tap-and-hold gesture for added functionality.  Adding to the list of firsts, the iPhone 14 Pro and Pro Max also pack a 48MP camera along with a 12MP Telephoto lens and 12MP Ultrawide lens. Last but not least, there's a TOF 3D LiDAR scanner for measuring depth. Both devices are priced at $999, and $1099 respectively.
Watch-a Say? (Apple's new Watches tell more than just the time)
As with the iPhone, Apple also unveiled their latest Apple Watch Series 8. Once again, it's more or less the same design as the Apple Watch Series  7 but packs a larger display. A key new feature in the Series 8 is the inclusion of a body temperature sensor in addition to the standard heart rate sensor and ECG app. The new temperature sensor is designed for women's health, especially to keep track of ovulation. The sensor will measure the wearer's wrist temperature every 5 seconds overnight and inform the user if there's a shift in temperature via Apple's Health app. The sensor also enables retrospective ovulation estimates and estimates of cycle deviation.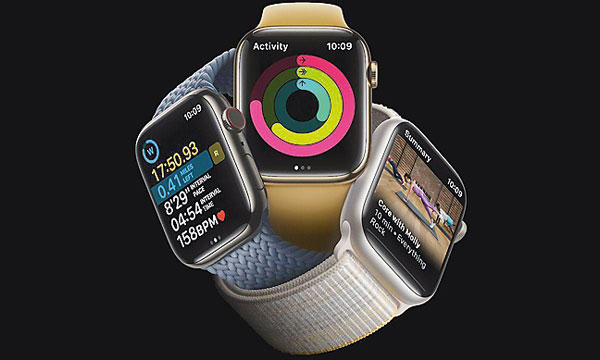 The Apple Watch Series 8 now includes a temperature sensor as well as a car
crash detection feature (Image Credits: XDA Developers)
The Series 8 watch also consists of a new car crash detection feature. So if the watch detects the wearer was involved in a car crash, it will automatically connect you with emergency services and share your location. It will also notify your emergency contacts. To make sure that your watch doesn't do this unnecessarily or on a false positive, the Series 8 packs a new three-axis gyroscope and high g-force accelerometer. In terms of battery, the Series 8 also introduces a LPM or Low Power Mode, to extend battery life. If Apple's estimates are reliable, the Series 8 can go from its usual 18 hours, all the way to 36 hours on a single charge. The Apple Watch Series 8 starts at $399 for the GPS model and $499 for cellular model
Aimed at athletes and explorers. Apple also unveiled the Apple Watch Ultra. By no means a slim device, the Apple Watch Ultra features a 49mm Titanium case, packing a display that goes upto 2000 nits in terms of brightness and a larger, rugged crown. It also boasts 36 hours of battery life which can be extended to 60 hours on LPM. Similar to the Apple Watch Series 8, the Ultra packs a body temperature sensor, advanced cycle tracking, international roaming on cellular models, and car crash detection. According to Apple, the Apple Watch Ultra will track  a user competing in a triathlon consisting of a 2.4 mile swim, a 112 mile bike ride and a full marathon of 26.2 miles, all on a single charge.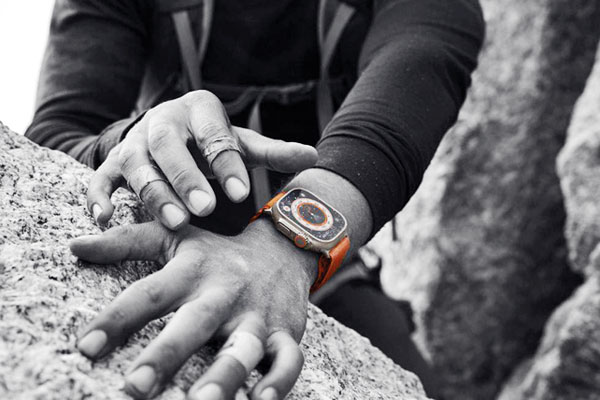 The Apple Watch Ultra is aimed at the athlete and explorer and is built to handle tough situations
(Image Credits: Apple.com)
In addition, the Apple Watch Ultra also incorporates a new Dark Mode (to help with battery life) and also has a Wayfinder watch face with a built-in compass and space for up to eight complications. It also has an in-built depth gauge, along with a new dual-frequency GPS so you can receive GPS signals in hard-to-reach locations. The Apple Watch Ultra is priced at $799 (which is the same price as the regular iPhone 14.)
Lastly, the Apple Watch SE, considered the entrant into the lifestyle of the Apple Watch gives users the core Apple Watch experience as it were, on a more affordable leve. It packs the same processor (S8) that's present in both the Apple Watch Series 8 and Ultra, thus enabling crash detection, international roaming and LPM. The Watch is priced at $249 for the GPS model and $299 for the cellular model.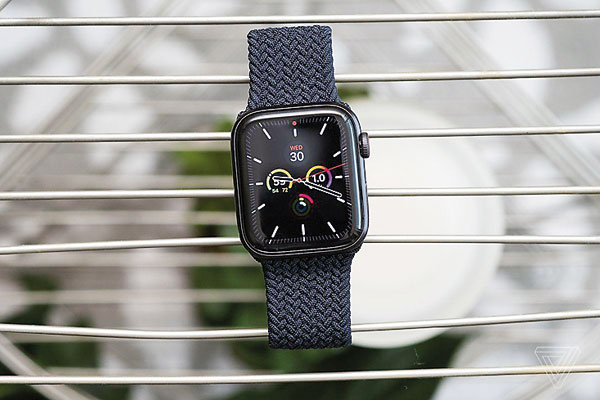 Looking to step into the Apple Watch ecosystem on a budget? The Apple Watch SE might be the one for you
(Image Credits: The Verge)
AirPods Pro (2 Pro for you?)
While there's nothing particularly eye-catching about the new generation of AirPods 2 compared to its predecessor, the new AirPods offer a few quality of life improvements. For starters, they're powered by the new H2 chip, offering "richer bass and crystal-clear sound across a wider range of frequencies". There's a 2x improvement in ANC (Active Noise Cancellation) and Transparency mode has also been improved to effectively reduce loud background/environmental sounds.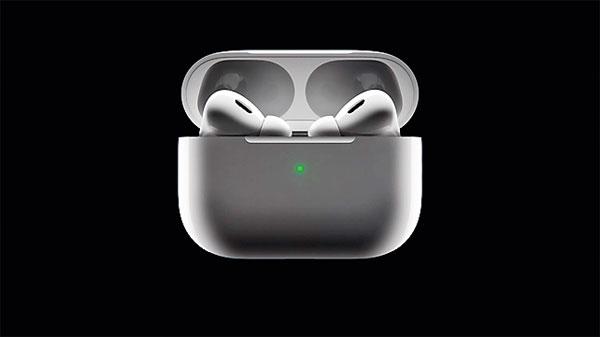 The new generation of AirPods Pro offer stronger active noise canceling, more
battery and a new "Find My" support with a built in speaker (Image Credits: IGN)
The AirPods Pro also pack longer battery life, with upto 6 hours of listening time on a single charge, making them on par with the 3rd generation AirPods  and the charging case provides upto 30 hours of total listening time. Funnily enough, the new AirPods Pro do not support Apple's own lossless Apple Music audio.
The AirPods Pro also now features Apple's "Find My"  support with a built-in speaker and are IPX4-rated (for water and sweat resistance). The case still charges via Lightning connector (no Type C, unfortunately) but can also be charged via an Apple Watch's magnetic charger in addition to MagSafe charging. The Airpods Pro are priced at $249 in the US, same as the original.
And there you have it. These are the new devices that Apple unveiled at their "Far Out" event. Do you think it was far out? We'd love to hear from you.
Searching for that next furry family member but couldn't find one in your area? Hitad.lk has the solution with our extensive listings of dogs for sale in Sri Lanka!