Mahinda says he would have advised Gotabaya not to flee the country
View(s):
Former Premier gives exclusive interview to the Sunday Times, his first after quitting his post as PM
Praises Ranil's role as President and says he is the best leader to tackle the crisis
President going to Japan next week, but Tokyo unhappy over Nimal Siripala being cleared of bribery charges
India and China trade allegations over controversial visit of Chinese vessel to Hambantota
By our Political Editor
It was amidst widespread protests and an exploding economic crisis that Percy Mahinda Rajapaksa quit as Prime Minister in May this year. He was heeding a request from his brother, then President Gotabaya Rajapaksa, to step down. Protestors made accusations against both, but the President stayed on. He sacrificed others including Basil Rajapaksa, who was Finance Minister.
Until the protests, former Prime Minister Mahinda Rajapaksa was easily one of the most popular politicians. After the protests, he was forced to keep away from the public limelight. Living in isolation was one thing he hated most. Otherwise, when the troubles were not there, he was deluged with visitors, friends, political supporters, and those seeking help in many ways. I have seen many go down on their knees and worship him with clasped hands. That has changed to loneliness and a secluded life has been telling on him. Yet, his sense of humour remains, and the memory is still sharp.
Mahinda Rajapaksa is now only a Member of Parliament though he was earlier twice President and twice Prime Minister of Sri Lanka. He broke his four-month-long silence to speak to the Sunday Times.
I had to clear a layer of security cordons to reach his residence at Stanmore Crescent. It is wedged between the official residence of the Commander of the Air Force on the one side and the Chief of Defence Staff on the other. There were Air Force, Navy, Army commandos and Police in plainclothes. The men were extremely polite. The once plush government bungalow looks run down. It was home for at least two Foreign Ministers – G.L. Peiris and the late Mangala Samaraweera. It has a swimming pool which is seldom used. Peiris had covered the verandah of the colonial building with glass. Samaraweera, however, had them removed. He told me during a visit once that "I want fresh air to flow. I don't want the verandah area air conditioned." If the furniture, then was tastefully laid out and the walls displayed framed paintings they were blank now. There was only a motley collection of cushioned chairs. The living room of a onetime President and Prime Minister gave a gloomy if not abandoned appearance. The ambience of Temple Trees was absent. In one corner, Mahinda Rajapaksa sat in a chair with a long back and supported by a pillow. In a casual red shirt and sarong, he was full of smiles when I went before him.
The exchange of niceties over, I asked him whether he would respond to some questions I pose. This is because he has shunned media interviews and his household staff had ensured none was given. Without any hesitation, he answered "oh yes." It began with a question about his political future. "I will remain in politics. I will retire only at the appropriate time. Until then I will not go," he replied . The remarks were followed by his characteristic guffaw. Would he continue to remain the leader of the Sri Lanka Podujana Peramuna (SLPP)? The answer: "That is left to the party to decide. Even if that was not so, I am a lawyer and I can practice in courts. If it becomes necessary, I am prepared to go."
I posed questions about the former president and his younger brother, Gotabaya Rajapaksa. He responded: "He should have finished what he had to do. But Gotabaya is not a politician." I asked whether he consulted him (Mahinda Rajapaksa) before fleeing the country. He replied: "He did not tell me." He added that Gotabaya Rajapaksa should not have gone. When he had decided, he told me "I am going, and I did not say anything." The Prime Minister until May under the Gotabaya Rajapaksa administration added. "If he asked me whether to go, I would have said no, don't go."
Mahinda Rajapaksa said, "Gotabaya Rajapaksa is not responsible for all the country's ills. Everybody including me and the previous governments would have to answer. Unfortunately, he (Gotabaya) acted on the advice of the experts he trusted. Therefore, he cannot be blamed. (The allusion was to successive governors of the Central Bank). When he was Defence Secretary he displayed good administrative skills. As President, he was subject to heavy pressure. He was a hardliner before. He became soft. He should not have done what he did, but he is not a politician. He should have finished the task before him correctly."
At this point, the interview was abruptly interrupted. A well-built person who appeared before us in civilian clothes whispered something into Mahinda Rajapaksa's ears. Api deng navaththamu or let us stop now, he exhorted. The same person looked at me and nodded as the remarks were made. That gesture to me was to say I too should stop asking questions. The former Prime Minister's facial expressions changed but he continued to speak only after the man left. However, it was not on Gotabaya Rajapaksa but on other issues. Did anyone else wire the area to listen to our conversation?
Mahinda Rajapaksa praised the appointment of Ranil Wickremesinghe as Prime Minister and his becoming the President thereafter. "He is the only capable person who can bring about a speedy economic recovery," he said.  "That is why I endorsed his assumption of office and expressed my support to him."
The former Prime Minister was critical about the government for first allowing the Chinese research vessel Yuan Wang 5 to dock at the Hambantota Port and later expressing second thoughts to delay the visit. "You say you are allowed to come and then say don't come," he exclaimed and pointed out that "our position should have been clearly explained even to the Indian authorities."
The Ministry of Foreign Affairs originally allowed the vessel to dock in Hambantota from August 11 to 17. In a later message to the Chinese Embassy, the ministry asked that the visit be delayed until further consultations. The Yuan Wang 5 was on a holding pattern moving northwards and southwards in the seas off Banda Aceh (Indonesia) whilst the Chinese Embassy in Colombo continued its consultations with the government. Eventually, the embassy succeeded in pressuring the Sri Lanka government to allow the research vessel to berth at the Hambantota Port from August 16 to 23. It will stay the whole period and has no plans to leave early,
Commenting on the protests that led to the forced exit of then President Rajapaksa, the former Prime Minister noted that it was not the first-time groups resorted to violence. They should have taken a step back and known when to stop their actions, he observed. President Ranil Wickremesinghe has my approval for the course of action he has taken.  On the recourse to the International Monetary Fund (IMF) Mahinda Rajapaksa declared, "I too would have gone. Of course, not to go to them is a political slogan and most have been attacking the IMF."  He welcomed the All-Party Government saying, "all should think of the country." He said it was time for all parties to get together and work together for a period.
Barely 24 hours after Mahinda Rajapaksa had spoken about Gotabaya Rajapaksa, his nephew, Udayanga Weeratunga, told reporters that the former President would return to Sri Lanka on Wednesday, August 24. The remarks came after he made another statement to the Financial Crimes Investigation Department (FCID) on the procurement of MiG-27 fighter jets for the Sri Lanka Air Force. The FCID is now under the Criminal Investigation Department (CID).  The probe is the result of a complaint made to the FCID by the Defence Correspondent of the Sunday Times. This newspaper was the first to reveal in a series of exposures the irregularities in the procurement of the MiG-27 fighter jets. At that time, various efforts were made by different stakeholders to cover up the deal and say nothing was wrong. Standing outside the entrance to the CID offices, Weeratunga, the onetime Sri Lanka Ambassador to Russia, declared that responsibility for the procurement of the MiG-27 jets lay on Gotabaya Rajapaksa as Defence Secretary and the then Commander of the Air Force.
The government has also been officially informed of the return of the former president. Foreign Minister Ali Sabry told the Sunday Times, "We have no official role in the return of our former President. However, we have been informed of his return through diplomatic channels. He is a Sri Lankan and is free to travel anywhere he wants. That is all I can say." On Thursday, an SLPP delegation that included Basil Rajapaksa met President Wickremesinghe. The delegation appealed for government help to ensure the safe return of Gotabaya Rajapaksa. The Sunday Times learns that a team of Army commandos will provide security to the former President. This is particularly in the light of him being a high-profile target. Though the date of return has been fixed as Wednesday, August 24, there are indications it could change due to security reasons.
Members of Gotabaya Rajapaksa's family say he will not ask for a government bungalow but return to his private residence in Mirihana. Presently Gotabaya Rajapaksa is confined to a luxury hotel in Bangkok. Thai special protection groups covering him have prevented him from moving out of his hotel. He has been compelled to return to Sri Lanka after his attempts so far to obtain asylum in many countries have proved a failure. They have all been turned down. Before fleeing the country, he did try to obtain a visa to travel to the United States from their Embassy in Colombo. According to diplomatic sources, this was turned down on the grounds that visas were not issued to persons who have renounced their US citizenship. He has been told that the very exceptional circumstances when they are issued did not apply to him. Thus, without a visa in the first instance, he does not become eligible for a Green Card, which is a prelude to US citizenship.
Besides this, any US visa applicant to the United States would have to answer a string of questions. Four among them would be tricky for Gotabaya Rajapaksa. They are: Have you ever ordered, incited, committed, assisted, or otherwise participated in genocide? Have you ever committed, ordered, incited, assisted, or otherwise participated in torture? Have you committed, ordered, incited, assisted, or otherwise participated in extrajudicial killings, political killings, or other acts of violence? Have you, while serving as a government official, been responsible for or directly carried out, any time, particularly severe violations of religious freedom?
This is by no means to say that Gotabaya Rajapaksa has been associated with or responsible for such activity in any action before a court of law in Sri Lanka. However, the questions raised have been reflected in the resolutions adopted by the UN Human Rights Council. Various human rights bodies have made these accusations against Gotabaya Rajapaksa.  In fact, a special secretariat under the Office of the High Commissioner for Human Rights (OHCHR) has been gathering new material about related issues. A team from the UNHRC headed by the Director of the Asia Pacific Division, Rory McGovern, is now in Sri Lanka on a fact-finding mission. They are to submit a report to the UNHRC on their findings.
Gotabaya Rajapaksa's flight from Singapore to Bangkok in a chartered aircraft triggered a response from the official cabinet spokesperson, Minister Bandula Gunawardena. He told a media briefing on Tuesday that it was the government of Sri Lanka that was underwriting all the expenses of Gotabaya Rajapaksa. When the remarks were widely reported, both in Sri Lanka and abroad, like all politicians with less than a handful of exceptions do, blamed it on the media. He is a known practitioner of this art. Within hours the government Information Department denied the claim that the government had paid for Gotabaya Rajapaksa's expenses overseas.
Both the Information Department and the government have been made a joke in this exercise. The former issued another statement, the first being a denial of the claim. This time it was a bid to exculpate Minister Gunawardena. It, however, left more questions unanswered and placed Minister Gunawardena in very a poor light. Here is the text:
"Media Minister Bandula Gunawardena has said that certain media has distorted his response given to the question posted by a journalist if state money would be used to cover the expenses of former President Gotabaya Rajapaksa's foreign travel expenses.
"The Journalist, at the (post) cabinet news conference held at the Media Ministry on Tuesday questioned whether the former President was still enjoying privileges and stated that the taxpayer's money has been used to pay for the former President Gotabaya Rajapaksa's airfares for a private flight between Singapore and Thailand. The Minister says that in response,  he said that legally former and the current Presidents enjoy certain privileges. He pointed out that former President late Ranasinghe Premadasa's wife Ms Hema Premadasa too enjoys the privileges.
"I did not mention anything about the former President or his trip from Singapore to Thailand. I mentioned that further details could be obtained. Though I restricted myself to the above comment, some of the media have reported today that I said  state money was used to pay for the trip of the former President from Singapore to Bangkok. That is a distortion of what I have said," Bandula Gunawardena states.
The question posted by the journalist and the response (given below) is obtained from a tape-recorded account:
"Q: The former President travelled from Singapore to Thailand. He used a private aircraft. The Sri Lanka government has paid for this. This is the taxpayer's money. Does he live with these privileges?
A: Yes. Under the Presidential Act the former Presidents and the current President are legally entitled to privileges. To my knowledge that after the demise of a former President, his wife (widow) too has that protection. Even Ms Hema Premadasa, wife of late President Ranasinghe Premadasa has received these privileges and rights. We could investigate in future in detail."
The news that the government of Sri Lanka has paid for all expenses for fleeing ex-President Gotabaya has spread worldwide after news agencies reported them quoting minister Gunawardena. If indeed such payments were made, it would have gone through the Sri Lanka diplomatic missions overseas. Foreign Minister Ali Sabry told the Sunday Times, "I can say quite categorically that no expenses of any sort were made in respect of Gotabaya Rajapaksa's travel overseas. This is the government's official position."
There is a strong message in this for government leaders. It is imperative that they have spokespersons who have credibility and can speak in one voice. Otherwise, those who say one thing today and deny it the next day could do damage to them and the country. It could be irreversible. No amount of denials could repair the damage.
Controversy rages over Yuan Wang 5
Now to the controversy over the visit to Hambantota by the Chinese research vessel Yuan Wang 5. A formal but veiled Indian reaction to the visit of Yuan Wang 5 came from India's External Affairs Minister Subrahmanyam Jaishankar. He said this week, "What happens in our neighbourhood, any developments which have a bearing on our security obviously are of an interest to us. I think our spokesman had said some time ago, we obviously monitor any development, which has a bearing on our interests very, very carefully. So, I think I will leave it at that." The remarks were made at a news conference that followed the ninth Joint Commission meeting between India and Thailand. It was held in Bangkok.
The Chinese focus on the issue was reflected in an article published in the Global Times, a tabloid newspaper under the auspices of the Chinese Communist Party's flagship newspaper the People's Daily. They comment on issues with a nationalistic perspective. Here are highlights of interest in the report: "Chinese officials and experts have blasted what they called an unjustified and morally irresponsible move by India in interfering in normal exchanges and cooperation between China and Sri Lanka, after the latter on Monday deferred a previously approved port call of a Chinese research vessel following India's objections.
"In a statement on Monday, the Ministry of Foreign Affairs of Sri Lanka said it has communicated to the Chinese Embassy in Colombo to defer the visit of Yuan Wang 5, which was due to arrive at the Hambantota port on Thursday. Sri Lanka approved the visit on July 12, following which Indian authorities raised so-called security concerns. In its statement on Monday, the Sri Lankan Foreign Ministry did not mention India or give any specific reason for the reversal.
"Subsequently in light of the need for further consultations, the Ministry has communicated to the Embassy of the People's Republic of China in Colombo to defer the visit of the said vessel to the Hambantota port," it said. The ministry reaffirmed "the enduring friendship and excellent relations between Sri Lanka and China, which remain on a solid foundation," and "Sri Lanka's firm commitment to the one-China policy, which has been a consistent principle in the country's foreign policy."
"Sri Lanka's Ambassador to China Palitha Kohona told the Global Times on Tuesday that he is in consultations with China. The ambassador also told the Global Times on Monday night that he was very upset and hurt about what happened, and that he has been talking to his president, prime minister, and foreign minister continuously.
"Asked about media reports of Sri Lanka's decision to defer the port call at a press briefing on Monday, Wang Wenbin, a spokesperson for the Chinese Foreign Ministry, said that scientific research vessels from various countries including China have made port calls in Sri Lanka for replenishment, and to have normal cooperation is the independent choice made by our two countries.
"It is completely unjustified for certain countries to cite so-called security concerns to pressure Sri Lanka. As Sri Lanka grapples with economic and political difficulties, to grossly interfere in Sri Lanka's normal exchanges and cooperation with other countries is to exploit its vulnerability, which is morally irresponsible and against the basic norms governing international relations," Wang said…."
President Wickremesinghe told his cabinet ministers recently that he was confident he would resolve the differences between Colombo and New Delhi. Despite his assertions, that remains a difficult task.  President Wickremesinghe spoke recently on the telephone to Sri Lanka's envoy Milinda Moragoda and urged him to stay on for another month. A nominee in New Delhi, President Wickremesinghe believes, would have to be someone at the political level with good knowledge of the geopolitics in India and the Indian ocean region. Another for which a replacement has been found is the Permanent Representative to the UN in Geneva. A lady career diplomat in Colombo has been identified to replace C.A. Chandrapremua, the current envoy. However, when the change will occur is not clear. The recall of a Sri Lanka envoy in an important capital, where there were reports that he weighed in favour of the host country than Sri Lanka, was discussed. Since he only has a short term to end his tenure, it was decided allow him to complete his term.
President's Japan visit
President Wickremesinghe will leave Sri Lanka for the official funeral of onetime Japanese Prime Minister, Shinzo Abe on August 27. Thereafter, arrangements have been made for him to spend three days in Tokyo for talks with government leaders on economic assistance. Foreign Minister Ali Sabry who will be then in New York attending the UN General Assembly sessions will fly to Tokyo to join President Wickremesinghe. There is bound to be difficult moments during these talks. There are indications that Japan may not commit itself the billion dollars immediately with any bridging finance in the light of recent developments. Other sources said President Wickremesinghe's talks with Japanese leaders will cover this as well as other assistance to Sri Lanka. The fate of the Indian offer of 1.35 billion US dollars as bridging finance is also being awaited.
It is ironic that minister Nimal Siripala de Silva told Parliament that "JICA (Japan International Cooperation Agency) representatives came and met with me. They handed over a letter. It stated that since the Japanese government has declared that Sri Lanka is bankrupt and cannot pay back its loans, they have decided to suspend 12 projects including this Taisei project that are being funded by Japan until the IMF drafts a roadmap for Sri Lanka. This does not mean that the projects have been cancelled. The funds will be released once Sri Lanka and the International Monetary Fund (IMF)work out a debt restructuring plan. That is the true state."
An IMF delegation is due in Colombo on Wednesday to work out details related to the conclusion of the staff-level agreement. That will pave the way for the government to obtain bridging finance both from other governments and international lending agencies. A delay, experts have warned, could cause serious economic issues.
However, it is no secret that Japan has been offended by the re-induction of minister de Silva into the cabinet of ministers after a three-member committee 'cleared' him of bribery allegations. These allegations were made by the Japanese Ambassador Mizukoshi Hideaki to ex-President Gotabaya Rajapaksa and Opposition Leader Sajith Premadasa. President Gotabaya Rajapaksa took over de Silva's portfolio as Minister of Ports, Shipping and Aviation until a formal inquiry was over. However, he had to flee the country. Minister de Silva strongly denies that he sought a bribe of Rs 100 million from the Japanese firm Taisei corporation that was carrying out development work at the Bandaranaike International Airport (BIA).
Reports of demanding bribes by local politicians have compelled several western governments helping Sri Lanka to adopt precautionary measures. Some have routed such assistance through United Nations agencies whilst others have shown reluctance. They felt that a part of the funds would end up in the pockets of corrupt politicians. This is an aspect that is receiving the attention of the IMF too.
There has been a marked improvement in recent weeks. Cooking gas (LPG) is now available. Queues outside fuel stations have reduced after the introduction of the QR system. It came as a blow to those who were collecting fuel stocks to be sold in the black market. That included allegations against some Police officers who were involved in the racket.  However, the long-term prospects must be secured to avert another crisis.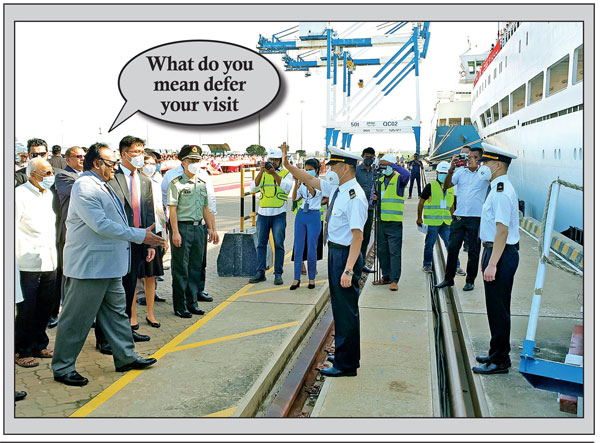 Buying or selling electronics has never been easier with the help of Hitad.lk! We, at Hitad.lk, hear your needs and endeavour to provide you with the perfect listings of electronics; because we have listings for nearly anything! Search for your favourite electronic items for sale on Hitad.lk today!