Nine dead, thousands made helpless by downpours and floods
View(s):

By Jayanie Madawala 

Heavy downpours, winds, flooding, and landslides have caused nine deaths in the past week and disrupted the lives of thousands of Sri Lankans.

Some roads have become impassable and main line train services have been disrupted.

So far, 14,885 people belonging to 3,850 families are facing hardships due to the adverse weather, the Disaster Management Center says.

The center said that 574 people belonging to 137 families have been displaced.

In Ratnapura, the premises of more than 100 small businesses have been damaged.

About 1,691 incidents of partial property damage have been reported across provinces.

The Department of Meteorology has forecast occasional showers in Western, Sabaragamuwa, and Central provinces and in Galle and Matara districts. Fairly heavy rainfall above 50 millimetres can be expected at some places in the Sabaragamuwa province and in Kandy, Nuwara-Eliya, Galle and Matara districts.

Several spells of showers may occur in Northern, North-Central and North-western provinces.

Strong winds of about 50 kilometres per hour can be expected at times along the western slopes of the Central hills and in the Northern, North-central and North-western provinces.

However, warnings were issued in eight districts by the National Building Research Organization as the rains continued.

Senior scientist of the NBRO, Dr. Wasantha Senadheera said considering the forecast issued by the Department of Meteorology the warnings issued to eight districts across the country have been extended.

Hambantota, Kegalle, Matara, Nuwara Eliya, Ratnapura, Kandy, Matale and Galle districts are among areas where the warnings were extended.

He added that level three, or red, evacuation level landslide early warnings have been issued to Walasmulla Divisional Secretariat in the Hambantota, Yatiyanthota, and Aranayaka DS divisions in the Kegalle District, Pasgoda DS Division, in the Matara District, Ambagamuwa, and Kotmale DS divisions in the Nuwara Eliya District and Imbulpe, Kalawana, Kahawatta, Kuruwita, and Nivithigala DS divisions, in the Ratnapura District.

Mr Senadheera said level two amber (watch) landslide early warnings have been issued to Medadumbara and Ganga Ihala Korale DS divisions and surrounding areas in the Kandy District, Ukuwela DS Division, and the surrounding areas in Matale District, as well as Eheliyagoda, Pelmadulla, Ratnapura and Elapatha DS divisions and surrounding areas in the Ratnapura District.

He said level one (watch) landslide early warning alerts have been issued to Nagoda DS Division in the Galle District, Deltota, Pasbage Korale, Udapalatha, and Doluwa DS divisions in the Kandy District, Dehiowita, and Deraniyagala DS divisions in the Kegalle District, Mulatiyana, and Athuraliya DS divisions in the Matara District, Nuwara Eliya DS Division, in the Nuwara Eliya District as well as Balangoda DS Division in the Ratnapura District.

People residing in landslide prone areas in 11 DS divisions in five districts have been advised to be vigilant and be prepared to evacuate, he said.

The director of irrigation (hydrology), Mr S.P.C. Sugeeshwara said that the flood situation is expected to increase in high-lying areas of Nilwala and Kalu River basins if the torrential rains continue. However, the flood risk in Kalu River basin is not likely to increase.

The flood situation in Ratnapura and suburbs is receding. But, the residents of Ratnapura living in areas near the Kalu Ganga are being advised to take precautions.

Residents in Pelmadulla, Elapatha, Ratnapura, and Kuruwita divisional secretariat areas and in the low-lying areas are facing flooding.

The water level in the Nilwala has now receded. However Malimbana, Matara, Thihagoda and low lying areas of Nilwala may experience minor flooding.

Hydropower reservoirs have reached spill levels. The Upper Kotmale reservoir has released some of its water.

The hydropower contribution, which remained at about 18% about three weeks back, has increased to about 77.5% because of heavy rain in the catchment areas, the spokesman for the Ceylon Electricity Board, Mr Andrew Nawamani said.

He also noted that the maximum water level had been reached in Kotmale. Maussakele is 96.5% full, Victoria reservoir is at 71.3%, and Castlereagh is at 70.5%.

Due to heavy rains in the western slopes of the central hills, a woman and her granddaughter were washed away in floodwaters in the Polpitiya area. They had been on their way home from the montessori when the two were overwhelmed by the rush of water flowing to the Kelani river in Bokaravavila, Hitigegama in Polpitiya.

Several houses and a tourist hotel in Nawalapitiya were inundated and two bridges across a canal flowing to the Mahaweli river collapsed.

A mound of earth collapsed onto a roof in Matara Porawa school.

Nuwara Eliya district assistant director for disaster management, Mr Ranjith Alahakoon said 755 people belonging to 472 families were displaced,

He warned drivers to be aware of likely earth slips and said main roads and by-roads in the hill country could be dangerous to drive on.

Three centres for displaced people are functioning.

He said steps would be taken to pay compensation after estimating the damage.

Meanwhile, the Sri Lanka Navy says it has 48 relief teams on standby. The Sri Lanka Air Force is also on standby for search and rescue operations.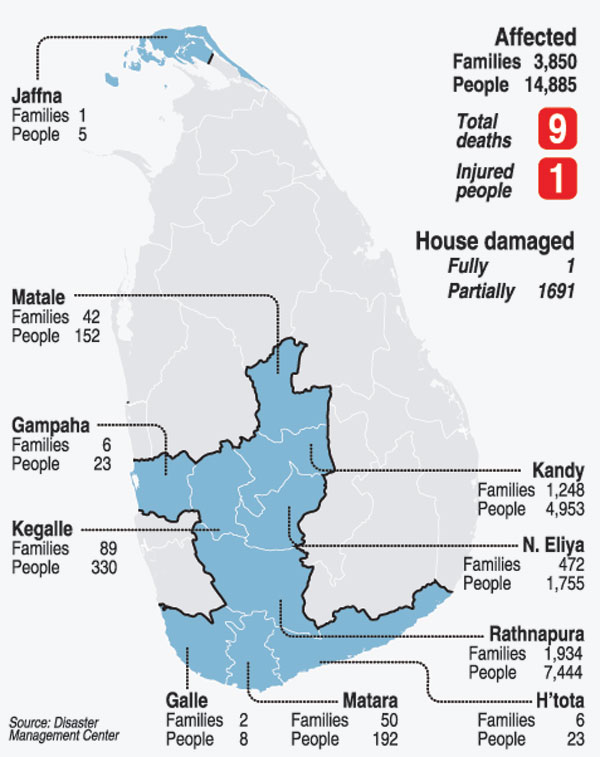 Pix by Sudath H.M. Hewa, Sisira Kumara, Kanchana Kumara Ariyadasa and Reka Tharangani
The best way to say that you found the home of your dreams is by finding it on Hitad.lk. We have listings for apartments for sale or rent in Sri Lanka, no matter what locale you're looking for! Whether you live in Colombo, Galle, Kandy, Matara, Jaffna and more - we've got them all!