Lankan Shihab Rizan dreams of glory at inaugural Commonwealth Esports Championships
E Sports
View(s):
With Esports making its debut as a medal sport at the inaugural Commonwealth Esports Championships alongside the Commonwealth Games 2022 to be held in the United Kingdom in August, for Shihab Rizan, it is an opportunity and an exceptional honour to represent his motherland.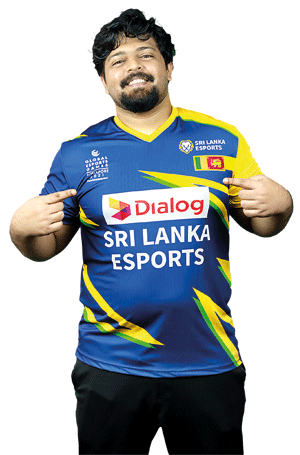 Shihab, a 28-years-old, Sales and Marketing Manager, sealed his berth with impressive performances at international Esports events such as the IESF Esports World Championship (IESF) 2021, Global Esports Games (GEG) 2021, and also the Asian Electronic Sports Federation (AESF) e-Masters Chengdu 2021.
While Dota 2, eFootball Series by Konami, and Rocket League are the gaming titles to be featured at the 2022 Commonwealth Esports Championships, Shihab will be competing in the eFootball category. As an Esports athlete who competes outside his day job, battling side-by-side with professionals will undoubtedly be an epic experience.
Shihab's passion for gaming began at a very young age when he was just six years old and started playing Contra and Super Mario bros but never imagined he would be on the cusp of representing Sri Lanka.
"It is an honour and privilege to represent Sri Lanka at the first-ever Commonwealth Esports Championships. I am really happy about this opportunity," said Shihab.
He has been playing competitive esports at 16 years and participated in his first Sri Lanka Cyber Games tournament by Gamer.LK in 2013.
"I was introduced to Phoenix gaming through a close friend of mine and used to play FIFA. I took a break from competitive gaming in 2016, but continued to casually game at home and began playing eFootball then known as Pro Evolution Soccer."
Ramping up his preparations to compete, "I am dedicating a minimum of two hours a day to practice including trying out new formations with teams and honing skill moves," he added.
Employed at Content Management and Solutions Private Limited, a pioneering IT offshore provider, Shihab studied at Lyceum International School and completed his higher studies at the NSBM Green University. He realises the whole perception of being an esports athlete has changed and everyone is rallying around cheering him on.
"Everyone around me has been very supportive from my family, friends and colleagues, the Sri Lanka Esports Association and also Gamer.LK, has also been very supportive in helping with my travel preparations."
Shihab aims to bring glory to the nation and gain recognition not only for himself but help put Sri Lanka's gaming community on the global map building a stronger ecosystem that produces more winners.
Esports is the fastest growing sport in the world, with a recorded audience of 489.5 million in 2021. The estimated number of Esports gamers in 2021 is 3.24 billion in which 1.48b were from Asia. Esports also debuted at the Asian Games 2022 as a full-fledged medal sport.
Recognised as an official sport and the 70th sport in Sri Lanka by the Ministry of Youth and Sports in 2019, today, Esports continues to be amplified with an exponential number of players entering what is widely regarded as the country's fastest-growing sport.