Cafe with a story
By Anoushka Jayasuriya
Dilan de Silva opens 'Ibson's Choice' as a tribute to his father--the late Rex de Silva, veteran Editor of the Sun and Weekend newspapers and creator of the well loved pocket cartoon of the same name
View(s):
Strolling down the busy residential streets of Narahenpita, you may chance upon one of the newest additions to the coffee house scene with the simple logo of a quirky cartoon figure in black and white sure to pique interest. While the figure of the curious looking turtle clad in its signature cap might be a new sight to most passersby, the name 'Ibson's Choice' is sure to arouse a sense of familiarity and nostalgia for others and cast them back to the days when they eagerly awaited 'Ibson' –  the cartoon turtle on page 3 of the popular English daily newspaper, the Sun.
The creation of eminent Editor and self-described 'accidental artist' the late Rex de Silva, Ibson, a hard-shelled turtle with a shrewd worldview, came about decades ago purely by chance when the paper's resident cartoonist at the time moved on to a different publication. Editor of the Sun since 1977, it was ultimately Rex who decided to address the gap himself with the addition of Ibson.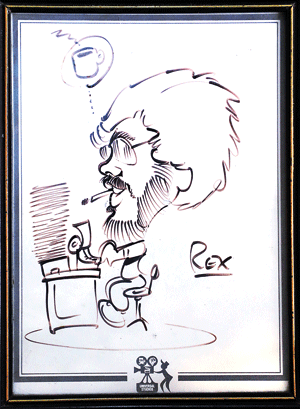 Readers would look forward to Ibson, ambling through life in his cap with a five-pointed star, mirroring the views of the average Sri Lankan about the social and political landscape in the country, occasionally adding a canny comment on notable happenings from around the world, all with his trademark wit and humour.
'Ibson's Choice Cafe' which takes its name from the popular cartoon of yesteryear opened its doors on July 13. The driving force behind the venture is proprietor and younger son of the late Editor, Dilan de Silva. A tech entrepreneur, who helmed the software development company, Webappclouds in 2012, Dilan says that opening a coffee establishment was always on his personal agenda and he did so not only in memory of his father, an avid coffee enthusiast who enjoyed many an espresso, but also for his sons Devan and Gavin with the support of his wife, Sam.
Rex's influence is more than apparent upon entry to the cafe, right down to
its ambience, the walls with stylish wood paneling, a favourite of Rex's, says Dilan. Some of the late Editor's work is also displayed in the cafe with old cartoons framed and adorning the walls as well as a mini library with books on Rex's life and even on subjects he enjoyed ready for interested patrons to pick up and browse through. Also perched on the shelves are some of Rex's personal effects and memorabilia. After many years as Editor of the Sun and Weekend, Rex went on to edit the Borneo Bulletin in Brunei.
Launching a new establishment amidst the country's worsening economic conditions may seem a challenge but Dilan believes that creating a calming environment is necessary to give patrons a relaxed space to get away. "When chaos is out in the world you still need a place where you can be 'Zen', as my father called it and this is what the cafe does – just like the Ibson cartoon used to indicate while talking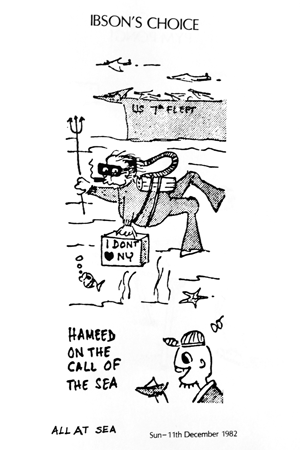 about the different situations taking place in the country, 'there's chaos here but there's always some place to go'."
The menu is inviting too: customers can linger over a selection of rich, steaming coffees, frothy frappes, juices garnished with fresh fruit and refreshing teas. Of the drinks, Dilan recommends the cafe's signature Kit Kat cocoa drink topped with whipped cream, strips of Kit Kat chocolate and enhanced with a special secret ingredient. Sweet treats are also on offer with delectable delights such as the cafe's passionfruit Victoria cake and chocolate mousse cheesecake. For those who like it hot, there are golden fish and vegetable patties accompanied by other savouries like prawn pastries and chicken mini pizzas, among the selection.
Ibson's Choice Cafe is open throught the week from 7.30 a.m. to 10.30 p.m. is at 21A Narahenpita – Nawala Road. Patrons can even walk away with some Ibson themed merchandise in the form of T-shirts, aprons, soft toys
and more.
The Cafe is also open for delivery and can be contacted on 0112186756.
For more see their website www.ibsonschoicecafe.com
and follow the cafe on
Instagram @ibsonschoicecafe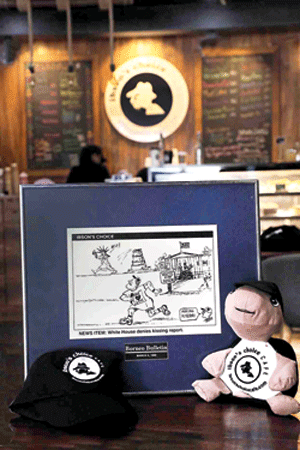 Searching for an ideal partner? Find your soul mate on Hitad.lk, Sri Lanka's favourite marriage proposals page. With Hitad.lk matrimonial advertisements you have access to thousands of ads from potential suitors who are looking for someone just like you.