Govt. plays terrorism card; opposition slams state terror
View(s):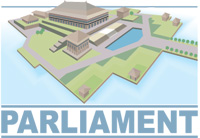 By Sandun Jayawardana  
The need to protect the country from "terrorism" was repeatedly cited as the Government argued on behalf of the proclamation of the State of Emergency (SoE) issued by then Acting President Ranil Wickremesinghe.
The proclamation, issued under the Public Security Ordinance, was passed by Parliament on Wednesday (27) by a majority of 57 votes. The proclamation, gazetted on July 18, had to be approved by Parliament within 14 days if it were not to lapse. A total of 120 MPs voted for the proclamation while 63 voted against it.
It was new Prime Minister Dinesh Gunawardena who first made the reference to "terrorism" even before Minister Susil Premajayantha, who took over from him as Leader of the House, presented the proclamation. Mr Gunawardena, who was congratulated by both the government and opposition MPs, expressed hope that all MPs would work together to resolve issues faced by the country.
While the Government was prepared to heed non-violent protests conducted democratically, it was not prepared to accept terrorist activities, he noted. "I am confident that those of us who represent this democratic Parliament will not support terrorism, which is the biggest threat to democracy," the PM remarked.
Government MPs who spoke during the debate liberally recalled the "reign of terror" from 87-89, warning that this was where the country was headed again if urgent action was not taken now to prevent those with vested interests from using terrorism to come to power.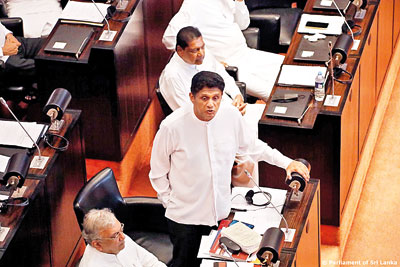 House Leader Susil Premajayantha noted that the houses of as many as 74 MPs were burned down during the unrest that erupted on May 9. Finally, they attacked the Prime Minister's private residence, even destroying the Buddha statues in the house. "The genuine voices of the youth of this country came out of the struggle. We must acknowledge and heed those voices. However, we have questions where the struggle is headed now. Are there LTTE shadows? Shadows from the Easter Sunday attacks? Are there elements supported by foreign powers? Is someone funding them?"
He stressed that the SoE was needed to ensure that constitutionally mandated institutions essential for upholding democracy were protected.
But interpreting the state of emergency from a perspective that reflected the ground-reality, Opposition Leader Sajith Premadasa said the real emergency remained issues such as lack of fuel, gas, milk powder and cement, people dying in queues, farmers not getting fertiliser, shortage of medicines and children not being able to attend school due to lack of transport.
"What is being debated today is an emergency to enforce state terrorism. Your dreams may have come true, but the dreams of 22 million people who we all represent have been shattered," he told the government.
There had been peaceful protests in front of the Presidential Secretariat and Temple Trees for months. There were no acts of terrorism; only people exercising their democratic rights, Mr Premadasa pointed out. It was the then Prime Minister Mahinda Rajapaksa who unleashed violence and terrorism from Temple Trees, he charged.
National People Power Parliamentarian Harini Amarasuriya described the emergency regulations as unprecedented and the most repressive regulations ever. "I think in particular, my generation has lived under emergency regulations for so long that it has become normalised. Certainly for people in the North and East, it has become a part of their very existence."
Dr. Amarasuriya said the emergency regulations, though, were unprecedented for two specific reasons. "One is that it includes measures that are draconian and most repressive in ways that have never been seen before. This includes powers to hold those arrested for up to 72 hours, while those who commit even simple offences can now face imprisonment of up to 20 years or life sentence. Second, the emergency had been declared by a President who was unelected by the people and who was Acting President at the time, the MP asserted.
Chief Government Whip and Minister Prasanna Ranatunga said that since those behind the "GotaGoHome" movement had clearly stated that their struggle would continue till President Gotabaya Rajapaksa resigned, they had no moral justification for continuing the struggle now that he had resigned and a new President had been elected. "The protesters should have dismantled "GotaGoGama" by now and left. Yet they are demanding the new President should also resign. We cannot allow the protest site to become a den from where conspiracies to topple governments and destabilise the country are hatched," he warned.
Mr Ranatunga, who holds the portfolio of Urban Development and Housing, insisted that "GotaGoGama" be dismantled and moved elsewhere as it was currently situated in the middle of an economic hub and a place frequented by tourists. He also complained that the people were not able to access the area freely, though a Supreme Court judgement states that it should be as it is a public space.
In what was seen as a politically significant shift, Wimal Weerawansa's National Freedom Front voted in favour of the SOE, though on July 20, the party supported the opposition-backed Sri Lanka Podujana Peramuna (SLPP) candidate Dullas Alahapperuma when parliament convened to elect a new president.
Explaining the party's position, NFF Leader Wimal Weerawansa said, "There is a well-planned attempt taking place aimed at bringing down the State. This is anarchy. These people are anarchists. We need to face this with strength. However, if the Government tries to use this State of Emergency to trample the justifiable demands of the people, we will vote against it next month."
Tamil National Alliance (TNA) stalwart M.A. Sumanthiran pointed out that when presenting the SoE proclamation to Parliament, House Leader Premajayantha had spoken of having represented suspects who were charged under emergency regulations over the bomb attack in Parliament. "In that narration itself, he said his clients were found to have given a confession and it was not given voluntarily and therefore they were acquitted. I should rest my case just with that. If it was not given voluntarily, how was it given? He was referring to the abuse of emergency powers."
Mr Sumanthiran said this was "a government of contradictions" as the very minister who introduced the debate now said in his experience that confessions were obtained by force, and yet he presented one of the most draconian proclamations on an SoE and regulations made under it.
In the end, the SoE was passed comfortably, though losing presidential candidate Dullas Alahapperuma and SLPP Chairman Prof. G.L. Peiris voted against it. They were joined by SLPP MPs Dilan Perera, Dr Nalaka Godahewa, Udayana Kirindigoda and Wasantha Yapa Bandara.