Backstage moves in Ranil's election as President
View(s):

 
The key strategist was armed with files containing information on SLPP MPs and wanted them to vote for Wickremesinghe
Split in the SJB over Sajith's decision to withdraw candidature and support Alahapperuma
By Our Political Editor

Last Wednesday, Ranil Wickremesinghe, was completing his 45th year as a parliamentarian when fortune smiled on him. He was first elected to Parliament on July 21, 1977, from the Biyagama electorate.
Sri Lankans and those around the world watched Wickremesinghe's phenomenal rise to presidency inside the well of Parliament. All this was within hours than days during a rigorous polls campaign.  If ex-President Gotabaya Rajapaksa had named him Prime Minister and later made him acting President, the journey there onwards to the highest office in the land has been through a path defined by the Constitution. However, that was unexpected. At the general elections on August 5, 2020, the United National Party (UNP), one of the oldest political parties in Sri Lanka, did not win a single seat. Yet, in the light of the 249,435 votes it polled, the Election Commission allotted it one National List seat on August 7, 2020. It was after the lapse of ten months, on June 23, 2021, that Ranil Wickremesinghe was sworn in to fill this slot.
And now, one year and 27 days after, 134 parliamentarians, all from other political parties voted by secret ballot that he should be the President of Sri Lanka for the next two years and four months — the term left behind by Gotabaya Rajapaksa, who fled the country and is now in Singapore. He has been telephoning the near and dear from there. One of them advised him to return to Colombo telling him it was now safe for him. Moreover, he was told, that an outgoing president was entitled to a residence. He could live there under adequate security.
Wickremesinghe's nearest rival Dullas Alahapperuma received 82 votes and National People's Force (NFF) leader Anura Kumara Dissanayake three votes which forms the party's strength in Parliament. Parliament Secretary General Dhammika Dassanayake declared that four votes were invalid. There were also two abstentions, he said.
Basil Rajapaksa's behind-the-scenes role
That Wickremesinghe became President-elect by getting a 52-vote majority surprised many. Even within the UNP, there were sceptics who feared that the dice was loaded against him. Two former ministers, Wimal Weerawansa, and Udaya Gammanpila, who triggered a crisis within the Sri Lanka Podujana Peramuna (SLPP)-led coalition leading to their expulsion, were at the forefront of an intense campaign against Wickremesinghe. They were backed by many others, but they failed. There were many odds including resources. Basil Rajapaksa, the ideologue and strategist behind the SLPP, even if he fell from disgrace politically, spearheaded a campaign with the help of a few aides.
Basil Rajapaksa, whose attempt to leave Sri Lanka for Los Angeles on the night of July 13, was foiled by the non-servicing of his passport at the Bandaranaike International Airport (BIA) by Immigration Officers, had before him the personal profiles of all parliamentarians. He learnt the personal likes and dislikes of every person. As one source revealed, "it was a tailor-made individual approach to every person. That worked."  Also talking on the telephone to SLPP parliamentarians was former Prime Minister Mahinda Rajapaksa. His son and ex-minister Namal Rajapaksa met most of them personally and urged them to vote for Ranil Wickremesinghe. When he won convincingly, Namal Rajapaksa hosted a party on Wednesday night to celebrate Wickremesinghe's victory.  Namal Rajapaksa was also a guest when Dinesh Gunawardena took oath as Prime Minister on Friday from the Prime Minister's Office. The Rajapaksa writ runs through the Government where the 18 ministers sworn in so far are from the ruling coalition except for Harin Fernando and Manusha Nanayakkara. They may perhaps remain in office until a broader interim government is in place when a new cabinet of ministers will take office. However, such a mechanism could not pose a major threat to the Rajapaksas. The major change in the political firmament for the ruling alliance has been the resignation of Gotabaya Rajapaksa and the election of Ranil Wickremesinghe as President.
The cause for celebration for the Rajapaksa family over Wickremesinghe's victory brings out a significant factor, the fears they entertained if Dullas Alahapperuma were to become President. Relations between them and Alahapperuma ruptured after his name was once proposed as the prime ministerial candidate at a meeting of the government parliamentary group. The move was backed by a group who were opposed to the Rajapaksas and are now no longer with the SLPP. They sit as "independents". Even in the campaign to elect a president, mostly anti-Rajapaksa group members canvassed for Alahapperuma. Other than that, the soft-spoken Alahapperuma had a much lower profile than Wickremesinghe, who was more visible in the political scene.
It reached such a peak that Basil Rajapaksa was miffed. He urged SLPP General Secretary Sagara Kariyawasam, one of his proteges and hurrah boys, to issue a statement that the party had decided to support Ranil Wickremesinghe. The remarks were to draw an immediate response from SLPP Chairman G.L. Peiris. In a letter to Kariyawasam, Peiris noted, "I read with amazement and total disbelief your statement, prominently made to all media yesterday, that the Sri Lanka Podujana Peramuna has made a decision to support the candidature of Acting President Ranil Wickremesinghe for the Office of the President of the Republic of Sri Lanka, at the election expected to be held in Parliament on Wednesday 20th July in terms of Article 40 of the Constitution and the applicable provision of the Presidential Elections Act, No 2 of 1981." He raised several questions. Now, Peiris is not only facing expulsion from the SLPP chairmanship but has already been removed from his Cabinet post as Foreign Minister. His portfolio has been given to Ali Sabry who has so far served as Justice Minister and as Finance Minister. It makes clear that Basil Rajapaksa has not lost his clout in the SLPP. On the contrary, he has made his position stronger, so much so that some 'dissidents' and those who stood on the fence are now veering towards him.
Premadasa's strategy backfires
For his part, Wickremesinghe spoke to almost every parliamentarian from every party. It is not an easy task to speculate who voted for whom in a secret ballot. However, Wickremesinghe's dialogue, particularly with parliamentarians of the Samagi Jana Balavegaya (SJB), left behind a lot of food for thought. Some of them, including at least a key figure, spoke openly about supporting him. It became clear that this lot was not happy with their leader, Sajith Premadasa. Making them livider was his decision over what they call a "political deal" worked out with Alahapperuma and consequently withdrawing his candidature for the presidency. He included in it some patriotic zeal and extraordinary love for Sri Lankans when he tweeted that" ……. I want the people of Sri Lanka to know that I will take the correct decision at the appropriate time to protect my motherland's national interest and the rights of all my fellow Sri Lankan people."
How did he protect "my motherland" and "all my fellow Sri Lankan people"? It was by simply withdrawing his candidature as the leader of the country's main opposition and agreeing to play number two to an independent candidate, Alahapperuma from the SLPP. In effect, after boldly coming forward as a candidate for the presidency, he has agreed to serve as a prime ministerial aspirant to presidential candidate Alahapperuma. His political logic, or what the logic his close advisors taught him, seems that he believed his compromise would defeat Wickremesinghe. He was unaware of the other actions underway to defeat them. So, he held not one but many rounds of talks. He was also unaware that his own party members were in dialogue with Wickremesinghe or voted for him. In a speech after the voting, Premadasa, who failed his motherland and even fellow citizens declared, "The situation on the ground is very tragic. People are finding it extremely difficult to survive. We need to safeguard their right to life." He, however, did not say how this was going to be achieved.
One meeting by Wickremesinghe was significant. It was with more than 70 SLPP parliamentarians. At this meeting, two issues the SLPP MPs considered crucial were discussed. The main one was compensation for the damage they suffered when there were counterattacks by protestors and other groups on their homes. Wickremesinghe pointed out that Supreme Court Justice Buvenaka Aluvihare, and the official of a government department were now evaluating the damage caused. Once their recommendations were made available, he said, he would ensure compensation was paid to them.
There are sections within the government who say that such compensation should only be paid to parliamentarians who have declared the property (which were damaged) in their declaration of assets. The other issue was personal protection for them. Besides the security that is now being afforded to them, the then presidential candidate said, troops would be assigned to convoys that would bring the MPs to Parliament. Since SLPP mobs attacked protestors at the Galle Face Green and outside Temple Trees on May 9, parliamentarians have been concerned about their personal safety. In the aftermath of the retaliatory attack on their houses, some MPs even spent nights at the parliament complex. The same situation played out in the days ahead of the election of a president.
More than 40 MPs had to be found accommodation in a hotel so they may come to Parliament and cast their votes for a contestant for the Presidency. One leading five-star hotel which boasted of doing things on a grand scale flatly refused to accommodate them. They said they were under threat to face the consequences if they allowed MPs to stay there in their large numbers. Another agreed but explained that they were very close to the area where the protestors were in large groups. Later, they arranged for the group to stay in a subsidiary hotel less than three kilometres away.
Some interesting scenes played out at the Colombo residence of a southern politician from a party that had no representation in Parliament except one. A politician from the eastern province was walking in when he crossed a colleague from the north. They only exchanged a few words of greetings. Later, the latter brought in two more colleagues and more talks continued. The result: the northern group were split in two. Despite all the pressures, one group had defied a decision taken with their leader presiding that they should all vote for Alahapperuma.
The events leading to the voting were succinctly described by Charitha Herath, Chairman of the Committee on Public Enterprises in Parliament. He told the Sunday Times, "The Sri Lankan parliamentary system does not represent the Sri Lankan people. Ahead of the voting to elect a President, you should look at why it happened, why there was a lot of 'under the table' activity." He was hinting at what is often gossiped but never publicly admitted – the payment of large sums of money to induce parliamentarians to vote.
Janatha Vimukthi Peramuna (JVP) leader Anura Kumara Dissanayake, who also heads the National People's Power (NPP), said in his speech after the voting: "I am not at all surprised by the results today. It reflects the composition of today's Parliament. But the reality is that the statistics and composition we see in this Parliament do not reflect the situation on the ground. If anyone believes that what we saw today is a just reflection of the people's wishes, then they are deluding themselves. What we saw today is a distorted version of the people's wishes. There is a massive gulf between this House and the people outside. However, I don't expect anything more from this Parliament.
"If you look at all the parties that pledged support to Mr Alahapperuma before the vote, you will think that he easily had the support of more than 113 MPs. The result shows that members of these parties did not vote according to the stance of their parties. I don't believe this was purely due to a matter of principle. There have been plenty of instances in our parliamentary history where MPs sold themselves at decisive moments. This is one such occasion. Others can disagree, but that is my view. There is no point in stating this elsewhere. I have to say it to the faces of those here. This is the uncivilized state that this Parliament has fallen into."
Constitutional amendments
In such a situation, what purpose would be served, as Prime Minister, Ranil Wickremesinghe pledged, to restore the 19th Amendment to the Constitution to enhance the powers of Parliament? Should they not first focus on a stricter code of conduct and checks and balances to ensure corrupt parliamentarians are dealt with. They are also subject to a vicious circle. One well-known politician from the hill country once publicly declared that he spent Rs 100 million at the 2020 parliamentary elections and had to recover that amount for the next polls.
There are others who have acquired property and a fleet of luxury vehicles. There are no known instances of anyone being brought to book. Various administrative mechanisms are brought in when allegations are levelled so the culprits are found a safe exit.
Moreover, the so-called 22nd Amendment to the constitution (to be enshrined as 21A) will now have to be relegated to the wastepaper basket. It no doubt would be a relief for Wijeyadasa Rajapaksha who ran out of reasons why it was being introduced with only provisions that did not warrant a referendum. All because he could not say he was heeding then President Gotabaya Rajapaksa's dictates on what should be included though he was a bitter critic of him until he received his portfolio. He now has a field day before him when he is tasked with re-introducing 19A in Parliament.
The build-up to crackdown
Whilst focusing attention on forming a broad-based interim government, President Wickremesinghe is also taking a tough line against protesting groups who have occupied state institutions. Soon after he took his oaths at a ceremony in Parliament, he drove to the new Defence Ministry complex at Akuregoda for a top-level security conference. Security sources said there was a detailed discussion on evicting those occupying government buildings or have taken up position in public areas. Earlier, the President's Media Office had also circulated photographs of Wickremesinghe addressing troops, police personnel and STF commandos who had been deployed in large numbers outside the Parliament complex. He appreciated the protective role he played.
Hours after midnight on Friday, armed troops, and commandos of the Police Special Task Force (STF) ringed a large area that encompassed the Presidential Secretariat (former Parliament) and its environs. Sections of them in riot gear began baton charging and assaulting all and sundry in the area. The exercise was not confined to those occupying buildings. With the presence of a large segment of the international media, only next to those in Ukraine, the news was out worldwide that Sri Lankan troops and police have begun an assault on protestors. The government had shot itself in the foot. Without launching a post-midnight shock offensive, someone in authority in the government should have first made an appeal. They should have made it known that governance was difficult when the institutions were under siege, and it was the people who were affected. In fact, it has now come to light that those occupying the Presidential Secretariat were winding up and preparing to leave when the attacks came. Ten persons including a lawyer were arrested and later released on bail.
The reactions of the international community, at a time when the government needed its support, were reflected in several tweets and statements. Here are a cross-section of them:
United States Ambassador to Sri Lanka, Julie Chang: "Just met with President @RW_UNP to express my grave concern over the unnecessary and deeply troubling escalation of violence against protestors overnight. The President and the Cabinet have an opportunity and an obligation to respond to the calls of Sri Lankans for a better future." In another tweet, she said, "This is not the time to crack down on citizens, but instead to look ahead at the immediate and tangible steps the government can take to regain the trust of the people, restore stability, and rebuild the economy."
It is significant to note that Ambassador Chung had called on President Wickremesinghe. That not only underscores the importance her government attaches to the issues raised, but also her assertion not to crack down on citizens is equally significant. The three points she had made — regain the trust of the people, restore stability, and rebuild the economy — are the priorities set out. One must bear in mind that the US now enjoys greater clout with the International Monetary Fund (IMF) and its studied view on Sri Lanka matters. At present the US has reason to believe the ruling disposition has not won the trust of the people and there is instability.
An equally significant message came from the US and the core group at the UN Human Rights Council (UNHRC) in Geneva. It said, "Peaceful protests is fundamental to any democracy. The Human Rights Council Sri Lanka core group is dismayed at the violence which took place at Galle Face last night. We call for full respect for human rights and the rule of law."
This statement comes with less than two months to go for another resolution on Sri Lanka by the US and the core group. Diplomatic sources said that such a resolution will consider the alleged abuses of the armed forces and the police during the near three months of protests in Sri Lanka. It is also due to make strictures on political leaders responsible for 'extra-legal' actions, these sources said.
In a separate tweet, the European Union said, "the EU underlines the need of upholding freedom of opinion and expression and individual rights of Sri Lankan citizens in the process of a democratic, peaceful and orderly transition." Added Hanna Singer-Hamdy, the Resident Coordinator of the United Nations in Sri Lanka: "Gravely concerned by the use of force to disperse protestors. Journalists and human rights defenders have a right to monitor demonstrations and their functions should not be impeded." The UN Human Rights Council in Geneva said "We are alarmed by the unnecessary use of force by security forces to break up a protest camp near presidential offices in Colombo. We condemn reports of beating of journalists and lawyers and urge authorities to halt the use of force."
It would take enormous efforts by the Government to undo the damage it has caused itself. Yet, it will not be an easy task. After being elected President during the vote in Parliament, Ranil Wickremesinghe declared, "I have spent 45 years in this Parliament. This Parliament is my life. Therefore, I thank Parliament for bestowing on me this great honour. There is no need to explain to you just how difficult a situation the country is in. We have many economic problems. The young people want a system change. We also face many issues on the international stage. We cannot hesitate and must go forward and face those issues.
"We must develop a new programme. The people don't want the old style of politics. As such, I appeal to everyone in this Parliament to join to resolve these issues. We were divided for 48 hours. Now it's time to come together. I am prepared to hold discussions with all of you from tomorrow."
True, the young people want a "system change", admits President Wickremesinghe. Can that be brought about by the 225 members in Parliament? Have they not drifted away from the people who elected them?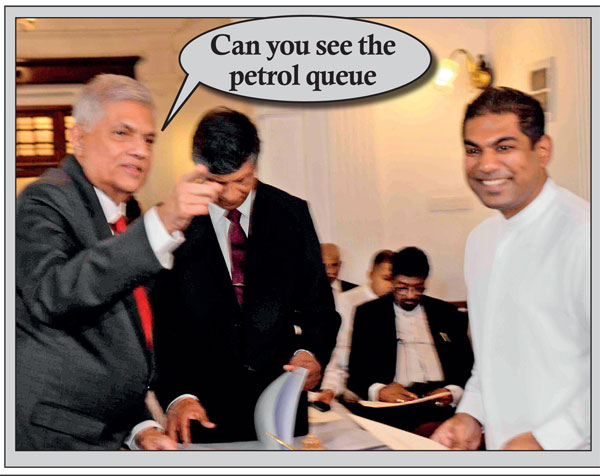 Buying or selling electronics has never been easier with the help of Hitad.lk! We, at Hitad.lk, hear your needs and endeavour to provide you with the perfect listings of electronics; because we have listings for nearly anything! Search for your favourite electronic items for sale on Hitad.lk today!