The story behind Gotabaya's dramatic escape from Lanka
View(s):
After his failed attempts to use two commercial flights, an Air Force troop transport plane takes him to the Maldives
Plans kept changing in Male till Saudia flight with Hajjpilgrims took him to Singapore
When protesters were at the gate of the President's House, he was still there discussing exit strategies with security forces chiefs
Amid reports of extremist groups infiltrating ranks of protesters, Acting President Ranil orders Security Forces to take tough line
By Our Political Editor

For almost three months now, Sri Lankans of some means, hit by the nation's worst economic crisis, fled the country to seek relief. Others queued up outside the Department of Immigration in their thousands for passports to follow suit.
By a strange quirk of fate, this week, it became the turn of President Gotabaya Rajapaksa, the war hero turned fugitive, who was the cause of all the issues. He has been living in virtual seclusion since his private residence at Mirihana was attacked by protestors in April. Now, he was fleeing again from most of the Sri Lankans who were seeking his ouster. He and a group, including his wife Ayoma, had made plans to travel to Dubai on Srilankan Airlines flight UL 225 on Thursday, July 14. It was departing at 6.25 p.m. from the Bandaranaike International Airport (BIA). Seats had been booked and departure arrangements were made.
President Rajapaksa had already arrived in Colombo in a helicopter after he retreated from the President's House on Saturday July 9. Details of this appear in the later paragraphs. The exit plan had been worked out thereafter. His entourage included military escorts and a wealthy businessman who made a fortune in maritime security and related fields from the time Gotabaya Rajapaksa was Defence Secretary. He had also been a top financier during his presidential election campaign in 2019.
The news of the impending departure on the night of Tuesday, July 12, reached the pilots of SriLankan Airlines and unions representing cabin staff. Both refused to carry the President and his entourage on their flight. Such was the hatred towards a man who had been elected with an overwhelming 6.9 million votes at the 2019 presidential election. The public anger had overflowed. Minister Tiran Alles and Aruna Fernando, a friend of the President, reached out to SriLankan Airlines Chairman Ashok Pathirage for help. Fernando is a member of President Rajapaksa's Viyath Maga (a body of professionals) and contested the Colombo North seat on the Sri Lanka Podujanan Peramuna (SLPP) ticket. However, he was badly defeated. He tried and later explained politely that there was no way he could compel the pilots or his staff. Thus, flying by SriLankan Airlines became impossible.  Adding to their reluctance was an alleged threat by a passenger who said he and others on the flight would together beat up all members of the entourage, the President included.
Then presidential aides tried to book President Rajapaksa and his group on board Etihad Airways flight EY 267. It was due to depart BIA at 9.20 the same night.
All this while, President Rajapaksa, a source revealed, was near the BIA weighing options to make a hurried getaway from Sri Lanka. He turned to Sri Lanka Air Force Commander Air Marshal Sudarshana Pathirana, for help. He sought to fly to the Maldivian capital of Male in a Russian-built Antonov An-32 turboprop twin-engined military transport aircraft. He had hurriedly made it available since President was the commander-in-chief. The question of a refusal did not arise since he had to follow orders.
Stay in Male
The arrival in Male was past midnight. It was July 13 now. Reports from there said that Air Traffic Controllers at the Male tower at first declined clearance for the AN 32 to land. The President of Maldives had been away in Mecca for the Hajj pilgrimage and Speaker of the Majlis (Parliament), Mohamed Nasheed, had intervened. Nasheed was a former President and counts close friends among many Sri Lankan politicians. Days after being sworn in as Prime Minister, Ranil Wickremesinghe, in fact, named him to be the coordinator for international assistance.  A Maldivian Foreign Ministry statement dated July 14 said: "The Government of Maldives at the official request of the Government of Sri Lanka granted diplomatic clearance for the Sri Lanka Air Force aircraft carrying His Excellency Gotabaya Rajapaksa, President of Sri Lanka, and spouse, on a transit visit to land at the Velani International Airport on 13 July 2022. President Rajapaksa left for Singapore on 13 July 2022."  As is clear, the decision to use a Sri Lanka Air Force asset was made in the night of July 13, that too after efforts to fly in two successive commercial flights failed. Hence, how permission for a military aircraft to land in Male was sought by the Sri Lanka government remains a critical question. Was the claim made in the light of protests raised by opposition parties in the Maldives? The statement came only after President Ibrahim Solih had returned to his country.
Under heavy security, President Rajapaksa and his entourage were accommodated at the Girifushi Island. It is here that an academy for training soldiers is located. The move was to ensure President Rajapaksa and his group had the topmost security environment.  At that time, it was perceived that such accommodation was only for a few hours since he was to board a Singapore bound flight from Male. That was on a Singapore Airlines flight leaving later that day. Rajapaksa made clear to his aides that he did not want to board any flight to Singapore that was arriving from Colombo. He feared for his safety. Television crews and the media had turned up at the Changi International Airport awaiting this flight. A last-minute change was to take place.
A young member of the Rajapaksa family, who had established new and rewarding business connections in Dubai, had telephoned President Rajapaksa to tell him that he was arranging a private jet to fly to Singapore. He, therefore, did not board the Singapore Airlines flight and waited for the private jet to arrive. Contrary to the assurance, it did not. He then decided to leave by the only Saudia (earlier known as Saudi Arabian Airlines) flight from Male to Singapore. It was flight number 788 departing Male at 11.30 a.m. It was bringing in a load of pilgrims after Hajj pilgrimage for disembarkation in Male as well as Singapore. For the international media personnel who waited at Changi, there were some tense moments as the Saudia flight arrived seven minutes early. For some unexplainable reason, the word got around that President Rajapaksa and his entourage had not arrived. Even the Singapore-based Channel News Asia (CNA) made the claim. However, confirmation came in a two-sentence statement put out by the Ministry of Foreign Affairs of Singapore. It said, "Singapore's Ministry of Foreign Affairs confirms that Sri Lanka President Gotabaya Rajapaksa has been allowed entry into Singapore on a "private visit."  Did not ask for and has not been granted any asylum."
One of his first tasks upon arrival in Singapore was to sign a fresh letter of resignation in the presence of Shashikala Premawardhane, Sri Lanka High Commissioner in Singapore. It was then emailed to Speaker Mahinda Yapa Abeywardene. It did create an initial issue over its authenticity. After telephone calls between Colombo and Singapore, High Commissioner Premawardhane despatched to Colombo, one of her staffers with the original letter. It was thereafter that Speaker Abeywardena at a news conference on Friday morning made the official announcement that the President had resigned. That ended the saga of Gotabaya Rajapaksa, a onetime Lieutenant Colonel in the Army who obtained his premature release to emigrate to the United States.
He returned to support his brother, Mahinda Rajapaksa's candidature at the presidential elections in 2005 and became Defence Secretary. He contested the 2019 presidential election and won an overwhelming mandate of 6.9 million votes. He had to flee Sri Lanka ending his career which has been riddled with one controversy after another.  Where he will end up remains a mystery and his troubles are not altogether over. One is the accusations he would face before the 51st sessions of the UN Human Rights Council in Geneva. This is when a new resolution on Sri Lanka is introduced by the core group of countries headed by the United States. Before his departure, he failed to obtain a visa for the US. It is not customary for them to issue such visas to those who have renounced their citizenship unless under extremely exceptional circumstances. His final destination remains unclear. Although it was mentioned as Saudi Arabia, diplomatic sources said it was extremely unlikely, particularly in the light of his hostile posture towards the Muslims of Sri Lanka. The cremation of Muslim bodies during the COVID 19 epidemic enraged the Arab world. Controversial leaders who have received asylum in Saudi Araba have all been Muslims.
Basil's botched attempt to leave
Just a few hours after the Gotabaya Rajapaksa saga, another played out at the Bandaranaike International Airport. This is when Basil Rajapaksa, ex-Finance Minister, the SLPP's principal architect and its ideologue, wanted to board an Emirates flight on the same night, Wednesday. This time he was headed home to Los Angeles. It was first by Business Class to Dubai by flight EK 649 and thereafter from there to Washington Dulles Airport in First Class by flight EK 231. His ticket alone cost him more than three million rupees. Before he became a cabinet minister in Sri Lanka, his mode of travel to Los Angeles has been via Economy Class. Rajapaksa walked to the Silk Route; a Lounge exclusively used by Business Class passengers of SriLankan Airlines. An exception had been made for him. By this time the Lists of Business Class passengers who are booked had been circulated to Immigration Officers. The Sri Lanka Immigration and Emigration Officers Association, headed by Anura Kanugala, had decided by then not to service passengers passing through this lounge. Rajapaksa was hesitant to walk to the open area where the Emirates Business Class counters were located. Finding that he was unable to get immigration clearance, he left the airport accompanied by his security staff in a black van. He remains in Colombo. On Friday, the Supreme Court ordered that he together with brother and former Prime Minister, Mahinda Rajapaksa, should not leave Sri Lanka until July 28. This was on a petition filed by Transparency International.
The saga of President Gotabaya Rajapaksa fleeing Sri Lanka did not originate at the Bandaranaike International Airport that Tuesday night. It began on July 9 from the President's House (Janadipathi Mandiraya). That Saturday night, protestors had organised their biggest event, a massive campaign in Colombo to force out President Rajapaksa. Government leaders and security top brass were aware of the moves by Friday. That night, from 8 p.m. they had declared an indefinite curfew and ordered the induction of more troops. Train services were cancelled. This notwithstanding, crowds were coming into Colombo in lorries and even bicycles. The news of a clampdown on peaceful protests disturbed the Colombo-based diplomatic community. They voiced concerns over any moves to stymie peaceful protests. By 8 a.m. the curfew was called off and the transport services resumed. Surprising enough, despite a fuel shortage, crowds thronged the areas surrounding the President's House. From the road opposite the Bank of Ceylon, troops armed with T-56 assault rifles fired at crowds ahead of a gateway along the road leading to the President's House. This lay near the Kingsbury Hotel. They wanted to stall the march towards the President's House. Groups of protestors, some bleeding, dropped to the ground.
Other roads leading to the President's House were barricaded, some with two rows. Armed police and troops stood behind. Ahead of them, the protestors were turning angry. Whilst shouting slogans, they pushed the barricades. President Rajapaksa was on the upper floor of the President's House. He had just finished breakfast. On the ground floor, Defence Secretary Kamal Gunaratne, Chief of Defence Staff General Shavendra de Silva, Army Commander, Lt. Gen. Vikum Liyanage, Navy Commander Vice Admiral Nishantha Ulugetenne and Air Force Commander Air Marshal Sudarshana Pathirana and Police Chief, Chandana Wickremeratne were waiting. After President Rajapaksa descended the stairs, a discussion ensued.
Tactical withdrawal
President Rajapaksa wished that the crowds could be dispersed using tear gas and water cannons. However, the security top brass was very cautious and did not want to precipitate a situation which could lead to bloodshed and a resultant uncontrollable situation. There were fears that even in such a situation, some remnants would find their way into the President's House. They were of the view that it was more appropriate for President Rajapaksa to make a tactical withdrawal and allow the situation to settle down. Just then the news arrived that the protestors have successfully broken through the barriers at Chatham Street and were heading towards the President's House. Some had even climbed the old clock tower cum lighthouse there en route.
President Rajapaksa heeded the advice of the security chiefs to make a quick getaway and thus prevent a bloodbath. Bags were packed hurriedly. He and wife Ayoma were escorted in the official vehicle of Navy Chief Vice Admiral Ulugetenne to the Colombo Port where the SLNS (Sri Lanka Navy Ship) Gajabahu (P 626), named after a Sinhala warrior, was docked. This is an Advance Offshore Patrol Vessel (AOPV) from the United States Coast Guard and gifted to Sri Lanka. This high endurance cutter, a river class frigate, has been named previously after John Sherman, the 32nd Secretary of Treasury of the US. This AOPV has provision to land a helicopter on board. It sailed within the country's territorial waters. It is not immediately clear whether President Rajapaksa and party disembarked in Trincomalee and flew to the airport in SLAF helicopters or took off from onboard the frigate. The move to seek the safety of a naval vessel is on the grounds that it cannot be attacked at sea by the protestors. With the mobile phones operational, this was how President Rajapaksa telephoned Speaker Mahinda Yapa Abeywardena, to inform him that he would send in his resignation on July 13. He, however, did not reveal his plans then. He also kept in touch with an immediate circle using his mobile telephone from the AOPV.
Having successfully ousted President Rajapaksa from the President's House, the protestors occupied it. There were some ugly scenes too. Some consumed beer and hard liquor there. Others opened cardboard boxes and drank the sachets of milk. A group plunged into the swimming pool. The water there turned brown after some time. Others slept on President Rajapaksa's bed. There was a mock meeting of the Cabinet with one of the participants, posing as a former young minister, pleading "api horu nemei" or we are not rogues. There were others who went into the kitchen to consume the food there. One played the piano in a hall where old colonial governors held court. Others clapped and danced. Almost all of them took selfies using their mobile phones. A group found stacks of cash and began counting. There was over Rs 17 million which they handed over to the Fort Police who in turn deposited it with the Magistrate of the area. One of the protestors opened the door of a row of wall cabinets. It led to a hallway and to a lift that took one to an underground bunker. It had been constructed long before President Rajapaksa took cover at the President's House.
The July 9 events were, no doubt, historic. The resilience of the troops and the Police, who did not want to precipitate a situation, paid full dividends to the protestors. It also laid bare, for the first time most glaringly, that some of the protestors had their own agenda — to achieve extra-constitutional goals. As one such 'leader' argued at a news conference that it was their efforts that had driven President Rajapaksa out of office and not those in Parliament. Hence, he contended that they had the right to dictate the next course of action and even called upon parliamentarians to follow their dictates.
Possible crackdown
There are clear signs that this scenario is about to change. Acting President Ranil Wickremesinghe wants the troops and the Police to take a tough line. That will mean a crackdown on protestors. Such a situation could lead to mass arrests. If that is the answer to deal with those promoting extra-constitutional objectives, it also has its dangers. Such a crackdown, if allowed to continue, would lead to further instability in the country. This is at a time when international donors, particularly the International Monetary Fund (IMF), and others are seeking conditions of stability. President Gotabaya Rajapaksa had applied the brakes on troops and Police taking a hardline. This saw the birth of the GotaGoGama and all other related activities. They will no doubt disappear. However, there is a hard reality that remains — that public resentment against the Gotabaya Rajapaksa administration for its economic mismanagement. They are still in need of essentials.
The protests that grew as a hybrid campaign were infiltrated by those indulging in extremist political ideologies. It is only after the massive protests on July 9 has the pattern emerged more cohesively. That by no means takes away the involvement of tens of thousands of men and women who were truly affected by President Gotabaya Rajapaksa's economic mismanagement that heaped hardships on them. It is well known, particularly among higher levels of the security establishment, that there were a series of intelligence warnings about what was called the infiltration by extremist elements. Why did President Rajapaksa say, "I am not interested in knowing those things" Why did he not order a crackdown then? Did he fear it would boomerang on him?
The concerns of the Bar Association of Sri Lanka (BASL) underscore these aspects. Its President Saliya Peiris and General Secretary Isuru Balapatabendi said in a statement: "It is now up to Parliament to ensure that the election of his successor is held without delay in terms of the Constitution and the Presidential Elections (Special Provisions) Act No. 2 of 1981. The BASL calls upon all parties to honour the decisions taken at the Party Leaders meeting on 9th July 2022 and to act in an expeditious manner that will restore public confidence in the legal and Constitutional mechanisms of Sri Lanka including its institutions. The date fixed for this election, namely 20th July 2022, can remain unchanged, despite delays in the formal resignation of President Gotabhaya Rajapaksa, since Parliament is now convened tomorrow (Friday).
"The BASL notes the uncertainty which has prevailed in the country since the 9th of July 2022, over the resignation of the President and the appointment of the acting President under Article 37(1) of the Constitution which should have been avoided at a time when the country has been affected by social, political and economic instability. In electing the new President, the Members of Parliament now represent the entire electorate of Sri Lanka and must perform this onerous duty respecting the sovereignty of the People and their wishes and uphold democratic values. The need of the hour is to take decisions based on the best interests of the country and not the personal or political interests of any individual or political party. Members of Parliament must do everything in their power to prevent Sri Lanka from plunging into further chaos and to restore social, political, and economic stability."
To make matters worse, a faction, obviously backed by the private agendas of a handful, set fire to the Fifth Lane private residence of now acting President, Ranil Wickremesinghe. Valuable books he and his wife Maithri had bequeathed to Royal College and to the Peradeniya University went up in flames. This dastardly act received the condemnation of all sections of the political spectrum and civil society. It is incumbent on acting President Wickremesinghe to ensure that the persons responsible, those who plotted, planned, and carried out this attack, receive the toughest punishment under the law.
Another incident worthy of mention is the attack on two soldiers and the reported seizure of their assault rifles including ammunition during a clash outside the official residence of the Speaker. The number of soldiers appears to be more than two if one is to go by the number of photographs released by the Army where top brass are seen visiting them. The incident makes clear the troops are livid over the treatment meted out to them. That does not bode well.
There has been some confusion in the public mind over why Ranil Wickremesinghe was sworn in twice as acting President. The first was under Article 37 is "if the President is of the opinion that by reason of illness, absence from Sri Lanka or any other cause he will be unable to exercise, perform and discharge the powers, duties and functions of the office of the President during such period…" With the resignation of President Gotabaya Rajapaksa, such a position has ceased. He has been sworn in thereafter under Article 40 (c) which says, "during the period between the occurrence of such vacancy and the assumption of office by the new President, the Prime Minister shall act in the office of the President and shall appoint one of the other Ministers of the Cabinet to act in the office of the Prime Minister…."
The Parliament will elect a new President to serve the rest of two years and four months from Gotabaya Rajapaksa's term of office. This is after the man, who vowed not to quit as a failed President and finish his term, was booted out of office by the people's power.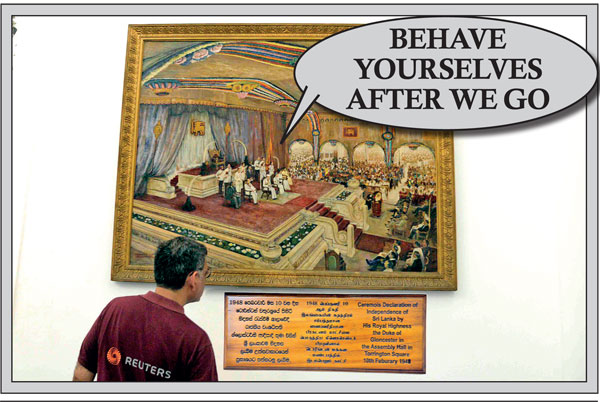 Buying or selling electronics has never been easier with the help of Hitad.lk! We, at Hitad.lk, hear your needs and endeavour to provide you with the perfect listings of electronics; because we have listings for nearly anything! Search for your favourite electronic items for sale on Hitad.lk today!