Don't send mothers of the very young abroad: Paediatricians
View(s):

The Sri Lanka College of Paediatricians issued the following statement on the Cabinet proposal to allow mothers with children two years and older to seek foreign employment.

It is with the greatest concern and dismay that the members of the Council and the Child Protection Committee of the Sri Lanka College of Paediatricians received the news that the Ministry of Labour and foreign employment is proposing to allow mothers with children two years and older to seek foreign employment. The previous circular stated that only mothers with children above five years could seek foreign employment. The rationale behind this proposed change is said to be due to two reasons: mothers seeking overseas employment through fraudulent means due to restrictions imposed by the previous regulation and encountering difficulties. The second reason stated is that women's rights are being infringed upon.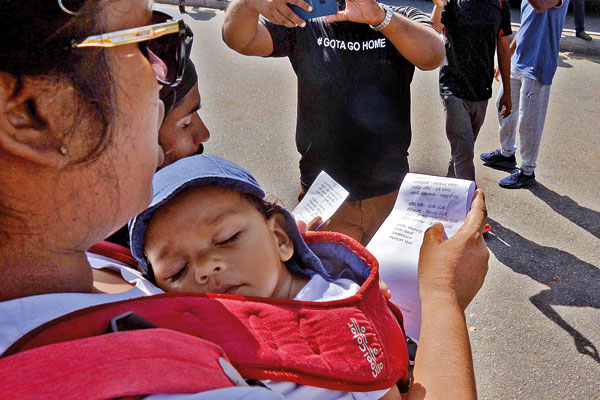 Sri Lanka is a signatory to the United Nations Convention on the Rights of the Child. The four core principles of the Convention are non-discrimination, devotion to the child's best interests, the right to life, survival, and development. The principle of the 'best interest of the child' will be violated together with the right to survival and development if we go ahead with this move. All children at every age need love, care, and protection, a safe family background for optimal growth and development. At the tender age of 2 years, this is critical. Even with the existing rule of 5, we as Paediatricians have data to prove that the absence of stable family background in these circumstances exposes children to all forms of issues, including child maltreatment (physical, sexual, emotional abuse, exploitation, and neglect). The National Child Protection Committee has conveyed similar sentiments regarding this matter.
Experiencing such adversity, together with family dysfunction (the absence of a mother), are known adverse childhood experiences that have a detrimental effect on children's physical and psychological growth and development. This is well known to ultimately lead to an adulthood of poor employability (due to early school dropouts), depression, anxiety, suicidal ideations, and risk-taking behaviours such as addiction to alcohol, smoking, and drugs, leading to chronic illnesses and cancers.
We clearly understand the need to encourage employment in other countries due to the current economic crisis. Indeed, Sri Lanka does need all avenues to be explored right now. However, if we balance this move with the impact this decision will have on future generations, the negatives far outweigh the positives in our analysis of the situation.
We earnestly request the Cabinet of Ministers to reconsider this matter in the best interests of the children of our country and the long prosperity of the country and its people.