Self-taught designer with an eye for jewellery
By Ruqyyaha Deane
View(s):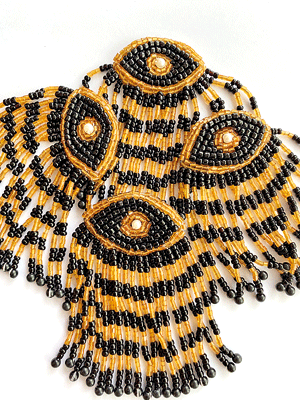 A law student who became the proud founder of the 'eclectic and whimsical' brand GAI— self-taught and self-made, Gayanth Karunarathne released his latest Egyptian-inspired jewellery collection mid-June.
His journey as a designer only began five – six years ago for Gayanth was a third-year law student following his family's wishes while working at a retail outlet. He laughs as he says that he quit law secretly during his third year and went on to pursue designing by himself.
"I only did a few classes for pattern making to get a little bit of that engineering side down, so I consider myself a self-taught designer. I learned everything mostly by myself, and now here I am," he says gesturing to the Design Collective Store where GAI is retailed.
What he lacked in paper qualifications, Gayanth made up for with his eye for detail and retail experience. Having worked around fashion, he saw what customers gravitated to.  His first solo collection was a women's ready-wear line which included a lot of hands-on detail and now he's on his fourth collection – his second devoted to jewellery.
Each vibrant and intricate statement piece is handmade by Gayanth.
"I find it to be very therapeutic, doing all tiny details by myself. I really enjoy it and it helps that I'm quite fast with embroidery and sewing. Since I was small I always liked doing things by hand. I wanted to get into bead embroidery because I have been quite fascinated with senior and instructional designers that have been incorporating beads."
He himself shops for the materials, taking the time to compare colours, textures and bead sizes.
This collection is Egypt themed, not surprising since the country had always fascinated this geography buff – the paintings, the pyramids, the culture; even as a child, Gayanth would love watching cartoons and movies around Egypt.
"I found it very interesting, especially when it came to their dress sense because they used a lot of cotton and it was very minimal clothing but they had a lot of elaborate jewellery pieces. So I thought why not? Why can't I incorporate them into my designs."
Each earring set from his collection is designed after an Egyptian deity, from the green and yellow best-seller that was fashioned after Osiris, to a stunning black and gold piece named Horus.
It started off as an experiment during the pandemic. Stuck at home, he began embroidery which led to him creating these earrings on a whim and as it grew, he thought of a collection which would revolve around four designs and focus on a specific ancient Egyptian deities.
"I visited three different goldsmiths and tried out different samples because I wanted to ensure strength and durability. I found someone all the way in Kandy who was so kind and efficient," he adds.
The situation in the country, Gayanth says, has definitely hindered them. For one, his designs are mostly customised and he needs a free mind to design. Sourcing raw materials and navigating the power cuts are further challenges.
"It's quite  a lot harder than it used to be and it takes a lot of time now for me to put collections together. I think it's a struggle for all of us, the designers and the artisans because I see that every day –  we go through it together. Fashion is usually a really cut-throat industry but this crisis has brought most of us together and people actually like helping each other by like giving them different contacts for suppliers and artisans," he says looking at the silver lining.
So what's next?  Look forward to a Cuban inspired clothing collection and a complementary jewellery line  in a couple of months.
To stay updated on his collections, follow @gaibygayanthkarunarathne on Instagram.
Searching for an ideal partner? Find your soul mate on Hitad.lk, Sri Lanka's favourite marriage proposals page. With Hitad.lk matrimonial advertisements you have access to thousands of ads from potential suitors who are looking for someone just like you.