Vegetables and fruits rot at collection points; markets see few customers, vendors
View(s):

By Sohan Vipulananda  

The fuel crisis has aggravated the food shortages, with vegetables, fruits, and fish rotting at collection points and economic centres.

At the country's main wholesale and retail vegetable and fruit market, the Manning Market in Peliyagoda, traders said they experienced a drastic drop in the supplies and there were not many vendors and customers to buy the meagre stocks they now received. As a results, much of the stocks end up as garbage.

The trader said he faced huge losses as he was forced to sell fruits at prices as low as Rs.180 a kilo, though he should be selling them at Rs. 400 a kilo. Or else the fruits would have to be thrown away.

The situation is the same at the Dambulla Economic Centre, the hub which receives and distributes vegetables and fruits.

The Manning Market's Traders Association Deputy President G. Prabath Susantha said that due to the fuel shortage there is no way they could bring vegetables to the market. It was not only the traders who were hit by the crisis but also the farmers who were unable to send their produce to the buyers, he said.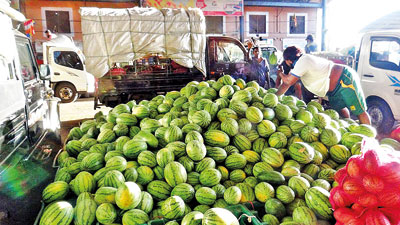 According to him, carrots were being sold at Rs. 250 a kilo, leeks at Rs. 180 a kilo and pumpkin Rs. 250 at the wholesale market.
Mr. Susanatha said the per-kilogram transport cost to bring vegetables from Nuwara Eliya had gone up to Rs. 16, whereas it was only Rs. 3 before the fuel prices were increased.
The Government last week declared agricultural and food sectors as essential services, to enable agriculture product transporters to obtain fuel on a priority basis, but vegetable transporters said they still faced difficulties in obtaining fuel.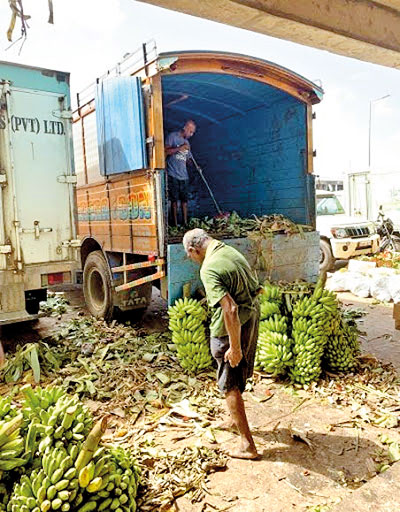 "During the Covid-19 pandemic, the Manning Market was kept open as it was an essential Service but until now we have not been given any special privileges to obtain fuel," Mr. Susantha said, blaming the government leaders for aggravating the food crisis by imposing a ban on the import of chemical fertilisers last year.
"If we do not bring fertiliser to the country, we will have to import food to cover the shortage," he added.
Jaffna farmer Rajaratnam Kugadas said the fuel crisis had prevented him from sending vegetables to other provinces as his buyers had no fuel to come to his field. As a result he was forced to sell his produce at low prices.
"While my buyers were spending days and nights at fuel sheds to get diesel, I have to sell my produce in the nearby markets at giveaway prices," the farmer said.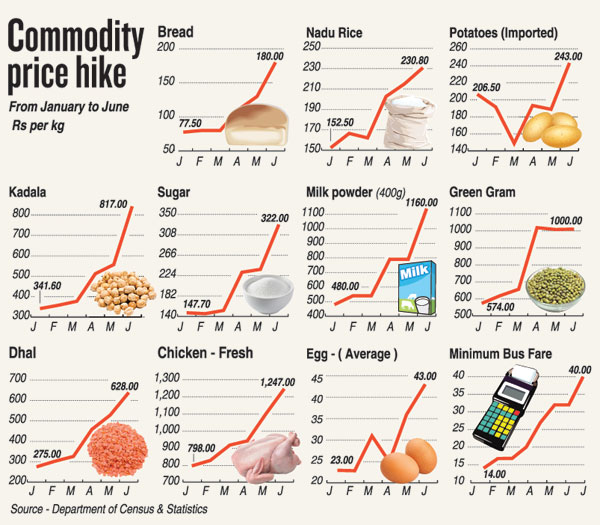 The fuel crisis has also dealt a severe blow to the fisheries industry at a time it was trying to recover from the effects of the coronavirus pandemic. With many fishing vessels lying idle without fuel, the prices of fish have reached sky high. Thalapath is being sold at Rs.2000 a kilogram. The price was Rs.1200 weeks ago.
"Fish prices won't go down unless the government reduce the price of fuel and ensured a continuous supply," said A. Yogeshwaran, who works for a fish stall owner at the Peliyagoda Central Fish Market.
He said that he had never seen a dull market in his long service in the fisheries sector.
(Additional reporting by Kanchana Kumara Ariyadasa)   
The best way to say that you found the home of your dreams is by finding it on Hitad.lk. We have listings for apartments for sale or rent in Sri Lanka, no matter what locale you're looking for! Whether you live in Colombo, Galle, Kandy, Matara, Jaffna and more - we've got them all!