'Bring in meds needed against heroin dependence'
View(s):

Strong plea from Psychiatrists & NSACP

By Kumudini Hettiarachchi 

With heroin-dependence among Sri Lankans showing an upward trend due to added external stressors in these troubled times, grave concern is being expressed by doctors that the import of an essential medicine in the management of these patients has been halted.

Reiterating that the treatment of heroin dependence seems to be "nobody's business", the President of the College of Psychiatrists Dr. Gihan Abeywardena told the Sunday Timesthat there is scientific evidence on the positive impact of Buprenorphine in the management of this dependence.

He urged the government to allow the State Pharmaceuticals Corporation (SPC) to import limited quantities of Buprenorphine so that drug abuse treatment clinics in government hospitals could use it to deal effectively with withdrawal symptoms and detoxification. These clinics will prescribe this medication under the supervision of doctors based on protocols developed by the Sri Lanka College of Psychiatrists and the National STD/AIDS Control Programme (NSACP).

This is while Dr. Sathya Herath of the NSACP says that during testing and treatment of those with HIV (Human Immunodeficiency Virus), STIs (Sexually-Transmitted Infections) and blood-borne viruses, they have identified a remarkable prevalence of the Hepatitis C virus among people who inject themselves with drugs. A similar trend has been seen in HIV cases among people who use injected drugs.

"A challenge faced by the NSACP is getting them for treatment for Hep C and also HIV as their adherence to medication is poor due to their drug use. With harm-reduction interventions such as the use of Buprenorphine being evidence-based, there is a need to treat them for their drug-dependence and then get them on a firm footing with regard to Hep C and HIV treatment," she said.

Describing Buprenorphine, administered as a tablet that dissolves under the tongue, as 'a partial opioid agonist', Dr. Abeywardena says that it has a lower ceiling to the euphoric state it can bring on. This is unlike Methadone, a full agonist. Buprenorphine has several advantages over Methadone – it is more cost-effective, there is faster improvement of withdrawal symptoms and completion of detoxification; it is less toxic if there is overdosing by chance; and heroin-dependents are less likely to get addicted to it.

Dr. Abeywardena says that heroin misuse in Sri Lanka is rapidly rising (see graphic). For most psychiatrists and other medical specialists, the treatment of heroin dependence is an unrewarding experience as the outcome is uniformly poor. 'Cold turkey' treatment (when a person is persuaded to quit the substance all at once, rather than tapering it off) with counselling, has produced less than 5% abstinence after six months.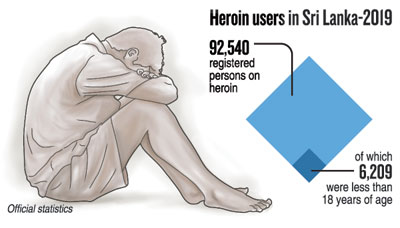 "Therefore, more effective treatment is vital to reduce the ever-increasing demand for heroin. A way that youth finance their habit is by selling heroin to friends who, in turn, sell a portion of what they procure to continue to buy more heroin. This has resulted in an alarming increase in the abuse of heroin among youth. The existing 'cold turkey' treatment merely increases their craving and sends them back to heroin use with renewed vigour," he says.
Dr. Abeywardena points out that the rest of the world follows the guidelines set by the World Health Organization (WHO) with regard to the treatment of heroin users – detoxification and maintenance therapy.
Through experience of treating heroin users, he speaks of how "desperately" they want to stop taking it and get back to "normal". They are unable to do that on their own due to the "unbearable" withdrawal symptoms they suffer. These symptoms include excruciating muscle pains with backache, profuse vomiting, severe diarrhoea, insomnia, rhinorrhoea (runny nose), lachrymation (flow of tears) and yawning.
This Psychiatrist urges that they need professional help with appropriate medications to relieve them of these withdrawal symptoms. Psychological therapies along with meditation and mindfulness do not work at that stage, as due to severe pain and discomfort they are not receptive to them. They become receptive to these psychological therapies, only after they are detoxified and made pain-free and comfortable. The belief of some doctors that paracetamol would reduce the pain is not correct as those with a heroin dependence have Opioid-induced Hyperalgesia (OIH) which is a low threshold of pain and a state of heightened pain perception. This leads to restlessness, agitation, confusion and violence.
"This is why the College of Psychiatrists is urging the health authorities to import Buprenorphine as the 'best' medication for the management of moderate to severe heroin withdrawal. It alleviates withdrawal symptoms and reduces cravings," he adds.
Explaining maintenance therapy used in the treatment of heroin users, Dr. Gihan Abeywardena says it is based on the principle that another longer-acting and less-addictive opioid should be used in place of heroin, to reduce the craving. This allows the altered brain of the heroin user to heal, paving the way for the person to get back to normal life and relationships.

The WHO-approved detoxification and maintenance therapeutic agents are Methadone and Buprenorphine. These have been used around the world in the past 50 years, it is learnt. A study published in the peer-reviewed Journal of the American Medical Association (JAMA) in 2020 reveals that both these medications have been associated with a 32% relative rate of reduction in serious opioid-related acute care use at 3 months.

Dr. Abeywardena says that Sri Lanka turned away from these medicines for two reasons. One was the myth that the heroin used in the country is of low potency and the users do not get "real" withdrawal symptoms. The other was that Buprenorphine and Methadone can be diverted for street abuse.

Dispelling both these misconceptions, Dr. Abeywardena states that current studies show that the heroin used in Sri Lanka is of high potency. There is also a rapid spread of use including intravenous use which has become a critical issue for families and society.

The concern over Buprenorphine being diverted for street abuse can easily be overcome with its administration being strictly restricted to drug abuse treatment clinics in government hospitals, it is learnt.

"With Hepatitis C and also HIV numbers rising among intravenous drug users, heroin abuse has led to both medical complications as well as social issues," adds Dr. Abeywardena.
The best way to say that you found the home of your dreams is by finding it on Hitad.lk. We have listings for apartments for sale or rent in Sri Lanka, no matter what locale you're looking for! Whether you live in Colombo, Galle, Kandy, Matara, Jaffna and more - we've got them all!