Kitchens nourish people's connections, fulfil nutrition needs
View(s):

By Yoshitha Perera  

Sri Lankans have accepted the concept of the community kitchen due to the food scarcity and rising food costs.

Many more are being set up in Colombo's suburbs and outskirts and they are becoming increasingly popular.

"One man came after having lunch and said he ate three plates of rice. He had a delicious meal after a long time. This shows how much the food means to them," said Ms Dharminie Fernando, while recalling her experience as a volunteer at a community kitchen in Negombo.

Food frequently triggers memories of the past, resulting in the formation of a historical consciousness. While social safety nets help vulnerable communities prepare and share healthy meals for free, community kitchens are expanding and incorporating new ideas and tactics.

Food memories are embedded in the food that is prepared and shared, and this becomes a factor in the formation of people's cultural memories.

The Negombo kitchen was started by the Voice for Voiceless Foundation and has been going on for more than a week. Most who come to eat are homeless, and some are from the fishing community that lives on Grand Street in Negombo.

Ms Fernando noticed that despite the fact that it was large-scale cooking, it was done with love.

"I was struck by how simple and clean the kitchen is. They were cooking over a wood fire under mango trees. A small group of people is preparing nutritious meals. There is a great deal of unity among them," she observed. The kitchen is open Monday through Friday and serves food to nearly 170 people.

People of various backgrounds are coming to community kitchens and different stories are shared among volunteers.

When Ms Fernando was speaking to a nine-year-old who came to have lunch, she had realised that since 2020 children have not had proper schooling.

She said the child said online study is not possible because a smartphone is not available.

"It's difficult to believe that such poverty exists in the heart of Negombo. We used to believe that urban schools were doing well, but that is no longer the case,"
she explained.

Hundreds of different stories about rising poverty are being shared. In mobilising through food, these kitchens are helping the community in overcoming the stigma caused by the crisis.

Another community kitchen set up one week ago in Batticaloa is feeding 50-100 people a day. School students and labourers from the Eastern University are coming to the kitchen to have their meals, Pastor V. Vishwanath from the Voice Foundation said.

In finding out about community kitchens that have functioned in a similar way in history, in the 1970s, during the riots, Sarvodaya had the first such experience.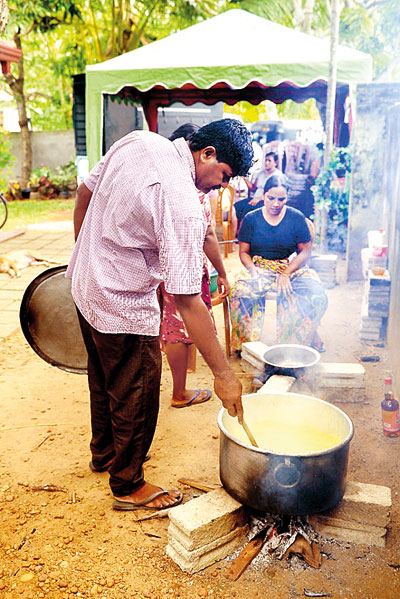 "The political and the social [environment] were a bit similar to the present moment,"
said Udesh Fernando, director, Sarvodaya Institute of
Higher Learning.
Food security has become a critical issue, with rulers asking people to survive on two or one meal a day.
Sarvodaya, was initially focusing on food safety of children, while also promoting child nutrition.
Since October last year, it had been preparing for community kitchens and launched the 'We Are One' campaign based on marginalised Early Childhood Development Centres in the plantations sector. The programme has three components: community kitchen, food banks, and promoting home and community gardening.
"Our first initiative was to cater to children, again, child nutrition. During preschool it is necessary for children to have more nutritious food since that is the age that mental growth and brain development happens. Nutrition at this stage is critical for human growth," Mr. Fernando said. Sarvodaya has a network of 1,000 preschools and before implementing the current programme, the officials from the organisation have consulted the Medical Research Institute
(MRI) for data on those facing severe malnutrition.
"We selected 110 preschools which do not have kitchens and we provided them with the knowledge, utensils and the initial stock of goods to start the programme. In many places we saw that people are coming up with their own novel ideas to improve the kitchen," he said.
Sarvodaya also has promoted community kitchens within highly dense urban areas in Colombo such as flats. Singularity Sri Lanka is partnering with Sarvodaya to establish such kitchens in these places.
The organisation has set up food banks that accept and distribute donations. It has its own shramadana societies and plans to convert 25 district centres into food banks.
When it comes to the home-garden concept, it will eventually evolve into community gardening.
"In the first phase, we have provided a pack of seeds to about
400 beneficiaries to promote
home-gardening," Mr. Fernando explained.
A report by the United Nations Office for the Coordination of Humanitarian Affairs (OCHA) on the food security crisis in Sri Lanka, said families are eating less preferred or less expensive foods daily and are limiting the portion sizes of meals.
Sarvodaya and Singularity Sri Lanka have collaborated once a week to run a community kitchen for low-income families in Colombo's Maradana and Grandpass areas to feed between 1,000 and 1,500 people a day.
"The programme operates in this area every Sunday night. Dinner will be cooked and served at the temple and the temple is providing the facilities. The main problem is kerosene oil and gas. Most cooking is done on kerosene stoves. Most people make a living from day-to-day work, so providing at least one nutritious meal a day or twice a week is a work to be appreciated," Medankara Thero from Abeysingharamaya, Panchikawatta, Maradana said.
The food crisis is affecting daily wage workers, and due to high inflation, the bag of goods that can be purchased at a given price
is limited.
Community kitchens aim to gather the community and cook their own meals.
This will be a comprehensive culinary analysis of how food becomes a bridge between public history and personal memory by transforming into an 'edible memory,' where food leads to actions that create cultural memories.
The best way to say that you found the home of your dreams is by finding it on Hitad.lk. We have listings for apartments for sale or rent in Sri Lanka, no matter what locale you're looking for! Whether you live in Colombo, Galle, Kandy, Matara, Jaffna and more - we've got them all!