Church and educators offer children in-person education
View(s):

By Renishka Fernando  

On June 18, the Education Ministry announced the closure of Government and Government-approved private schools in main cities due to the fuel crisis.

The University of Peradeniya also discontinued its operations until a solution is found. The difficulties students already face have increased.

To try and address some of these issues, the Queen of Angels Church in Rawatawatte has started a school. With around 20 children and five teachers, classes are held each weekday from 8 am to 12 noon. Presently English, Mathematics, Science and Sinhala are taught to children from Grades 5-10. These classes are conducted in the church hall and provide an alternative to those who cannot access online education.

The Sunday Timesspoke to volunteers and students regarding the initiative. Trevor Dharmaratne, 69, a retiree, is a Catechist and English teacher. He started teaching after retirement four years ago. He volunteers out of a desire to impart his knowledge of English. He uses games and activities because his goal is to cover the syllabus without stressing the kids. For instance, his lesson that day was based on cricket. Six children, aged 12-13, were participating.

"English education is important because there are many talented people who are stuck in low-paid jobs because of their lack of English knowledge," Mr Dharmaratne remarked.

"Sri Lanka has an educational divide," said Indrani Bolognhe. "Children who come from affluent backgrounds have easier access to education." A Government-trained teacher with 31 years of experience in teaching Science and Mathematics, Ms Bolognhe was also teaching at an NGO for 11 years. She teaches Grades 7 and 8 simultaneously, assigning work to one class while instructing the other.

The children are from different backgrounds. Her students had missed a normal schooling experience due to the pandemic. As the economic crisis worsens, she wanted to ensure they received an education.

"We don't know what their home life is like," she reflected. "Children who don't have access to online education are left behind."

Kushantha Dilhara, 25, is a teacher at the St Aloysius Seminary in Borella and teaches Sinhala and History. His class has five children from Grade 9. His lesson was on the Sinhala alphabet with deeper analysis of spelling, letter types and word formation.

Did he face difficulties teaching them? He said he had not encountered any so far. He said he tried to make lessons interesting and fun. "We come here because we learn better when the lessons are held in person," said a 14-year-old boy from Moratuwa, who wished to remain anonymous.

Both Sachin Mendis and Ashen Gunaratne are just after their O/L exam. They have volunteered to teach Mathematics and Science to 10 and 11-year-olds. "Experiments need to be conducted physically and it's difficult to do that here because we don't have the necessary equipment," said Mr Mendis.

For Mr Gunaratne, teaching comes naturally as he did it with friends who faced difficulties during O/Levels. He is adept at keeping his 10-year-olds, Sayon and Seneer, engaged during their Mathematics lesson. The brothers said it was better than "staying at home and doing nothing". They come to the church after online lessons end at 10am.

The volunteers learned about the initiative when it was announced during Sunday Mass on June 19. Reverend Father Terrence Bodhiyabaduge, the parish priest, said it was introduced to bridge the educational divide.

"Anyone can come for these classes but it's mainly for poor kids who have no access to devices or online learning," he said. If a
temple, church or any communal centre organises programmes such as these, it will help young people who have faced one disruption after another.

"It's not as big as a school, but the children come and we have capable volunteers," Father Bodhiyabaduge said. "Many have called and offered to teach." The programme will continue until schools are reopened.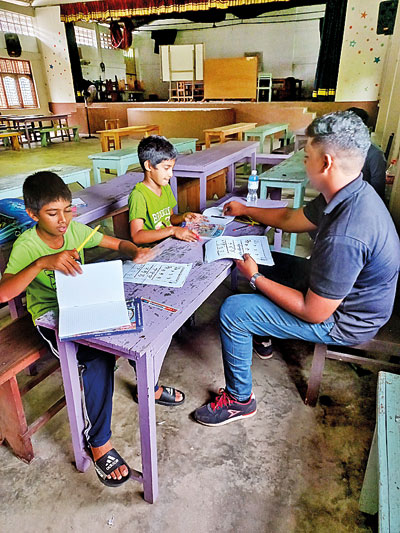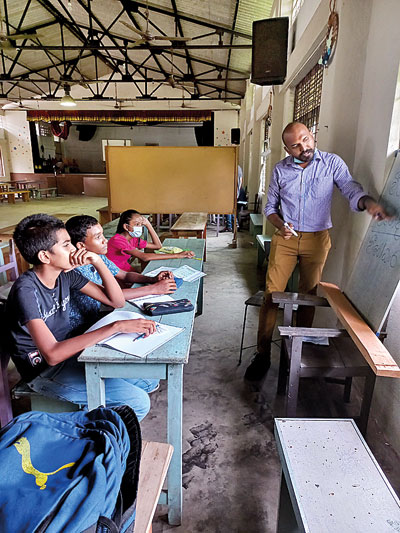 The best way to say that you found the home of your dreams is by finding it on Hitad.lk. We have listings for apartments for sale or rent in Sri Lanka, no matter what locale you're looking for! Whether you live in Colombo, Galle, Kandy, Matara, Jaffna and more - we've got them all!