Avoiding hunger and starvation in the coming months
View(s):

The increasing scarcity of food owing to a shortfall in domestic food production, the incapacity to import food owing to a severe scarcity of foreign currency, high import costs and an international food shortage is threatening the country's food security in the coming months.

Most serious

The most severe threat is the inability of large sections of the population in the country being unable to access their minimal food requirements owing to loss of employment and incomes and the soaring prices of food. This has heightened fears of mass hunger and starvation in the country.

How can we avoid this horrendous prospect?

United Nations
The United Nations recently warned that cash-strapped Sri Lanka's unprecedented economic crisis could develop into a dire humanitarian crisis, with millions already in need of aid. The UN was concerned that the current crisis could develop into a full-blown humanitarian emergency. The UN said: "We are taking action to address that concern."
UN Appeal
Jens Laerke, spokesman for the UN humanitarian agency OCHA, has said that the UN and its partners are appealing for US$47 million to address the immediate needs of the 1.7 million of the most vulnerable people and those most affected by the crisis. He said many people are now "going without adequate food" and "families' access to health services and children's education is at stake."
UNICEF Sri Lanka
UNICEF's Sri Lanka representative Christian Skoog also warned that the situation was dire, with 17 percent of children under five in the country already malnourished and stunted before the crisis. The UN children's agency especially sought to help 56,000 children suffering from severe acute malnutrition.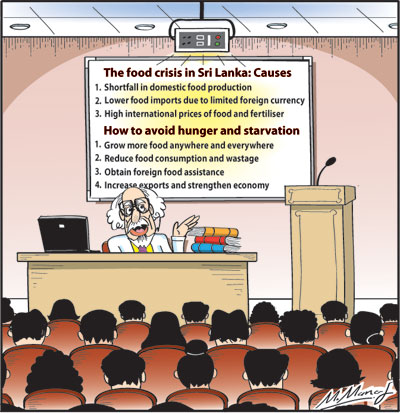 "Potentially they could all be at risk of dying," he told reporters.
Not inevitable
Ways and means have to be found to overcome this impending peril. Policies have to be devised change food consumption patterns to reduce wastage of food, ensure more equitable distribution of food and increase food production.
Food availability
Although there is no doubt of the shortfall in agricultural production this year, the food situation may not be as bad as expected. Furthermore, there are possibilities of improving it. For instance, the last Maha crop is estimated at below 50 percent of the previous one. This is a significant shortfall in the rice supply for this year. However, there were rice imports from India, China and Myanmar. Consequently, the food availability in the country may be better than anticipated. There could also be stocks of rice from previous harvests. There are also indications that the Yala crop to be harvested in around September would be better than earlier forecasted.
Millers
The current decision among millers to reduce the price of rice and the decision of the Paddy Marketing Board (PMB) to release rice from its stocks is food for thought on this issue. An accurate assessment of the rice stocks is necessary to implement pricing and marketing policies.
Strategies
The impending food security problem requires to be mitigated by changes in food consumption, reducing wasteful and excessive food consumption and increasing food production.
Social responsibility
A social consciousness on the need to contain consumption of food must be reinforced by a sense of social responsibility, especially among the affluent. Households, as well as hotels and restaurants, should   devise ways of reducing wastage of food. Pricing policies and regulations, especially at hotels, may be needed to curb excessive consumption and waste.
Food production
A multipronged strategy is needed to increase food production. These include the cultivation of uncultivated lands, growing of short term food crops requiring minimum space and intensive cultivation of food crops in home gardens.
Grow more food
One of the means by which the food supply of the country and of households could be enhanced is by growing food crops at every possible plot of land, home gardens and in pots. This is a means of increasing the country's food supply and of increasing household access to food. The success of such an effort to grow more food could improve the food needs of people. The intensive cultivation of small plots of land with household compost can often be highly productive and could enhance household nutrition.
Uncultivated lands
Uncultivated plots of land on estates, government properties and schools are to be cultivated with food crops. Such cultivation is a rational utilisation of land in the current conditions.
Fisheries
The resuscitation of sea fishing that has been hampered by a lack of kerosene and diesel is critically important. The government must give priority to providing fuel for fisheries that could provide valuable protein and enhance nutrition.
Community intervention
Even with these efforts to increase food production, there would be a significant proportion of the population unable to access even a minimum amount of food. These persons have to be retrieved from hunger and starvation by government intervention.
In the government's current financial bind, food shortages and difficulties of reaching the really needy, the deprivation of food to the poorest segment of population is likely.
Community initiatives
In this dire situation, when people are unable to access food owing to inadequate incomes, community initiatives to provide food for the poor are most useful and likely to provide food to the hungry and starving.
Corporate Social Responsibility (CSR)
In this situation, socially responsible corporates and community organisations have begun programmes to feed the starving poor. The expansion of such efforts is vital to minimise the impending hunger and starvation.Several community organisations and religious groups are providing food for people unable to access food owing to inadequate incomes.
Summary
The core causes for the prospect of food shortages in the coming months are the shortfall in food production this year owing to the unavailability of fertiliser and agrochemicals and the incapacity of the country to import food, fertiliser and fuel owing to the unavailability of foreign currency. These difficulties have been aggravated by unfavourable international developments that have increased international prices of food and fuel.
However, the food availability in the country may be less severe than expected earlier as there appears to be more stocks of rice from previous harvests and imports from India, China and Myanmar.
The severest impending food crisis is the inability of a high proportion of the population to access adequate food owing to the high prices and their diminished incomes. This implies the need for several strategies to resolve the problem.
There should be efforts to increase food production in all available lands and homes. Food consumption must be contained and wastage reduced to a minimum. There must be both government and social interventions to alleviate the poorest from hunger and starvation.
Concluding reflections
Hopefully, the food availability in the country is not as parlous as many have predicted. Nevertheless, household food security of a large proportion of people is endangered owing to the increased unemployment, lower incomes and soaring prices of essentials. Decreased food wastage, frugal food consumption, increased food production and community efforts to provide food to the hungry are imperatives in this emerging prospect of hunger and starvation.
Buying or selling electronics has never been easier with the help of Hitad.lk! We, at Hitad.lk, hear your needs and endeavour to provide you with the perfect listings of electronics; because we have listings for nearly anything! Search for your favourite electronic items for sale on Hitad.lk today!