Crippled economy, slipping from pan to fire
View(s):
In our day-to-day communications nowadays, many of those whom I meet would ask me the question "what's happening to our economy now?" Given the current state of the Sri Lankan economy, it's not a surprising question to me as well as to many others. Instead of saying our common expression "how are you?" you may have also noticed that many would ask now, "what's happening to us?"
My answer: "We are at an 'early stage' of a crisis!" "What do you mean? Are there more to come?" They would dare to accept
my answer.
I wish, if the current crisis turns around and subsides; but so far, I haven't seen any miracle happening and, neither have I seen anything done in order to turn it around. So, the answer is "yes, there are more to come!" The supply shortages would get acute; fuel, gas, food, medicine shortages would grow. Current high inflation might change to triple-digit inflation rates. That fate might be the same for the exchange rate too. What we see now is just a glimpse of what's likely to come!
Then the worst part of it is the multi-facets of the crisis; the economic crisis would multiply into political, social and humanitarian crises! As we don't want to see it with our eyes and to experience it by ourselves, our utmost priority must be to avoid it at whatever the cost.
But we haven't seen that effort so far; what we have seen is that "those who got the spoon into their hands, trying to help themselves even in the midst of the crisis", of course, at the expense of the nation.
Printing dollars?
I am sure that you like to know what it means to say that "we are at an early stage of the crisis". This is the question that I am going to address today. I have two important queries to raise at the outset: The first is … what's the most fundamental underlying factor of the current economic crisis? The second, what have we done so far in addressing that underlying factor with a coherent policy initiative?
The answer to the first question is the foreign exchange shortage! Many of us chose to list out various reasons to explain the crisis, including tax cuts, high spending, heavy borrowings, corruption and nepotism…and so on. There may be more. I don't deny the contribution of all such things to the current economic crisis, but eventually the most fundamental reason for the crisis at its source is the foreign exchange shortage. Let's go little deeper in order to understand the issue.
Here is the problem: We cannot print dollars (or any international currency); we must earn them. All the countries do earn foreign exchange by generating exports – producing goods and services to sell in the international markets.
Nations cannot do that easily, unless they produce such goods and services competitively, because there is price and quality competition in international markets. That's why foreign direct investment (FDI) can play a key role in generating exports on a large scale and competing
well among the competitive products that are sold in international markets.
Profound truth
The world experience suggests that the countries which focused on export growth with utmost policy priority have ended up with (a) eliminating their foreign exchange shortage as well as (b) maintaining a sound government budget performance. The inverse is also true: Countries which have disregarded export growth and focused on government spending have ended up with both (a) foreign exchange shortage and (b) unsustainable budget deficits. There is no need to mention that Sri Lanka is one of the few countries in Asia falling under the second category.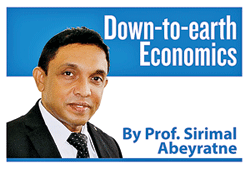 As we discussed in this column last week, Sri Lanka has been increasingly suffering from policy and political bias against export promotion because we continued to disregard export growth; as a result, the country ended up with a growing foreign exchange shortage – import expenditure, exceeding export earnings; the so-called "over-spending" problem.
And the foreign exchange shortage was covered with foreign borrowings – multilateral borrowings, bilateral borrowings and, finally commercial borrowings. Further, the foreign borrowings were coupled with domestic borrowings and money printing which were necessary to finance growing budget deficits.
The Sri Lankan drama of "increased spending without enlarged capacity" with respect to both the government budget and foreign exchange ended with an apparent policy dilemma: How to repay the foreign borrowings with no foreign exchange earnings! And this is the source of the crisis today. Ultimately, we have defaulted foreign debt payments and adopted import controls to face the foreign exchange shortage.
Crisis deepens
The second question I have raised above is "what have we done so far?" If the country's foreign exchange earnings have been falling short of the payment requirement, earning foreign exchange should have become a priority area of any policy package designed for resolving the crisis. This is the area where there is a big question!
What type of policy initiatives have we adopted over the past two years or at least over the past two months in order to generate foreign exchange? We would have worked desperately and hurriedly to bring about a coherent reform package aimed at foreign exchange earnings; but nothing as such has happened so far.
And anything that happened during this period of time is all about further borrowings – multilateral borrowings, bilateral borrowings, credit lines and swap arrangements. Apparently, it is not possible to generate foreign exchange earnings overnight; it takes time, perhaps years. Nevertheless, the question is in order to reap in the years to come, sowing must take place at present.
How do we earn foreign exchange? It's exports, and nothing other than exports. One could argue that tourism is an important source of foreign exchange earnings. I would say that for a country tourism is like "icing on the cake" rather than a sustainable foreign exchange earner. Even the worker remittances are unlikely or inappropriate to be a sustainable foreign exchange earner.
It's exports from both local and foreign investment that would provide a sustainable source of foreign exchange earnings. Have we ever thought of attracting both local and foreign investment to generate exports and, establishing an enabling business environment generating such investments? It is, indeed, a valid question to ask now as to why on earth Sri Lanka has been falling down among its neighbouring countries in respect of export expansion and investment promotion.
More to come!
The current crisis may worsen not because we have not yet seen coherent policy initiatives aimed at export expansion and investment promotion; it is, actually, because we have been working coherently to worsen it further.
Tightening import controls are the biggest contributor to a deepening crisis. According to government sources, Sri Lanka has been importing about half its fuel requirement. While fuel is an essential input to run industries, to operate transport systems and, to generate electricity; this means that import controls would further diminish the country's production capacity, export expansion and the potential investment.
The fuel shortage has resulted in miles-long queues all over the country where people spend days and days sacrificing their productive time. How does it affect production and productivity of the country? How does the working time that has been reduced – casually as well as formally, affect production and productivity of the country? They all are likely to contribute to deepening the crisis.
Some would argue for promoting domestic production by protecting it with import controls. There are two fallacies of this argument: Domestic production cannot be sustained with import controls because domestic production too requires inputs from import sources; neither would it help in generating the required foreign exchange in order to pay off our foreign debt.
 (The writer is a Professor of Economics at the University of Colombo and can be reached at sirimal@econ.cmb.ac.lk and follow on Twitter @SirimalAshoka).
Hitad.lk has you covered with quality used or brand new cars for sale that are budget friendly yet reliable! Now is the time to sell your old ride for something more attractive to today's modern automotive market demands. Browse through our selection of affordable options now on Hitad.lk before deciding on what will work best for you!