A visionary driven by deep feeling for the less privileged
By Thilaka Perera
Tribute to founder of Lanka Mahila Samiti, Dr. Mary Helen Irwin Ratnam
View(s):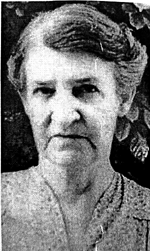 June 2 marked the 134th birth anniversary of Dr. Mary Ratnam. Dr. Mary Helen Irwin Ratnam  spearheaded women's movements and social rights in this country and left an indelible mark in the field of social service. Her contributions to women's welfare and the community at large are legendary.
She had her higher education at the Women's Medical College attached to the Trinity College, University of Toronto, Canada and passed out as a doctor in 1896. While training in New York she met a Sri Lankan Dr. Samuel Canaga Ratnam who was doing postgraduate studies in New York and they married soon after. That same year 1986, she arrived in Ceylon as a missionary doctor, but was rejected by the missionaries because of her marriage to a Ceylonese. Unmoved, she stayed in Ceylon but left the mission.
After her husband passed away in 1929, she became more involved in social service. She wrote a number of health manuals for schools' home craft for Ceylon. She had a very deep feeling for the less privileged and worked tirelessly during the Malaria epidemic (1934-1935) along with her son, Robbin.
She formed the Tamil Women's Union in 1909 as a branch of Ceylon Women's Union to foster Tamil culture and promote education and social welfare work among the less privileged. Her efforts to popularise family health and family planning issues met with resistance. However, she went ahead and opened the first family planning clinic at Deans Road, Colombo.
She supported organisations like the Girl Guides' Movement and the Jayasekara Home for unwed mothers. Joining the Women's Franchise Movement, as a very active member she infused much strength to the organisation. She also founded the Sri Lanka Women's Conference –  an umbrella organisation.
The Lanka Mahila Samiti was founded in 1930 by Dr. Ratnam with a group of cultured and privileged urban women who felt deeply for the plight of their rural sisters. The Lanka Mahila Samiti evolved as a catalyst for rural transformation through the vision and the commitment to service of all those who joined to make this mission a success. Dr. Ratnam was the President for the first 14 years leading and guiding her associates.
Looking back on 92 years of its history, The Lanka Mahila Samiti can be happy with the results achieved by its committed members in carrying out sustained and sustainable voluntary development activities in  villages throughout the country.
This remarkable lady died in May 1962. The only memorial to her stands at the Lady Ridgeway Hospital in Colombo. LMS pays tribute to her memory — to her vision and dynamic spirit, leadership, dedication and commitment to a cause and her great service to the rural community.
June 2 was Mahila Day and in commemoration, LMS members organised activities such as an elders' programme, a religious sermon and tree planting campaign at the LMS headquarters in Malabe.
(The writer is President of the Lanka Mahila Samiti)
Searching for an ideal partner? Find your soul mate on Hitad.lk, Sri Lanka's favourite marriage proposals page. With Hitad.lk matrimonial advertisements you have access to thousands of ads from potential suitors who are looking for someone just like you.