Koreans in Lanka donate learning equipment for school students
View(s):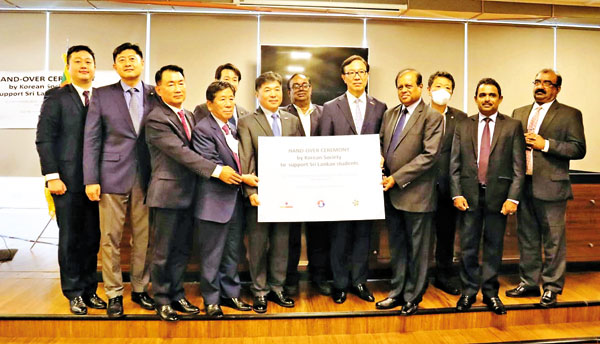 A group of Korean people living in Sri Lanka handed over educational equipment amounting to almost four million Sri Lankan rupees to the Education Ministry this week.
The handover ceremony took place at the Education Ministry in the presence of Education Minister Susil Premajayantha, Education Secretary M. N. Ranasinghe, Exams Commissioner General L. M. D. Dharmasena and National Institute of Education Director General Sunil Nawarathne.
Representing the Korean society in Sri Lanka, Korean Businessmen's Association in Sri Lanka chairperson Hong Gyu Kwak, Korean Residents Association of Sri Lanka chairperson Seongcheol  Byeon  and  Southwest Municipal Chapter of the Peaceful Unification Advisory Council  chairperson Gyeong Ho Um, were present to handover the educational items. Korean Ambassador Santhush Woonjin Jeong also attended the event.
Mr. Hong said Korean residents in Sri Lanka were saddened to learn that Sri Lankan students were unable to take their examinations in due time due to the shortage of paper and ink.
"In response, Koreans in Sri Lanka raised money to help students who will be the future leaders of Sri Lanka," he said.
Minister Premajayantha said he was grateful to the Korean residents for donating almost four million rupees to support the Sri Lankan education sector.
Mr. Dharmasena, also expressed his gratitude to the donors.
"This is the first time the Examinations Department is receiving a donation from an external party. I thank the Korean society living in Sri Lanka for lending a helping hand by addressing the challenges of this department. This donation will help students sit for examinations in due time paving the way for their higher studies and employment."
"Nearly 600,000 students sat for the GCE O/L exams last year amid a lot of hardships. This act of kindness will undoubtedly be remembered and appreciated not only by the students but by all Sri Lankans," he said.
Ambassador Jeoing also highly commended the Korean society in Sri Lanka who voluntarily donated educational equipment.
HitAd.lk is the best and biggest mobile phone market in Sri Lanka, and we guarantee you will find what you need here from our extensive listing of mobile phones for sale in Sri Lanka. Whether it's a budget-priced smartphone for communication, or higher end features with advanced connectivity, there are many different options from which to choose from on our site!