Out of chaos comes beauty
By Anoushka Jayasuriya
Arts
View(s):
Digital artist Muvindu Binoy's upcoming exhibition 'Survival of the Fragile' also reflects the current situation in country
 "Right now, especially with the current situation it's the people who are actually fragile that are surviving –  the ones who are kind to each other, sympathetic to each other and share each other's stories  –  there's a beautiful sensibility and vulnerability in that. It's not just the 'macho' or the 'masculine' who survive, it's also kindness and sweetness, which I think is very fragile," says Muvindu Binoy, self-taught multidisciplinary digital artist, musician and independent filmmaker.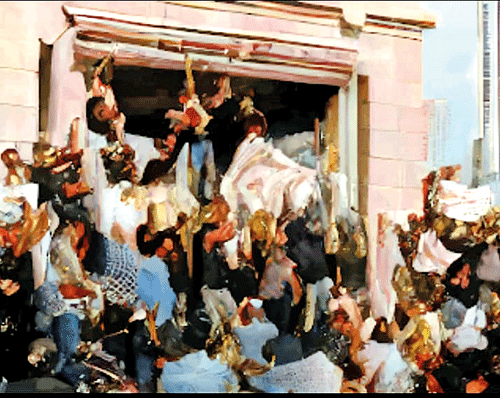 Muvindu's upcoming solo exhibition which opens at the Saskia Fernando Gallery in Colombo on Thursday is  'Survival of the Fragile'.
Represented by the Saskia Fernando Gallery and a participant of several editions of the Colomboscope contemporary art festival over the years, Muvindu's works in previous exhibitions have explored themes such as gender, autonomy, title, and the assumption of traditional values opposed by modern-emancipated digital-age standards. His surreal and kaleidoscopic digital collages create layers of meaning by marrying combinations of contrasting elements together such as vibrant popular culture fixtures with monochrome vintage or modern photographs and geometrical shapes and other textures.
Introducing 50 new digitally created pieces including digital collages, 'Survival of the Fragile' is a "contemporary visual contemplation of fragility and vulnerability representative of our newly found familiarity with morality". The inspiration behind his fifth upcoming solo exhibition was formed during the height of the COVID-19 pandemic when contemplating Charles Darwin's evolutionary theory, survival of the fittest, as the effects of the pandemic began to intensify, describing the uncertainty experienced during that time as a 'fragile moment'.
A majority of the 'Survival of the Fragile' works were completed overseas in 2021 over 3-4 months when Muvindu was on residency in Paris at the Cité Internationale des Arts, which accommodates artists of all specialties and nationalities. Describing the environment steeped in rich culture and surrounded by other prominent artists he says "It was very intoxicating –  very influential."
Muvindu also decided to  incorporate another series of works in the upcoming exhibition, a series titled 'Protest in colour' which is A.I generated using vector graphics. The digitally created series is full of powerful and disquieting imagery with evocative depictions of the masses of peaceful protesters coloured with muted, desaturated tones. "With my art, I like to see my art being considered as protest art – it's very reactionary. If I see something I grasp it and react through my work."
Talking of how he believes art will evolve in the current landscape he says, "I think to be really honest from a very personal point of view it's really confusing times. For me, I have a weird gut feeling – I feel like from now onwards it's going to get better for art – earlier, artists couldn't even mention certain names like the President's in their works but now it's all over and now we can openly make statements or criticize – though the risk is still there, many people are doing it and I think that's great."
'Survival of the Fragile' will be on at the Saskia Fernando Gallery on Horton Place, Colombo 7 from June 16 to July 16.
For more information see: www.saskiafernandogallery.com
Follow their Instagram account for updates @saskiafernandogallery
Follow Muvindu's Instagram @muvinduism
Searching for an ideal partner? Find your soul mate on Hitad.lk, Sri Lanka's favourite marriage proposals page. With Hitad.lk matrimonial advertisements you have access to thousands of ads from potential suitors who are looking for someone just like you.