Appreciations
View(s):

A true priest of the people

Fr. Ronald de Silva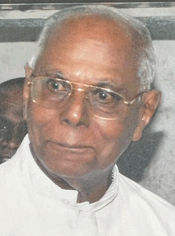 Fr. Ronald de Silva was called to his eternal rest on May 17.  His body lay at St. Mary's Church Mattakkuliya and was taken to Kanatte to be buried at the family vault. Many dignitaries of the Catholic Church and parishioners came in their numbers to show their gratitude and appreciation to their pastor who had served them spontaneously in their spiritual needs and when necessary their material necessities.
At Kanatte, where his body was laid to rest, were present Malcolm Cardinal Ranjith, Archbishop of Colombo and Dr. Anton Ranjith, Auxiliary Bishop of Colombo.
Young Ronald de Silva was educated at St. Joseph's College Maradana, travelling to school from his ancestral home at 50, Dickman's Road, Bambalapitiya. He was my classmate. The Rector at the time was Rev. Fr. Peter Pillai who had a distinguished career at Cambridge, a simple man with a deep faith in God. It was under his influence and the influence of his parents that Fr. Ronald decided to join the seminary.  That was in 1956. After his philosophical and theological studies he was ordained as a priest on December 21, 1964 at St. Lucia' s Cathedral by the late Thomas Cardinal Benjamin Cooray, with his cousin Rev. Fr. Joe de Mel in attendance with Fr. Ronald at his first Eucharistic celebration.
Fr. Ronald's first appointment was as Assistant Parish Priest, Dehiwela. In his sermons he requested the help of the parishioners in helping the marginalised. He followed it up with visits to the parishioners requesting their help. They responded, got themselves organised into groups and helped the needy of the parish.
Fr. Ronald served as the first parish priest of St. Anthony's Church Mount Lavinia from 1969 – 1976. During his period significant structural alterations were made to the church building and pews provided for all the worshippers. He brought unity among the parishioners through parish committees and cottage meetings.  When he was transferred he left by public transport carrying with him a small suitcase with his personal belongings.
Fr. Ronald was appointed as parish priest St. Mary's Church Mattakkuliya and served in that capacity from 1976 – 1987. He served the people diligently and enlisted the support of the wealthy to support the needy. It was his practice not to handle finances but to get the parishioners to elect committees to handle financial matters. The funds collected were well spent.
Fr. Ronald served as parish priest of St. Andrew's Church, Colombo 15 from 1987 – 1989 where he got the opportunity of being among the poorest of the poor, visiting their homes and seeing to their spiritual and material needs.
Relinquishing his duties as Parish Priest St. Andrew's Church he moved to Mithuru Sewana, 763/1 Aluth Mawatha Road, Mattakkuliya. A small house and may be 80 perches of land – the accommodation was one room which he occupied, a small dining room and kitchen. The outer hall was converted to a chapel dedicated to St. Joseph Vaz. He celebrated mass on weekdays and on Sundays. On Friday mornings he heard confessions at St. Anthony's Church Kochchikade and in the evenings he met anyone who came to him for spiritual or material help. He was pastor and confessor to the Carmelite Convent, Mattakkuliya
The minority communities who lived in Mattakuliya felt secure with Fr. Ronald. In fact he went beyond their spiritual needs and helped them when they had difficulties with the Municipal authorities, Electricity Board and school admissions.
A note on the life and work of the late Fr. Ronal would not be complete without a note on his parents. Fr. Ronald's father Dr. C.J.C. de Silva was one of the leading social reformers of the pre-Independence era. He was chairman of the Ceylon Labour Party, Co-Founder of the Social Justice Movement along with Fr. Peter Pillai. He was also General Secretary of the Ceylon Catholic Union and President of the Colombo Catholic Diocesan Union. His mother affectionately called Bernie, was the President of the St. Vincent de Paul Society of her parish Bambalapitiya in the service of the poorest of poor and a Vice President of the Voluntary Intercommunity Service at Thimbirigasyaya.
Fr. Ronal had two sisters –  Therese and Cynthia and three brothers, Claude, Dr Lucian and Michael.
Rienzie Fernando
---
 An old Royalist with child-like innocence
Tilak Gunawardana
The death of Tilak Narendra Gunawardana on June 11, 2021 at the age of 77 years removed from our midst another old boy of Royal College drawn from a batch that straddled both the primary and secondary school scene of the 1950s and first half of the '60s.
Tilak was from a distinguished family. His father, Don Charles Rajakaruna (DCR) Gunawardana, was a scholar, an outstanding student at St. Joseph's College, Colombo, civil servant,  Clerk to the House of Representatives, and later High Commissioner of Ceylon to Malaya (1958 – 1961). His mother was Chitra Gunawardana (nee Wijetilleka).
There were six children in the family –  Anoma, Kapila, Tilak, Kumar, Vajira, and Kumudini. Anoma died in a tragic accident with her husband Dr. Sumanasiri Alahendra in USA.
Tilak was the elder brother of my classmate Vajira who joined the RC 1960 Group in 1961 upon returning from Malaya. All his brothers attended Royal College. Tilak's family connections to Royal College were further strengthened by virtue of his uncle Professor (Dr.) Carlin (DC) Gunawardana being a reputed teacher of Botany at Royal, having set up the Botany Department in the pre-war years of the school. The Royal College magazine pays a handsome tribute to Prof. Carlin in its 1938 edition.
I have known Tilak since schooldays, in several capacities. He used to supervise our drill class on the school grounds, counsel us as a senior student and later interact with me every now and then on professional matters. He used to cycle to school like most students of that era.
He was a gentleman to the fingertips, a man of high integrity and scrupulous honesty. He was outspoken when the need arose but harmless in every sense of the word epitomizing the ideal 'Arya' (noble and dignified) person envisaged in Buddhism. He had a stubborn character stemming from his overzealous commitment to high principles.
He earned a General B.Sc. degree specialising in Zoology from the University of Ceylon (Colombo) and thereafter served briefly as an instructor in the Zoology Dept. of the University. Subsequently, he joined the Fisheries Corporation in Tangalle and worked for a few years there.
Inspired by his maternal grandfather Arthur Wijetilleke, a leading Advocate in Ratnapura and another close relative, Sir Ukwatte Jayasundera, Q.C., Tilak  returned to Colombo to pursue law studies. He graduated with a LL.B. degree as an external student of the Colombo Law Faculty and joined the Attorney General's Dept. as a State Counsel. He received a good training in both the criminal and civil aspects of the law. His next stint was at Mackwoods where he was the Company Secretary. Finally, he joined the unofficial Bar as an Instructing Attorney and served in that capacity until retirement.
Tilak always helped students in their practical examinations in both Botany and Zoology. He had a strong altruistic bent and served as Vice President of the Buddhist Youth Forum (BYF). He wrote a resounding article 'The Role of a Buddhist Youth Forum' that was published in the Buddhist Youth Magazine.
In this article, he spelt out the necessity for such Buddhist organizations in a rapidly changing society to protect Sinhala Buddhist values which are threatened by decadent Western materialistic lifestyles that can uproot the young from their Buddhist civilizational consciousness.
Tilak's insights enshrined in this essay written over 53 years ago are as relevant today, perhaps more now, than at the time of its publication in 1969.
Tilak participated in many charity projects as a member of the Lions Club. He chaired the project to celebrate Chitrasena's 50 years of performance, which had the current Prime Minister Ranil Wickremesinghe, as the Chief Guest on one of the days of the celebrations. The project meetings, sometimes thrice a month, were held at Tilak's residence at De Fonseka Road, Colombo 5, supplemented by a lavish spread of refreshments. He received a reward from the Alliance Française. He was also an active member of the Sri Lanka – Malaysia Business Council.
Tilak remained a bachelor to the end. He was a bachelor in the old sense of the word, preferring to have close friendships and indulge in passions of his choice but then come home and read his books. A decent man with childlike innocence, he will be remembered by all those who treasured his company and sagacity.
I would like to end this tribute to Tilak with a plea to his family and friends to strongly consider reprinting a facsimile edition of the Buddhist Youth magazine originally published in 1969 for general distribution, to keep Tilak's memory alive. His idealistic writings and his youthful images in photographs all in one document would be hard to find anywhere else.
May Tilak attain the Supreme Bliss of Nirvana.
Senaka Weeraratna
---
You taught me many things except how to live without you
Gertrude Sunethra De Silva Wijeyeratne
Gertrude Sunethra De Silva Wijeyeratne (nee Herath), my maternal grandmother was a stylish,  admirably smart, elegant and respected lady.
It's been three months since the light from our family went out, a voice we loved was stilled, and a place is vacant at home which can never be filled. You taught me everything in life but why did you forget to teach me to live without you? Thank you for being the most wonderful grandmother one could ask for. You were not just a grandmother but a parent, teacher, friend, and partner in crime.
When people asked me when I was small why I addressed you as SuAmma I would proudly say that you are Sulakna's Amma without even understanding what it meant. But today when I look back on life, I do understand that your love was what made me think so. You and I shared something more than a grandmother and a granddaughter for sure. SuAmma, you always held my heart right from the start, and your arms were the safest place for me. You wiped my tears and chased away my fears.
SuAmma, your death left a heartache no one can heal but your endless love left me the most precious memory no one can steal. There will never be a day I won't think of you and wish you were here by my side. You made me who I am today, and your memory will continue to influence the person I become tomorrow. Every day of my life, your legacy will live on through me.
May you walk on the path to attain the Supreme Bliss of Nibbana!
Your loving
Sulakna Isini
---
 A much loved 'Master'
Retnasingam Sivalingam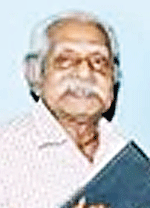 Retnasingam Sivalingam most popularly known as "Master Sivalingam" passed away on May 11, when he was touching 90.  He was born on March 28, 1933 in Manca-nthoduwai village close to Batticaloa town.  His father was a teacher at that time and Sivalingam was the fifth in his family.
He had his early education at St. Mary's College at Batticaloa and thereafter at Shivananda Vidyalayam.   He married Mangayatkarasu, daughter of the famous Tamil scholar Pandit Poopalapillai.   "His Master's Voice"  was the headline in the Sunday Times article published about him a few years ago.
He was popular among the Tamil community from 1960 to 2010 through Radio Ceylon and other mass media.  He took part in programmes of Radio Ceylon and subsequently the Sri Lanka Broadcasting Corporation for more than five decades with his  speeches, short stories, and dramas. He could speak in the accents of the different Tamil groups in the island.
He published more than five books and was conferred the prestigious "Sahitiya Award" for children's literature in the North-East Province during 1984-1991.
He worked as a sub editor at the "Thinapathy" and "Chinthamani" newspapers for more than 10 years.
Always kind-hearted, he was liked by everyone  and  will be fondly remembered by all his associates.
Retnam
Shivanandarajah
---
Searching for an ideal partner? Find your soul mate on Hitad.lk, Sri Lanka's favourite marriage proposals page. With Hitad.lk matrimonial advertisements you have access to thousands of ads from potential suitors who are looking for someone just like you.