Passion for pottery
By Shannine Daniel
Leisure
View(s):
A combination of food, friendships and nature are what inspires her says Mihiri de Silva
Mihiri de Silva got into pottery "purely by chance," after going for a tea and pottery evening at a local cafe, a few years ago. A graduate in textile technology from the University of Leeds in the UK, and design consultant at Emjay International Pvt Ltd, Mihiri has worked in the local apparel sector for more than two decades.
"While I am not really a tea drinker, the process of pottery interested me," she says and she began watching pottery makers online. "I also went to a couple of people to learn the basics. A large amount of self-learning came through trial and error, mistakes and patience," she said talking of how her brand Red Cocoon Pottery took shape.
Six months after her first ceramics lesson in January 2019, her friends were placing orders. In August of that same year, she got her first commercial order from Amaara Forest Hotel in Sigiriya. Now her collection includes everything from ceramic mugs to platters and decorative pieces for walls, coffee tables and Christmas trees, in a variety of colours, patterns and styles.
A combination of food, friendships and nature are what inspires Mihiri's pieces. She has platters for Japanese sashimi and other foods, a collection of tableware and other ceramics inspired by tropical leaves, mugs customised with different colours and designs and "love mugs"; candle holders which are either shaped like hearts or decorated with hearts, perfect for Valentine's Day.
"I have a kiln–which is the heartbeat of any studio–pottery wheels and a slab roller; these are my key pieces of equipment. I also own a range of tools from old butter knives, forks, and toothbrushes, to proper pottery tools which I use depending on the item," she said. She also buys ready-made clay and glazes from a ceramic manufacturer in Sri Lanka, who has been extremely supportive of her work from the beginning.
Like many other creative people, Mihiri has faced many challenges in production. For one, there are no local suppliers of equipment and tools for her craft, and there is little or no support to assist this dying art which was once a traditional craft in Sri Lanka.
"We have departments and ministries pertaining to almost everything, including pottery. Yet, getting a simple approval to import items which are "allowed", has been most frustrating and near impossible," she says.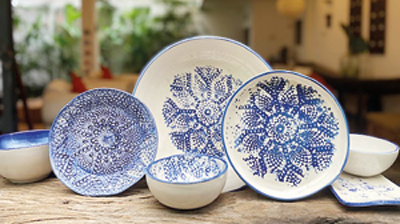 The economic crisis in Sri Lanka these days has created more hurdles and she feels like she has been "trying to jump hoops, falling over and then picking myself up many times over" due to the many power cuts, the skyrocketing cost of raw materials and gas and the non-availability of the latter. But, on a positive note, sales at Red Cocoon Pottery have progressively and steadily picked up, despite the downturn in the economy, she added.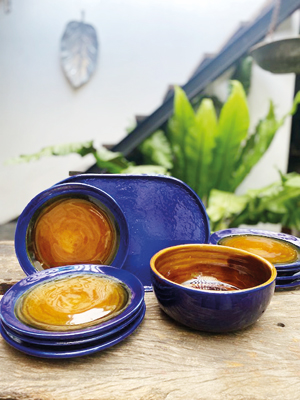 "I have a niche clientele who buy my handmade pottery as gifts and for themselves. The clients are aware that they are purchasing "one of a kind" items and not pieces one would see widely available elsewhere," she says. She posts pictures on her Instagram (redcocoon.pottery) and Facebook (Red.cocoon) pages, and retails pieces from her Red Cocoon studio in Mirihana.
"What I love most about pottery is the process of transforming a lump of clay. Once it's given form and fire, it becomes something beautiful, functional and completely original. While this process is scientific, it is also almost magical. There's an overwhelming sense of joy and satisfaction in seeing this transformation. Pottery turns us into alchemists!"
Searching for an ideal partner? Find your soul mate on Hitad.lk, Sri Lanka's favourite marriage proposals page. With Hitad.lk matrimonial advertisements you have access to thousands of ads from potential suitors who are looking for someone just like you.