Letters to the Editor
View(s):

Recalling RW's words in the 2001 hustings

Having read the thought-provoking editorial page article, 'Sri Lanka in Lee Kuan Yew's words' in the Daily Mirror recently, I was prompted me to write these lines on how a somewhat controversial local politician had been dreaming of emulating Singapore's Lee Kuan Yew.

This politician is Ranil Wickremesinghe, who took his oaths recently for the sixth time as the Prime Minister of the Democratic Socialist Republic of Sri Lanka.

The incident happened during the hustings of 2001 when he along with his grand old party competed for the premiership under then President Chandrika Bandaranaike Kumaratunge.

It was Ranil Wickremesinghe's final election progamme on TV before the stipulated 48-hour cut-off time for election propaganda activities. I can vividly remember it as if I had watched it last night. The programme in Sinhala ran for about two hours close to midnight.

It was his brother's TV channel and the anchor was Chamuditha Samarawickrema who recently had to face a life-threatening experience when goons attacked his residence.

CS posed the final question to Mr. Wickremasinghe. "Sir, after the next 48 hours you will be going before the people to seek a mandate to form a government of your political party. Do you have a message to be conveyed to the people of Sri Lanka?"

Mark RW's response.

"Chamuditha, during Mr. J. R. Jayewardene's presidency, Singapore Prime Minister, Lee Kuan Yew visited Sri Lanka on a two-day state visit. On the second day he was entertained to lunch at a seaside house at Weligama that was owned by Mr. Jayewardene.  A few years later the JVP set fire to that building and destroyed it.

"A good number of MPs including myself had the great opportunity to attend that luncheon. Mr. Lee very freely mingled amongst us. We posed many questions to him and he answered them in a very free and a cordial manner.

One important question most of the MPs present there posed to Mr. Lee was how had he managed to be the Prime Minister of Singapore for an uninterruptedly long period by then."

Mr. Wickremesinghe continued,  "In his reply Mr. Lee said that he was very well aware of the fact that he was the most unpopular and the most disliked person in the whole of Singapore,  yet when it came to an election the very same people voted for him and elected him as their Prime Minister because they knew that he was honest and that he ensures that the law of Singapore applies to the letter to all citizens alike and that he did not hesitate to take correct decisions that should be taken for the betterment of the country and its people at the correct time they should be taken."

In conclusion RW said, "When I end my political journey, I want the people of this country to remember me as the Lee Kuan Yew of Sri Lanka. My wish is to leave that legacy behind me. This is my message to the people of this country."

Will the history books warrant a page to record for posterity the legacy of RW?

D. Samaranayake  Battaramulla
---
Senior citizens need easier method to renew FDs
The Central Bank of Sri Lanka (CBSL) has revised the operating instructions for continuation of Special Fixed Deposit Scheme for Senior Citizens, w.e.f 01.03.2022. As per revised instructions issued by CBSL , the FDs that are invested under the above scheme will not be automatically renewed upon maturity. Senior citizens have to visit their respective bank branches prior to the maturity date of their deposits.
All Special Senior Citizens' FDs that are not reinvested under the revised scheme will be automatically converted to "Udara" FDs upon maturity, at the prevailing bank interest (3.5%) rates.
One of my FDs matured on 18.04.2022. My bank branch didn't inform me of this maturity date in advance. I forgot the date and visited the bank only on 12.05.2022, to find the bank had already transferred my Special FD (15%) to ordinary interest rate (3.5%), without informing me. It took me nearly two hours to get my FD renewed.
Elderly feeble Senior Citizens are subjected to great difficulties by this means. The CBSL should devise some easy method to renew the FDs. Over to you, the Governor of CBSL Dr.Nandalal Weerasinghe.
Dr. R. Sundararajah  Via email
---
Dealing with SL mission in Washington
The article in last Sunday's Times –  "Worsening trend of packing SL overseas missions with political appointees impacts country's diplomatic relations", I saw with my own eyes when living in the United States. (I lived in the States for 35 years and have now retired to Kandy District.)
Whenever I dealt with the Sri Lanka embassy in Washington DC, the calls I made to them would not get a return response. Emails would take weeks compared with American state or federal agency's response times. People were speaking a strange English, I wondered how most Americans could understand them. Written English language was so convoluted, I wondered if they ever took English in college.
Anyone for proof reading? An Ad agency I worked for there had several proof readers. Advertising is the business of communication and the Embassy is also a business of communication. They probably don't view it as such.
Gamini Kumara  Via email
---
Bring back coupons to arrest stocking of fuel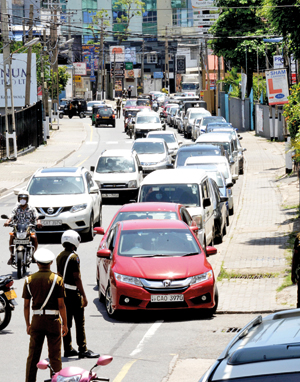 Sri Lankans are facing mayhem everywhere, stuck in never-ending queues and it is imperative to find a solution for everyone to get access to their share of the essentials. When it comes to fuel, some are exploiting the situation by refuelling their vehicle tanks several times a day and stocking the fuel for resale at higher prices. This trend should be arrested.
It may be time to introduce a coupon system to each household so that they can obtain their necessities. Vehicle owners too can produce a copy of their registration certificate along with this card to obtain their quota of fuel.
The authorities should recognise those aged over 75 and allow them to obtain their requirements on a preferential basis.
Karalasingam Sivalingam  Nugegoda
---
Searching for an ideal partner? Find your soul mate on Hitad.lk, Sri Lanka's favourite marriage proposals page. With Hitad.lk matrimonial advertisements you have access to thousands of ads from potential suitors who are looking for someone just like you.