Appreciations
View(s):

Looking back and being grateful for all that you instilled in us

J.V. Weerasinghe

May 17, 2022 marked the 10th death anniversary of  J.V. Weerasinghe, former Principal of Carey College (1976-1981) and Deputy Headmaster of S. Thomas' Preparatory School (1981-1998). Hardly a day goes by where we, his students, don't recall the wonderful lessons and values this great servant of Christ instilled in us.

Mr. Weerasinghe was a brilliant and dedicated teacher. The invigorating discussions and intelligent debates he had with us during Christianity and English classes at Prep School were a breath of fresh air in an education system where memorising and teachers reading off notebooks were quite commonplace. He was also an excellent Master in Charge of Prefects who implemented the Headmaster's vision for a disciplined school in very precise detail while empowering the School Captain and Prefects to excel.

Mr. Weerasinghe had amazing compassion and empathy. I still recall how he asked us how we would respond if a poor person approached us for money at a traffic light. Many of us argued that providing money to people who beg is not justifiable as most of them are controlled by gangs but Mr. Weerasinghe asked us how we would know that for sure and appealed to us to part with a small amount of money for people who showed such desperation. I still think of him when a poor person approaches my car at a Colombo traffic light.

During my university days when I was going through a period of uncertainty and doubt, he gave me the award-winning book A Purpose Driven Life by Pastor Rick Warren so that I would be able have more clarity in my thinking.

His simplicity was also quite remarkable. Every year, all his students received a lovely Christmas note he had handwritten. One Saturday during my teenage years when I was travelling on a 138 bus near Havelock Road, when the bus I was in overtook another I saw a familiar figure calmly seated right at the back of the other bus.  Despite the prestigious position he had as the Deputy Headmaster of a leading boys' school and former Principal of another large and well known school, he was quite content to travel in public transport.

He died on May 17 –  the day S. Thomas Preparatory School was founded in 1938. The significance of this coincidence is not lost on his grateful students.

Mr. Weerasinghe's life was a testimony to giving freely and never counting the cost. When I look back at my wonderful years at S. Thomas Prep I am most grateful for the teachers who taught us invaluable lessons and values through the example of their lives and Mr. Weerasinghe is right on top of that list.

Dinal Edirisinghe
---
He did much for the coconut industry
Dr. Nihal de Silva
 The sad news of the sudden death of Dr. Nihal de Silva was a shock to his family and all his acquaintances. He and his son were accompanying some friends who had arrived from Canada for a weekend excursion to Wilpattu where the thick forest and wildlife had long fascinated him –  he cherished visiting and staying for a couple of days away from busy urban life. What surprised most was that he was healthy and fit and never complained of any illness.
He died on March 13 and in accordance with his wishes, was buried at his ancestral village cemetery at Halpe off Katana on March 14.
He was born in Katana to family of hereditary coconut land owners. He was educated at Maris Stella College, Negombo from where he entered the Colombo Medical College, qualified as a doctor and commenced practice.
He was married to Ratnavali, the only daughter of H.M. L.( Leo) Tissera of Pamungama. The families of Nihal and Ratnavali were inter-connected. Leo Tissera owned extensive coconut land and was a philanthrophist.  Nihal was a devoted family man and was blessed with two children – a son and daughter.
The extensive coconut lands he inherited gave Nihal an opportunity to extend the traditional knowledge he derived from his forefathers to emerge as a respected coconut grower who excelled in experimenting with modern findings. He was a member of the Board of Directors of the Coconut Research Institute for over five years where he had the opportunity to contribute his technical and scientific expertise and background for the promotion of the industry and impart the practical aspects which he had gathered as a successful coconut grower to enhance production. He defended the industry by highlighting the rising costs of inputs and the need for a remunerative price for the grower to make coconut planting more lucrative.
A major contribution he made was a scientific analysis of the comparative merits of coconut oil in contrast to palm oil. He published several articles in the press and participated in seminars to espouse the case of coconut based products. Today coconut products, oil, water and desiccated coconut, coconut milk are recognised as health products and their demand worldwide is rising.
He was easygoing and jovial and made friends easily. He excelled in his medical practice and was known for prompt diagnosis of varied ailments. He was for long years involved in the Elders Association of Mahawatte, a hamlet of Pamunugama. According to a tribute paid in an oration by a member of the association at the memorial service held at the Pamunugama Catholic Church on March 26, he had been accessible to all members for medical ccnsultations without discrimination. Consultations and fees were not priority. He arranged free consultations with specialists when necessary using his contacts.
His death was an irreplaceable loss to the Coconut Growers Association where for over 20 years he had been a member of the executive committee. He was President for one term.  At their meetings he made substantial contributions. He was in the forefront using his wide contacts to collect funds needed for their AGM.
He will be greatly missed by the members of the association, his close friends and contacts at Mahawatte, Pamungama. He leaves behind a grieving family. Our sympathies to his wife Ratnavali, two children and grandchildren.
May he rest in peace.
Denzil Aponso
---
A shining light in gemmological education
Dayananda Dillimuni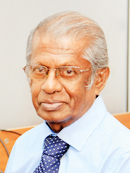 The gem industry, especially the field of gemmological education in Sri Lanka sadly lost a giant pillar on February 6, 2022, when Dayananda Dillimuni passed away after a brief illness.
His contributions to the field of Gemmology began when he obtained his German (DGemG) and British (FGA) qualifications in gemmology in 1978 after graduating from the Institute of the German Gemmological Association in Idar-Oberstein, Germany.
Returning to Sri Lanka, he set up a modern lapidary under the government FIAC programme. In 1984, he began to concentrate on teaching of gemmology as a visiting lecturer at the State Gem Corporation in Sri Lanka. When the research and training division of the State Gem Corporation was established as a separate body as the Gem & Jewellery Research & Training Institute, he served as a lecturer for several terms. In 1989 he started a lapidary project Gemstone Technical Services with the British gemmologist Richard Willmotte to produce cubic zirconia replicas of world-famous diamond sets. He also started teaching students studying gemmology courses of the Gemmological Association of Great Britain (Gem-A), and continued this until his death.
In 1994 he was invited to be a visiting lecturer for the Certificate course in Gemmology at the University of Moratuwa. When MSc programmes in Gemmology were introduced at the Post-Graduate Institute of Science in University of Peradeniya, in 1997, he was on the teaching panel and continued as a visiting lecturer until 2012.
He received the Allied Teaching Centre (ATC) status to conduct teaching courses under the Gem-A in Sri Lanka in 1999.
His legacy will live on in the hearts and minds of everyone he interacted with.
Ashan S. Amarasinghe
---
Wonderful memories of my Sudu Thaththa will always remain
R. Siril Fernando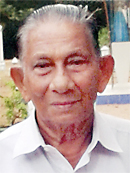 I know that I should have written this appreciation earlier for my grandfather. But his sudden departure deeply affected my life.
My grandfather Siril Fernando was born on December 21, 1933, the fourth child among the eight children.
To me, he was my 'Sudu Thaththa'. According to my grandmother he was a successful businessman and loving father to their two children.
I still remember the childhood days I spent with him. Although we lived far from them, I preferred to visit my grandparents' house during my vacations. I was fond of my Sudu Thaththa and Sudu Amma. The memories that I have of those days are still vivid in my heart.
Sudu Thaththa was a great pillar of strength for my family. He had a great desire to teach me well.  He didn't like to waste even a single minute without doing any work. There was a saying that he often used: 'procrastination is the thief of time'. I can consider him as my first teacher as he enriched me with knowledge even before I attended pre-school. He taught me the value of saving and taught me how to pray from the time I was able to speak.
As his only granddaughter, I took a prominent place in his life. So his passing one year ago is an unbearable loss.
Apsara
---
Searching for an ideal partner? Find your soul mate on Hitad.lk, Sri Lanka's favourite marriage proposals page. With Hitad.lk matrimonial advertisements you have access to thousands of ads from potential suitors who are looking for someone just like you.