Seeing the marginalised and creating bridges
Fabienne Francotte's exhibition 'Still Life/ Nature Morte' is now on at the Saskia Fernando Gallery, No. 41, Horton Place, Colombo 7 and will continue until June 6. The exhibition is open from 10 a.m. to 6 p.m.
View(s):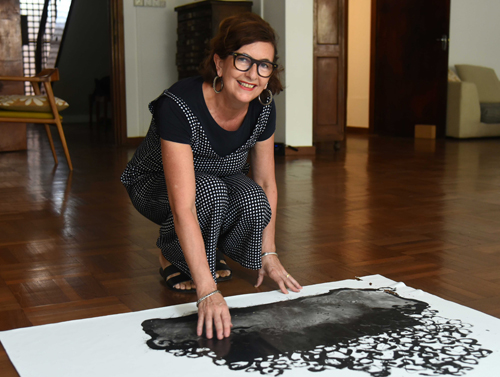 Fabienne Francotte's work looks at what remains in the aftermath of trauma, abuse and migratory displacement. Working with abuse victims, Fabienne created this collection over several years, often informed by her creative workshops. These drawing projects took place in circumstances ranging from mental hospitals and children's development centres in Sri Lanka to Rohingya refugees in Bangladesh and with troubled youth in Belgium.
Nature Morte questions how we, as a society, speak about invisible wounds, hidden traumas and pervasive power structures in our communities.
Nature Morte means 'still life' in French, Fabienne's native language; in the artistic tradition of still life imagery, stillness takes on the appearance of something unmoving and silent. However, in working with the vulnerable, that which is silent and suppressed often rises to the surface to face itself when given a chance.
Nature Morte contains discomforting imagery that people often cannot identify with completely but can relate to emotionally. An installation of black fabric titled The Curtains reveals hidden stories of trauma and abuse; the writing on the artwork becomes a form of mark-making and creative energy.
The communication of emotion and feeling is crucial in Fabienne's work. Nature Morte is a physical translation of painful and overwhelming experiences people have suffered. A self-taught artist, Fabienne's relationship with her art practice extends beyond academic intellectualism and delves deeply into what it means to connect with people. She sees the marginalised and creates bridges between worlds.
Fabienne was born in Belgium and moved to Sri Lanka in 2016.
Searching for an ideal partner? Find your soul mate on Hitad.lk, Sri Lanka's favourite marriage proposals page. With Hitad.lk matrimonial advertisements you have access to thousands of ads from potential suitors who are looking for someone just like you.