Appreciations
View(s):

Amma, the many lessons to be learned from your life are truly amazing

Sophia Weerasinghe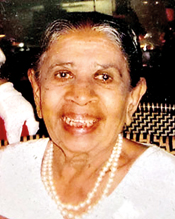 Today, May 22, 2022 marks the 100th birth anniversary of our beloved Amma –  Sophia Weerasinghe nee Gunawardena,  who passed away on November 6, 2019. She was born at Elibank Road Colombo, the second in a family of six children. Her parents, Samuelson Amarasiri Gunawardena and Mary Gunawardena nee Molligoda were compelled to move the family to their ancestral home in Galle, after the death of her grandmother.
Amma's nostalgic memories were related fondly to us. Gratitude was a quality ingrained in her and she would often talk of all the family members with much affection. Living at 'Thistle Court' in Mahamodara, Galle among the extended family members had its ups and downs. Her home was always bustling with people; Athatha her mother, had focused on bringing up her children while the aunts managed the household affairs.
Amma loved Aunt Ella, who had remained unmarried and lived in the family home. She played a pivotal role in the annual 'katina pinkama' of the Kovilagoddalla temple. The 'katina chivara' was stitched on the long dining table and even the little ones chipped in with their till-money and participated in the rituals. This simple but meaningful procession used to start at 'Thistle Court', proceed to the temple, inculcating wholesome habits and respect for religion amongst all the residents.
The family of three girls and three boys were quite a handful for Aththa to manage, and she didn't spare the rod!
Her father's visits to Galle was similar to Christmas and the arrival of Santa Claus, bringing bags full of goodies from Cargills. They used to vie for a seat close to him at the dinner table, but Amma hastened to add that they never squabbled for that privilege.They all turned up to be well brought up human beings who loved their parents dearly.
Amma's gratitude to Gressel, the eldest sister who kept her siblings under her wings of love and care, was immeasurable.  It is the same sense of appreciation she had towards her other siblings. Her younger sister Lilika, did not hesitate to come to Colombo although she had just got married, to be with me when Amma had to be hospitalised for nearly a month before 'Cukoo', my Malli was born.
Her younger brothers Measton and Olson were always supportive. Basil, her bachelor brother stepped into her father's shoes when he died suddenly, and fulfilled all his duties to the letter. Then there was Violet Akka, her cousin who used to sew dresses for them, played the violin to entertain the young ones and always took them on her outings in the buggy cart. Rani Akka, was another favourite of the family, who was treated like a queen by all! These aunts were loyal to her parents and Amma was infinitely grateful to them for their support.
Amma loved to make jam and would often talk about the Damson jam she made and tried her hand at other sweets like Turkish Delight.
Her semolina pudding was legendary as was the Peaches in Syrup dessert made from the humble passionfruit shells. She even did a demonstration at the Girls' Home, to popularise  local entrepreneurism.
Her most cherished memories were of her schooldays at Southlands during the illustrious Ms Ridge's tenure. She spoke about how this great Principal's liberal ideas had fostered a salubrious, learner-friendly ambience within the school that helped many girls, especially from the minority ethnic communities in Galle to enjoy an extended school education which enabled them to pursue higher studies and great professions. The friendships Amma nurtured during her school days continued.  Thatha used to take her to visit Gladys in Wattala, and Demathi and Mallika in Colombo.
Getting married and coming to live in Colombo was another experience for Amma.  For her living with an extended family at Embuldeniya was a joy. She opted to do her own cooking armed with the Daily News Cook book and a kerosene cooker!
After moving to her spacious new home with a large garden, Amma helped Thatha in his interests –  vegetable gardening and dairy farming. Being like-minded they got on fabulously! Going to see films on weekends, trips during the vacation were part of their life.
Travelling became a family passion and we used to travel all over the country, ending up either in Galle or at Loku Amma's home in Gampola.
She enjoyed the insightful programmes on TV and would make her own comments and judgments and relate them to real life.
Amma was very loyal to her kith and kin and went out of her way to help all those she felt needed help. She didn't have to be asked. She did not expect anything in return. To help unconditionally is Amma's legacy to all of us.
The more I think of you, Amma, the more I realize that the numerous lessons to be learned from your life are truly amazing indeed. Among Amma's lessons in life are – doing what we do to the best of our abilities and doing it happily; being happy with what we have; helping others in whatever way we could; rejoicing in others' achievements; being forthright without fear or favour and having the courage to face any adversity with a "never say die" attitude. Her motto "We will find a way" was always very encouraging indeed.
As our family commemorates the 100th birthday of this remarkable, quiet and unassuming lady who taught us many valuable lessons in life,  I am proud to call her my dearest Amma and yes, Amma, we will remember to be happy and to keep smiling always, as you advised us.
May your journey in samsara be short and joyful! May you attain the supreme bliss of Nirvana!   
With love and gratitude,                   
Saroja
---
 An indefatigable banker
Apparswamy Gopalakrishnan
My first contact with Gopal was in the early '60s as a "Chummery mate" in Mullaitivu.
Thereafter Gopal became a junior colleague in the People's Bank not on a continuous basis, and then  a  close associate and friend who shared our pleasant pastimes of year-end parties, picnics and trips to Delft etc.
In 1973, when I was posted to Vavuniya, Gopal was an Officer, and later when I was sent to the Jaffna Main Street branch, Gopal too had arrived at that branch. It was a glorious period when we converted the branch to become the sixth most profit making branch in the island.
When both of us retired in 1997 –  our attention was focused on the welfare of Bank retirees operating in the Northern Province.
Gopal made his residence available for our meetings and would go out of the way to organise not only the activities of the association, but he was our photographer  and competent translator too.
R. Suntharalingam
---
Correction
Tribute to a centenarian – Gerald Upatissa de Alwis
Last Sunday's Appreciations column published an article on Mr. Gerald Upatissa de Alwis under the headline 'In spite of a generation gap between us we were very close'. The article written by Mr. Nihal de Alwis was meant to be a tribute to Mr. de Alwis who had celebrated his 100th birthday three months ago. Mr. Gerald Upatissa de Alwis who was born on February 24th, 1922 is well, his daughter Mrs. Aloma Gunesekera has informed us.
The Sunday Times apologises to Mr. Gerald Upatissa de Alwis and his family for the unfortunate and unintentional error in publishing the article as an appreciation rather than a tribute to his life, his work and achievements. We deeply regret any pain of mind caused in doing so and congratulate Mr. de Alwis on becoming a  centenarian and wish him good health in the years to come.
---
Searching for an ideal partner? Find your soul mate on Hitad.lk, Sri Lanka's favourite marriage proposals page. With Hitad.lk matrimonial advertisements you have access to thousands of ads from potential suitors who are looking for someone just like you.