The world's most awarded creative school opens Social Media Bootcamp 3.0 for admissions
View(s):

Miami Ad School Sri Lanka & Maldives announced the launch of its third Social Media Bootcamp beginning 6th June 2022.

M.AD's bootcamps are already brimming with glittering alumni who in a single year following these intensive 12-week globally instructed programmes, have gone on to receive accolades as top business minds, creative pioneers, brilliant strategists and leading innovators by prestigious awarding bodies locally and in Australia, Singapore, the US and Europe.

Bootcamps are designed to optimise minds – to sharpen, polish and prepare them for the ever-evolving, often-chaotic futures of technology, business, healthcare, social systems and services.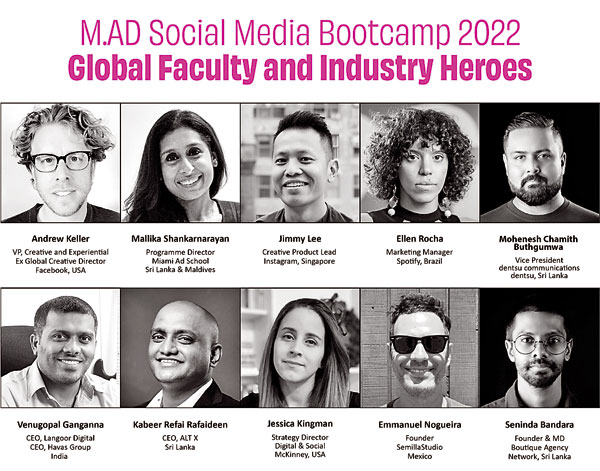 A creative approach to the world is at its heart, the human way. It is the catalyst that realises our greatest desires – giving us the way from sounds to language to music, from imitating to imagining, from existing to evolving, from incremental to exponential.
Social Media Bootcamp 3.0 is instructed by a powerhouse group of people who mould, fuel and bring to life those desires daily, to millions and billions, through platforms like Spotify, Facebook and Instagram.
Helmed by M.AD Sri Lanka & Maldives' Programme Director Mallika Shankanarayan, you will be mentored weekly by those at the very heart of the world's most important places right now.
Those who are actively defining how we engage with ourselves, our friends, our communities, how we dream, what we find funny, what we want to indulge in and what we will notice today.
n   Andrew Keller, Executive Global Creative Director, Facebook
n   Jimmy Lee, Creative Product Lead, Instagram
n   Ellen Rocha, Marketing
Manager, Spotify
n   Chamith Buthgamuwa, VP,
Isobar, Sri Lanka
n   Dr Irina Rochal, Partner Marketing Manager, Facebook
n   Kabeer Refai Rafaideen,
CEO, ALT X
n   Jessica Kingman, Strategy Director, Digital & Social, McKinney USA
n   Emmanuel Nogueira, Founder, SemillaStudio, Mexico
n   Seninda Bandara, Founder & MD, Boutique Agency Network
Students find the fully-virtual format
of the bootcamps to be an advantage – it allows them to connect with instructors who would not be ordinarily accessible
to them.
Moreover, to engage with them in unique environments, where everyone is in their element, gives every class an inherent international perspective on times, cultures and current events.
10 am in New York, 9 pm in Singapore and 8 am in Mexico City are not slivers of experience we are often privy to – but in M.AD's bootcamps, they are the insightful backdrops to lessons that will transform the way you think forever.
Bootcamp weeks are punctuated by sessions with industry heroes responsible for brands like Coca Cola, Kraft and British Airways.
After 3 whirlwind months, you receive a qualification you share with senior players in places like JWT, Havas and Grey Worldwide and a place in M.AD's global alumni network, with access to those who have headlined nearly every major creative accolade on the planet.
If you are inspired by the things we curate and the company we keep, want to shine brighter and build on the facets of your mind that will set you apart – you belong here.
To apply, contact us
on +9474 151 7415 or email hello@miamiadschool.lk
For more information,
www.miamiadschool.lk
Follow us on Instagram @miamiadschool_sl
and on Facebook @MiamiAdSchoolSL for
exciting updates!
HitAd.lk is the best and biggest mobile phone market in Sri Lanka, and we guarantee you will find what you need here from our extensive listing of mobile phones for sale in Sri Lanka. Whether it's a budget-priced smartphone for communication, or higher end features with advanced connectivity, there are many different options from which to choose from on our site!