MSU's MBA -21st Century Education for Global Success
View(s):

As one of Malaysia's top universities and enjoys recognition globally, MSU currently ranks in the Top 100 among the world's top young universities, Top 200 among Asia's best universities and Top 301+ for Graduate Employability Ranking.  MSU has also been awarded Platinum 5 Crowns by the UK's Accreditation Service for International Schools, Colleges, and Universities (ASIC); and QS-rated 5-Stars on the metrics of Overall as well as individually across Teaching, Graduate Employability, Academic Development, Internationalisation, Online Learning, Social Responsibility, Inclusiveness, and Hospitality and Leisure Management.

MSU's Master of Business Administration (MBA) centred at the Graduate School of Management (GSM) offers only essential attributes to start-up and expand enterprises. MSU's MBA still holds a high priority in the 21st educational system for the technical and business leaders, which meets human resources' demands from modern worldwide business perspectives.

At present MSU is recognised by more than 40 countries including UK, USA, Australia, Turkey, Portugal, New Zealand, Japan, Indonesia and India. The university's award-winning academic programmes meet stringent standards of local and international bodies. MSU accreditors include the Malaysian Qualifications

Agency (MQA), the United Kingdom's Accreditation Services for International Schools, Colleges & Universities (ASIC), the Japan's Alliance on Business Education and Scholarship for Tomorrow (ABEST21), the Netherland's Accreditation Council for Entrepreneurial & Engaged Universities (ACEEU), the United Kingdom's Institute of Biomedical Science (IBMS) as well as the Sri Lanka's University Grant Commission (UGC).

In this fast-paced world we live in, every decision you make has a huge impact on your future – and it's important that you find the right education partner and the right education avenue at a very early age if you are to emerge as successful leaders in whichever the industry you choose. When selecting a degree programme that you would like to follow it is important to consider the demand for job opportunities and the best higher education institutions that provides quality education to students. With Management & Science University (MSU) enjoying a high acceptance amongst employers, obtaining a degree from MSU can give you the specialist knowledge and trustworthy credentials that will establish your credibility and expertise in your respective industry.

Apart from the various Diploma and Degree programmes offered at MSU, students can go even further academically by pursue their MBA at MSU and fast track to a Ph.D.

The postgraduate programmes at MSU are carefully crafted to cultivate leadership and a real research contribution that address industrial hands-on challenges at the highest management level. Due to the tremendous and exciting state of flux within business and management communities, top management must adapt rapidly to stay competitive, relevant and strategically positioned to tackle global trends by possessing the relevant post-graduate qualifications.

MSU's MBA programme is structured to train students for the future of business management. It prepares students for successful management decision-making with the required analytical resources as well as understand the issues of globalisation and learn how to deal with challengers faces in the modern world.

In addition, students will have the opportunities to develop management skills and techniques, to obtain strategic orientation and to implement the strategies formulated. These include networking events with industrial leaders, talks by CEOs, industrial visits, management games, case study approaches, video presentations, on-line interaction, and many other approaches. The programme will help students to develop skills in leadership, entrepreneurship, strategic management, and decision making and train them to become successful corporate leaders and entrepreneurs in the most competitive markets. Upon completion of the programme, students will have a broad understanding of their specialised areas.

Thus the MBA focuses on developing and delivering quality human capital in national and global critical-need areas of business. With their meticulously crafted curriculums, the university's programmes of study are among the best in the region, producing graduates that are a popular pick among employers in top notch companies. MSU employs the foremost lecturers in their specific professions who adhere to an innovative curriculum and maintain unimpeachable teaching standards. Keeping in mind the demanding obligations that professionals have to meet, which might make it difficult for them to participate in a conventional programme, the MBA programme at MSU strives to understand and meet the specific needs of this group with flexible course schedules.

Students can complete the MBA at MSU Colombo or transfer to the main campus in Malaysia or one of the many partner universities worldwide including in United Kingdom, Germany, Australia and other countries. In addition, the Global Mobility Programme (GMP) will provide international exposure to postgraduate students in develop awareness and appreciate of other cultures, political and economic environments, and various approaches of doing business.
Full-Time and part time programmes and MSU Degree offers through MSI which is locally and globally recognised
Affordable Tuition Fee and Easy Payment Options without extra cost and bank loans.
Distinguish faculty with industry experience.
The curriculums for the courses are developed taking into consideration the current needs of the industries as locally and globally.
Students will expose to the local and International leading industries through the local and Malaysian industry visits.
All programmes are continuously monitored by a team of experts from Management and Science University (MSU) in Malaysia.
MSU is a member of the Association of Commonwealth Universities (ACU) and is recognised by the University Grant Commission (UGC) Sri Lanka. 
In addition to these key degree programmes that students can complete in Sri Lanka, MSU Malaysia or partner Universities worldwide including, Australia, UK, Japan and Germany, MSU also offers Dual MBA programmes, PhD and MBBS for academics to become professionals in their chosen field.
The Management & Science Institute (MSI) represents MSU as a local representative and offers students a range of diploma programmes which help develop knowledge and skills of students while preparing them to obtain employment or continue their higher studies. MSI Colombo offers the following Diploma and Bachelor (Hons) Degree programmes: Business Management, Human Capital Management, Retail Management, Biomedical Science, Forensic Science, Nutrition Science, Information Technology, Business Computing and Information Technology (Mobile Wireless Technology), Hospitality Management, Event Management and Leisure Outdoor and Adventure Management. The students who successfully complete of the Bachelor Hons Degree can be apply for the MBA programme leading to the Ph.D which is offered at MSU Malaysia through MSU Colombo.
Students from Sri Lanka will now have the opportunity to enjoy MSU's quality education through its Colombo Center, MSI. For more information on MSI programmes call us at 0112576644, 0112576700, Hot Line 0770777880, email at  info@msi.edu.lk , www.msi.edu.lk    or visit Management & Science Institute, No 300 Galle Road, Colombo 3.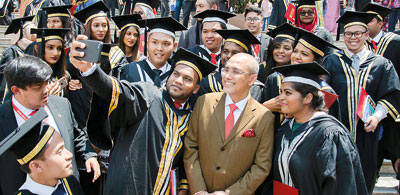 HitAd.lk is the best and biggest mobile phone market in Sri Lanka, and we guarantee you will find what you need here from our extensive listing of mobile phones for sale in Sri Lanka. Whether it's a budget-priced smartphone for communication, or higher end features with advanced connectivity, there are many different options from which to choose from on our site!