Heart to Heart Trust Fund receives a donation of Rs. 13.5 million from the till collection of Musaeus College Students
View(s):

"Alone we can do so little, together we can do so much" – Helen Keller

As a step towards celebrating the 130th anniversary of Musaeus College, Colombo its students donated Rs. 13.5 million to the Heart to Heart Trust Fund at a prize giving ceremony held on May 5 at the Musaeus College Auditorium.

Till collection, an innovative idea came from philanthropist, Deshamanya Ajita de Zoysa, Chairman of Musaeus College and a Trustee of the Heart To Heart Trust Fund.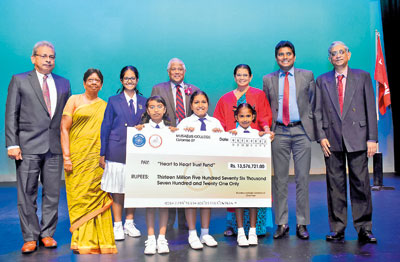 Speaking on this occasion, Ajita de Zoysa expressed his gratitude to the students, faculty, and staff members who embraced his idea to instil in the children compassion for those less fortunate. As a trustee of the Heart to Heart Trust Fund, he assured that every rupee collected will be correctly spent for the benefit of the less privileged who struggle as breadwinners and who require urgent cardiac treatment.
Collecting money in a till to support the work of the trust fund resonated well with everyone who was involved with the initiative. The concept of saving in a till reminds us of our childhood, of adults encouraging the habit of saving money in a till for a rainy day. Similarly, the money that children of Musaeus College collected will certainly provide fellow Sri Lankans with the shelter they need on a rainy day in their lives.
Thanks to the vision of two specialist doctors, Rajitha Y de Silva and Ruvan Ekanayaka, who witnessed the pathetic plight of Sri Lankans losing their lives owing to a lack of timely medical intervention, the Heart To Heart Trust Fund was set up to specifically assist individuals requiring critical treatment for heart-related ailments.
Since it was set up in 2014, the Trust Fund has saved the lives of more than 400 Sri Lankans. Most recipients were breadwinners, adults of employable age, and young people, who otherwise would have been helpless without the funds for life-saving treatment.
Dr. Rajitha Y De Silva, Co-Founder of the Trust Fund, speaking on the occasion that the fund-raising initiative by the Musaeus College students undoubtedly serves as a model for raising funds for a good cause in schools and institutions across the country. This great effort should set an example. The students have made the change.
Given the yeoman service rendered by the Trust Fund, which is governed by a board served by members from diverse professions, the contribution of the students of Musaeus College will be the saving grace for many yearning for a new lease on life.
The Heart to Heart Trust Fund was legally incorporated as a trust and registered with the Registrar General's Department on August 13, 2018. Its accounts are annually audited by Ernst and Young. Being a Trust Fund, ensuring transparency of operations at all levels, and maintaining a high level of integrity is a virtue held high and we believe that our impeccable track record has been the reason for our success thus far.
The Trustees on the Board, representing the medical fraternity are Consultant Cardiothoracic Surgeon Dr. Rajitha Y De Silva, Senior Consultant Cardiologist Dr. Ruvan Ekanayaka, Consultant Cardiothoracic Surgeon Dr. Aruna Kapuruge, Consultant Cardiothoracic Surgeon, Dr. Mahendra Munasinghe, Consultant Cardiac Anaesthetist Dr. Kanishka Indraratne, Senior Consultant Cardiothoracic Anaesthetist and Intensivist Dr. Kumudini Ranatunga and Prof. S D Jayarante, the Chairman, Sri Jayewardenepura General Hospital (Ex-Officio).
Additionally, the non-medical trustees providing guidance to the Trust Fund are former Ambassador and UN Under-Secretary-General Jayantha Dhanapala, former Attorney General PC Palitha Fernando, Arunashantha de Silva PC, former Legal Draftsman, Mahendra Amarasuriya, Senior Banker, Philanthropist, and Former International President, Lions Club International 2007/08, Dr. Kumari Jayawardena, Author/Social Worker, Sudath Tennakoon, Chairman, Central Bearings, Lt. Gen. (retd.) Jagath Dias, former Chief of Staff, Sri Lanka Army, Sunimal Fernando, Senior Sociologist, Ajita de Zoysa, Philanthropist, Chairman of Kalutara Bodhi Trust and Chairman of Musaeus College and Kumar Sangakkara, former Captain Sri Lanka Cricket 2009-2011 and President of the Marylebone Cricket Club (MCC).
+94 077 734 4410
heart2hearttrustfund@gmail.com
http://heart2hearttrust.org
HitAd.lk is the best and biggest mobile phone market in Sri Lanka, and we guarantee you will find what you need here from our extensive listing of mobile phones for sale in Sri Lanka. Whether it's a budget-priced smartphone for communication, or higher end features with advanced connectivity, there are many different options from which to choose from on our site!