Excelsia College, Sydney strengthens bonds with Sri Lanka!
View(s):

A senior delegation from one of progressive higher education providers, Excelsia College visited Sri Lanka recently. Excelsia College, located in Macquarie Park, Sydney NSW offers bachelors to PhD and one of the only college to have 5-schools – business, education, social work, counselling and performing and creative arts, and have gained the reputation for excellence in teaching and research in its 38-years of unparalleled journey of making impact on young youth of tomorrow.
Excelsia College performed strongly in student metrics, including student support, skills development, and teaching quality. In the survey published by QILT, Excelsia achieved ratings above the national average in all but one student metric in both undergraduate and postgraduate courses.  The College outperformed most of Australia's highest ranked institutions in the teaching quality category in both undergraduate and postgraduate courses, with a student satisfaction rating of 89.3% and 89.0% respectively.
Bobby Abraham, Chief Admissions, Global Engagement and Partnership, and Archana Sharma, Director Admissions visited Sri Lanka and engaged with esteemed partners whom the college have worked with for many years. The delegates also met with prospective students, recruitment partners, collaborative partners, and also hosted a session for counsellors. The visit concluded with the award ceremony for students who excelled in Global Online Music Auditions held in May 2021.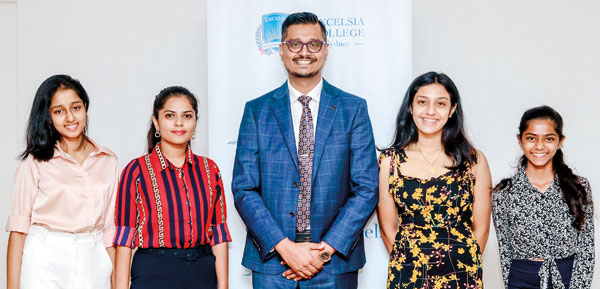 Bobby mentioned at the conclusion of the visit that, "I am very pleased to be back here in Sri Lanka, and had the privilege of visiting partners in different regions in the country. Meetings with partners were excellent and further strengthened the existing working arrangements and importantly reiterated Excelsia's commitment to Sri Lanka and the community here. It also will deepen Excelsia's engagement in the market going forward with shared vision and bonds."
Excelsia's prestigious recruitment partners – IDP Education, Jeewa Education, Uniwest Educational Services,  ACCHE, Bridge Foreign Education, Evergreen Education, International Education Experts, Westgate Visa Centre, Tingo Education, Instigate Education, Students in OZ Consultancy, and UniKey Global participated at the Counsellor Training and Information Session.
Excelsia College signed a MOU with St George International Institute proving pathway for its students to continue Bachelor of Early Childhood Education (Birth to 5), and strengthened existing collaboration with Westgate College to support students interested in Master of Social Work (Qualifying).  It also had the opportunity hold discussions with Benedict XVI Catholic Institute (BCI) to explore future collaboration in research, creative and performing arts space.
Students who were shortlisted for Excelsia's Global Online Music Audition participated in the awards ceremony accompanied by their family members. Accordingly, Nathalie Perera, Thisuni Gunasekera, Dinuli Mendis, and Sheruni Pilapitiya were recognised for their participation.
Excelsia College offer a range of Bachelors, Masters and PhD programmes for international students and encourage interested students to apply for forthcoming intakes in July and September 2022 as well as for February 2023.
Business: Bachelor of Management and Entrepreneurship, Bachelor of Business (Accounting), Master of Business Administration, Master of Professional Accounting, Master of Business Research and Doctor of Philosophy (Organisational Leadership).
Counselling: Graduate Diploma of Counselling and Master of Counselling
Creative and Performing Arts: Associate/Bachelor/Master of Music, Associate/Bachelor of Dramatic Art and Bachelor of Screen Production.
Education: Bachelor of Early Childhood Education (Birth-5), Master of Education Research (STEM), Master of Education Research, and Master of Teaching (Secondary)
Social Work: Master of Social Work (Qualifying) including Bridging course (pathway) Graduate Certificate in Counselling
At Excelsia College, our students come from all walks of life, bringing with them many different backgrounds, traditions and experiences, but they have something important in common. People in our community are passionate about excelling and growing: academically, professionally, creatively, personally, spiritually, and in their understanding of the world and their place in it. Choosing to undertake an undergraduate or postgraduate degree at Excelsia College will provide our students with a firm foundation for their personal and professional life.
Please contact David Samuel,
International Marketing Consultant, Excelsia College Sri Lanka Office – Email:
david.samuel@exclesia.edu.au for further information.
CRICOS Provider Code: 02664K.
HitAd.lk is the best and biggest mobile phone market in Sri Lanka, and we guarantee you will find what you need here from our extensive listing of mobile phones for sale in Sri Lanka. Whether it's a budget-priced smartphone for communication, or higher end features with advanced connectivity, there are many different options from which to choose from on our site!