Dr. Dayan Jayatilleka tells APIIT students the only solution to Sri Lanka's political issue is elections
View(s):

The strongest Industry Linked Master of business administration degree (MBA) programme in Sri Lanka, the Staffordshire University MBA; presented by The Asia Pacific Institute of Information Technology (APIIT) featured the 75th edition of the "APIIT MBA Diary"with an honoured guest of international repute Dr. Dayan Jayatilleka – the Former Permanent Representative of Sri Lanka to the United Nations at Geneva and respected author (Long War, Cold Peace: Conflict and Crisis in Sri Lanka, Fidel›s Ethics of Violence, Long War, Cold Peace: Sri Lanka›s North-south Crisis, Sri Lanka: The Travails of a Democracy, Unfinished War, Protracted Crisis).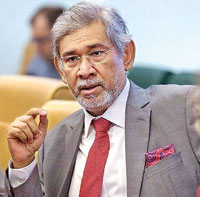 Dr. Jayatilleka was Sri Lanka's Ambassador Extraordinary and Plenipotentiary to the Russian Federation (2018-2020). Earlier he served as Ambassador Extraordinary and Plenipotentiary of Sri Lanka to France, accredited to Spain and Portugal, and Permanent Delegate of Sri Lanka to UNESCO, Paris (2011- 2013) and Permanent Representative/Ambassador of the Democratic Socialist Republic of Sri Lanka to the United Nations at Geneva and other International Organisations (2007-2009).
There after Dr. Jayatilleka was elected Chairman of the Governing body of the ILO (2007/2008) and Vice President of the United Nations Human Rights Council (2007/2008). He was Chairman-Rapporteur of the UN Human Rights Council's Inter-Governmental Working Group on the effective implementation of the Durban Declaration and Programme of Action of the UN World Conference against Racism, Racial Discrimination, and Xenophobia and related Intolerance. He was also Coordinator of Agenda Item on "General and Comprehensive Nuclear Disarmament" of the UN Conference on Disarmament Coordinator, Asian Group, UNCTAD 2009.
Currently Dr. Jayatilleka is a Senior Advisor on international relations to the leader of the opposition and weekly columnist of Daily FT in Sri Lanka and we are thankful for taking time off his busy schedule to address the new age CEO's of Sri Lanka that is studying for the MBA of the Staffordshire University (UK).
The MBA programme of Staffordshire University has an outstanding faculty who are top corporate leaders in Sri Lanka and have had a strong academic career. We believe in giving the best contemporary education for the next generation CEO's as the pandemic made most theories obsolete and non-traction driven. This is the reality that we must accept said Dr Athukorala.
"Studying the collapse of the USSR, Chinese and Western scholars identified as the main folly, the simultaneity of drastic economic and political reform. China avoided that blunder and achieved the greatest economic miracle in history.  Sri Lanka has quadruple imperatives: order and stability, economic adjustment, rapid revival of growth and swift addressing of equity issues and poverty reduction so as to circumvent further socio-political turmoil we must support the administration achieve this end and rebuild Sri Lanka" Dr. Jayatilleka commented.
"The Asia Pacific Institute of Information Technology (APIIT) is the market leader for masters' education in Sri Lanka due to the novel ecosystem that has been built which is more than just education," said Dr Athukorala.
HitAd.lk is the best and biggest mobile phone market in Sri Lanka, and we guarantee you will find what you need here from our extensive listing of mobile phones for sale in Sri Lanka. Whether it's a budget-priced smartphone for communication, or higher end features with advanced connectivity, there are many different options from which to choose from on our site!