Ion Tiriac sells Madrid Open
First African woman to win a major
View(s):
Madrid Open event ownership is private. Over the years, it has become an attractive European sand court championships. After the French Open in Paris, Madrid Open offer the biggest prize money. The man who initiated and groomed it to be so is Ion Tiriac of Romania.
Tiriac is an ice hockey player and became known tennis later. After his career, he took to player promotions. He promoted and made Ille Nastase of Romania, Guillermo Vilas of Argentina and Boris Becker achieve great height. Then Tiriac went to own and promote tennis events. Charlie Passerell's Indian Wells in Palm Spring in California, USA was his model for Madrid. Tiriac made it much bigger and more attractive. Today truly an attractive event.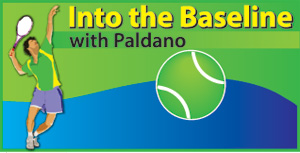 Tiriac's prime time was after the Soviet era, he used the opportunity to launch into, airport, banking, insurance and a few more ventures in Romania. Tennis was Tiriac's passion. He was passionate talking about the game and possibilities even back in India with us in late 1960s when we travelled and played in the Indian circuit. With him retiring, he has made sure his brainchild Madrid Open survives and prospers by choosing IMG to be its next owner.
IMG manages many globally known athletes and owns top end sporting events. In tennis, they also own the Miami Open event.  In many of Tiriac's interview in the German TV, he always said that his success was from hard work and not luck. His life is good model to sportsman. Right now Tiriac is worth 1.6 billion according to Forbes. Unfortunately, one of his prodigy very sadly bankrupt and is serving a jail term in England. There is a life after being a sportsman. This is 82-year-old Tiriac's message.
Jabeur and Alcaraz
win 2022 Madrid
Tennis wise Madrid Open standard was in par with Grand Slam events. This year two significant winner surfaced in Madrid. In the women's event, Ons Jabeur of Tunisia became the first African women to win a WTA 1000. Jabeur's achievement broke the barrier in prove, coming from the Africa, it can also be done.
The northern belt of Africa had many sporting influences of Europe. Many countries were French and Italian colonies. Jabeur has been knocking on the door. She is already a top 10 player. Every top player mould have specialties to win. Jabeur's specialty is her personality. Her basic stroke making and tactical approach has not changed since I saw her play first four years ago. In fact, it is very difficult to change these straits in a player after a certain level of maturity time in development and age.
Jabeur's strength of personality and maturity permits her to take immense punishment and turn the match to her favour. Her tactical choice at critical time has been the decisive factor in winning. She hardly wins tough matches in straight sets. Playing three sets is her norm. Of recent, her reactions are quick, physical reactions are supportive to her tactical play. She has peaked to match the competition platform needs of Top 10 of the world.
Alcaraz's magic wand
Carlos Alcaraz Garfia of Spain is seven in the ATP ranking and his tennis is magical, machine like, mentally perfect, deadly warrior in tactical execution. World acclaims him to a phenomenon like Rafael Nadal. He beat Nadal, Djokovic and Zevrev, that is one, three and four of the world ranking in three successive rounds. Maestros Nadal and Djokovic did not hesitate to praise him. At 19 years of age, he is marked to be a big name in the sporting world.
I have seen many players, cannot recall seeing a player so complete like him so young may be since Becker when he was 17. Alcaraz is another once in 30-year phenomenon.
I have seen Alcaraz hit winners with every department of stroke making. He aced Nadal, Djokovich and Zevrev with his second serve, just to confirm yes it was Alcaraz's his second serve. His capacity to play from every position of the court makes him one of the few in the history of the game. I would say a Grand Slam winning Rod Laver strait of the 1960s.
Denying targets to
opponent
Most effective Alcaraz weaponry is his court positioning between shots in a rally. This reduces opponents target selection possibility to minimum, making them to choke with their strokes in tight situations. In a tennis player, this is a result of having super speed eye to read opponents shots extremely early and to reach the ball with time to spare. A gift of nature, I believe. Such players position within the court or on the base line. This takes many of opponent's targets away – Djokovic, Federer method of positioning.
If you have played tennis, you will know what this feeling is to have a ball coming at you and you not having selected the shot to play. All unforced errors appear from this time squeeze situation in tennis. Often, good players collapse with tactical stress when continuously confronted with this situation. Alcaraz created this situation to Zevrev in the final of Madrid Open, making the final an open and shut case. Alcaraz won the title with 6/3, 6/1 win.
If you get an opportunity to see Alcaraz perform, do not hesitate to grab the opportunity.
–George Paldano, European and Asian competition player; coach for German Tennis Federation; National coach Brunei and Sri Lanka; Davis Cup, Federation Cup; coached top 200 ATP,WTA and ITF Top 50. WhatsApp 0775448880–