Prominent Breakthrough of a Chartered Accountant
View(s):

'Transformative art must express something beyond where you are, it demands that you grow beyond your current self. This is where an artist's angst and the pain of transformation coincide. You reach toward the true, the good and the beautiful and become a better person through the struggle,' – Allex Grey.

This quote especially highlights two things; if someone can go beyond to accomplish something that will inspire and transform yourself for better status; and that put you through in struggle, that adds unique value to your life and opens beautiful and meaningful movement to enjoy life.

In such a context, Susantha Galgodage develops his inner passion through his
immersive dedication.

Susantha opened his heat about the passion for art and how he started to developed the subject for the first time to media. This interview was conducted virtually with the intention of exploring his artistic voice.

Q: How did you develop an inner passion for art? and how has your background inspired you to develop it?

A : In my childhood, I was always passionate about drawing, and was reading weeklynewspapers, which inspired me to keep practicing art. There were no qualified art teachers in our school. I used to draw and sketch pictures without knowing the techniques. Eventhough I was keen on drawings and paintings, I selected commerce stream for A/L.

During my university studies, I started again to draw portraits, cartoons and landscapes. An Art and Crafting course was organized by the University Cultural Center for students who were interested in painting and crafting. I was fortunate to follow that and focused on ballpoint drawing.  I had to keep practicing it for a while. Since my dream was to become a Chartered Accountant, I studied and worked for about seven years for my dream to come true. But I did not give up my inner passion and kept sketching eye-catching images and pictures when I had free time.

When I was working in Zimbabwe, I was walking along a road one day and saw an art gallery displaying beautiful paintings. I visited the gallery and bought a box of oil paintings. But I had no idea, how to use them. That was the starting point of my oil paintings. I searched for more information and techniques about oil paintings. No one was there to guide me, but I never stop practicing them. Afterwards, I met a few artists and learned the techniques. Self-study and practice gave me more inspiration to stand alone as an artist.

Q : Who encouraged you to pursue this?

A: There were many behind me, who appreciated and encouraged me in different ways. Artists such as Prageeth Rathnayake, Shanaka Kulathunga and Buddhika Rangeewa taught me fundamental techniques of paintings. There guidance helped me to become better, therefore, I would like to take this opportunity to thank them all, for supporting me.

Q : When observing your paintings, It describes that you are more passionate about wildlife and human figures especially in dancing acts. Is there any special reason?

A : There is no special reason for my work. You can see, I do not stick to just fine arts, and also move towards contemporary arts, and collage artworks. I try to use different materials that have significance to the subject matter like sea, sand, waste material and collage. I use them for contemporary artworks.  However, I spend more time on paintings of wildlife and human figures. I believe that fine art is one of the most difficult areas than contemporary artworks.

Q  : Have you conducted or participated in an exhibition or competition?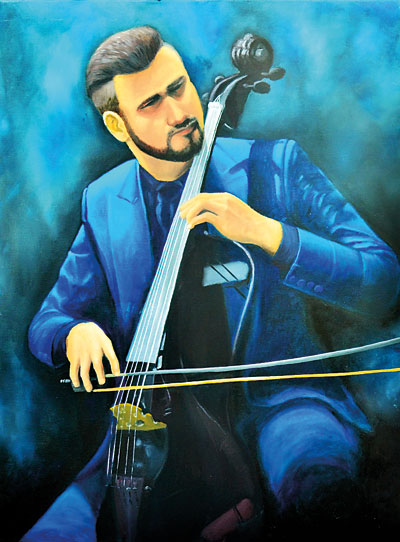 A: Yes, I participated in a few art competitions and won prizes during my schooling. I exhibit my paintings at "Kalapola" organized by John Keels Holdings, annually. I planned to hold an exhibition this year, but it was cancelled due to the prevailing COVID pandemic situation.
Q : As a Chartered Accountant, and an artist, how do you manage both fieldswith your timing?
A: Yes, it is quite difficult to find free time, but I practice managing both fields and always make sure to find the time for paintings. Currently, I work as a Technical Manager at CA Sri Lanka. Even though my profession is different from my inner obsession, without affecting my profession, I want to continue my ambition of becoming a famous artist in Sri Lanka. The profession is not a barrier for me to pursue my  passion as an artist.
Q: why did you choose the Accounting and Finance field for your profession, instead of selecting an Art related profession?
A : I did not initially have such a reason, I selected commerce stream for A/L. After completing A/L, I accidentally got to know about the Chartered Accountancy course. It was the turning point of my life to select this profession because I was dreaming to become an artist.
Q : How does  this profession inspire you compared to your inner passion?
 A : Well, that is quite a difficult question, I enjoy quite a lot working in this field; delivering lectures, acquiring different competencies, consulting people, traveling to other countries and meeting different people. I believe I gained all of these because of my profession as a Chartered Accountant.
Q 08 :What motivates you to paint and what do you gain from it?
A : Painting is just like a form of meditation, when focusing on one thing for a long time, it relieves your stress which will help us have a good mental and physical health.
Q 10 : How do you describe your passion?
A : My view is that we have to look at all the forms without boundaries, because when someone sticks into a limited area or framework, which does not allow you to explore creativity, talents, skills and knowledge. Therefore, we have to learn all forms of the relevant areas as much as possible. I integrate my personal experience, training, and knowledge in both fields to bring the best works to the target audience.
Q 11 : What are the difficulties you face in this journey?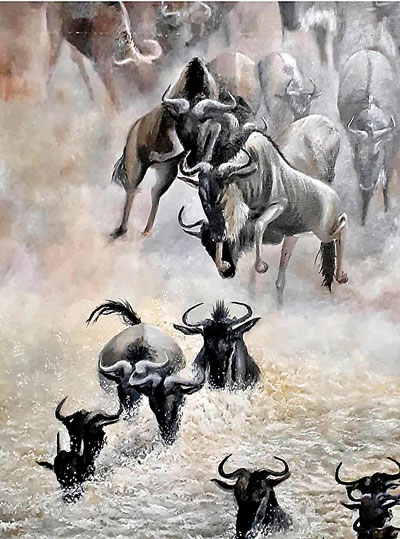 I faced so many difficulties and resolved as many as possible. My journey is slowly moving forward. Because I have to give more priority to my job responsibilities, but on the other hand, there is no good market for paintings in Sri Lanka since it has low appreciation.
Q 12 : Finally, what are your goals as an artist from a different profession? And What message will you give others to inspire them? 
I think that art does have the power to touch people's minds. Whatever the perception that we bring into the world, can transform through art. I can use this vital tool to bring meaningful messages to the community.
Further, I believe that the habits of the new generation are in a danger due to social media. It diminishes creativity, rational thinking, social values and so many things. Therefore, I try to use this powerful media to help improve the confidence and to challenge their future.
Searching for that next furry family member but couldn't find one in your area? Hitad.lk has the solution with our extensive listings of dogs for sale in Sri Lanka!