Designs that express the self beyond gender stereotypes
By Ruqyyaha Deane
View(s):
Built on the philosophy of self-confidence, self-love and self-expression, HARID by Harinda Gunawardena is a brand that seeks to create individualistic works of art while challenging gender-typical stereotypes. His most recent collection at the summer edition of Colombo Fashion Week 2022, gave traditional Sri Lankan batik craft a different dimension with the use of modern silhouettes and bold colours.
Harinda  always believed he was destined to be a fashion designer. Artistic with a knack for creativity from a young age, having completed his studies at Ananda College, he pursued a Bachelor's in Fashion Design at the University of Moratuwa which provided him with the opportunity to showcase his debut collection at Colombo Fashion Week in 2020.
It was here that Harinda really manifested his dream by presenting a collection that highlighted his creativity but also attempted to incorporate local  craft practices into his designs.
"After my debut collection showcased, I launched my brand HARID and began retailing at the Design Collective Store. I believe that HARID caters to anyone, regardless of gender who wants to express themselves."
His personal style is reflected in his designs in the way he picks colours and designs which have a bold ambience, he says.
"I put a lot of thought primarily into how I can create a design which would help convey the brand philosophy of self-expression. This has led to most of my designs having quite bold and quirky colours, which stand out and help express a message of confidence. In terms of the materials used I always try my best to do my part toward sustainability and the planet. Therefore, I only use eco-friendly materials," he shares.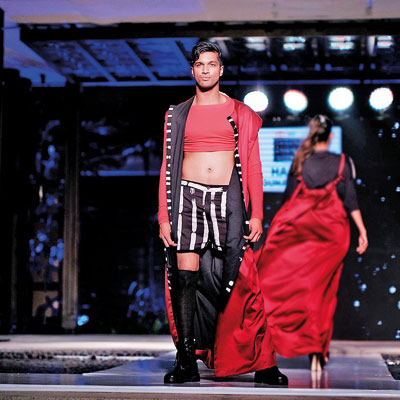 Although he works mainly with batik, Harinda has also experimented with handweaving as well.
Being part of the design process from scratch is what he enjoys most. The most rewarding aspect of being a fashion designer is being able to see the final designs that were conceptualised through an intangible thought process being turned into a tangible garment which in turn when worn by someone helps them express themselves with self-confidence.
"I think it's quite important to strike a balance between current trends, the principles of fashion, and the designer's unique touch. As trends tend to evolve it's important to incorporate global trends into our designs whilst adding in our creativity. I obtain inspiration from almost everything I come across, I believe that there's so much inspiration out there for us from a tiny speck to everything that revolves around us… there's so much happening around us and if you look at it from the right angles there's plenty of inspiration to pick up," he says.
If you want to progress in the industry, it is essential that you need to be open to continuous learning and be dedicated to what you do. Talent and creativity apart, you need tremendous amounts of patience and consistency as you progress, he advises future emerging designers.
His plans is to expand HARID so he can elevate local heritage craft practices in a global arena and as a brand be sustainable to the maximum while taking the brand philosophy of self-love and expression across borders, he says.
Searching for that next furry family member but couldn't find one in your area? Hitad.lk has the solution with our extensive listings of dogs for sale in Sri Lanka!