To go or not to go?
View(s):

My dear Mahinda maama,

I thought I must write to you after hearing that various people are writing letters asking you to resign. It must be a difficult time for you when you see these people, who you brought into politics and nurtured when they were political babies, now being bold enough to call for your resignation.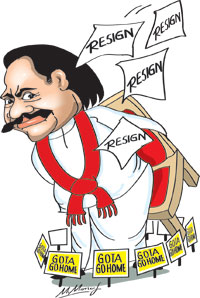 Pardon me, Mahinda maama, but we are also hearing different stories at different times. Last week we heard Dullas calling for your resignation and sending letters describing how it will pave the way for what is called an 'interim government' – and how that will solve all our remaining problems.
Just a few days later, you are telling us that all of them now accept your leadership, and you will live happily ever after. With so many letters calling for resignations, it is hard to keep track of who is saying what, who is coming and who is going. No wonder 'Gota Go Gama' is still going strong!
Prior to that, we had those two rascals, Wimal and Udaya, playing a double game. When they were in the Cabinet and Gota maama wanted them kicked out because they were criticising Basil maama and calling him the 'ugly American', it was you who asked Gota maama to retain them in the Cabinet.
That put Gota maama in a difficult situation because Wimal and Udaya didn't want to be in the same Cabinet with Basil maama, who didn't want to be in the Cabinet with them either. In the end, because blood was thicker than water, Gota maama kept Basil maama and sacked the two rascals.
Now that Gota maama has got rid of the entire 'old' Cabinet and replaced it with a 'young' Cabinet with no ministers with the 'R' name in it, we hear Wimal and Udaya are upto their old tricks. They are now demanding your resignation and cosying up to Gota maama who sacked them!
Then, we also see some who have opposed you and said they want to become 'independent', suddenly standing before Gota maama and taking oaths as State Ministers. There are many theories as to why this happens. In the past we know what changed hands for people to change their minds overnight!
Mahinda maama, those who are protesting against all of you have now set up a 'Maina Go Gama' opposite Temple Trees. We heard you are broadcasting 'pirith' to drown the noise of their slogans. That is a smart tactic but I do hope that you are not upset about the setting up of 'Maina Go Gama'.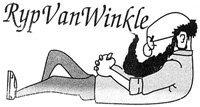 As you have emphasised in recent days, you are a vital part of this government, commanding the support of the majority in Parliament. So, if people are protesting against it, it wouldn't be correct for Gota maama to get his own village and for you not get one, when you are in fact the elder brother.
We can take this concept a step further. Like Preme (Snr)'s 'Udaagama's, we can set up a 'Chamal Go Gama', a 'Namal Go Gama' and a 'Basil Go Gama', promoting them as tourist attractions. The 'Basil Go Gama' can be in Crow Island in Mattakuliya and we can even call it 'Kaputa Go Gama'!
However, what worries me most is what Gota maama is doing these days. While you were busy telling MPs, provincial councillors and some monks that you won't resign, Gota maama was sending letters to party leaders asking them to prepare for an interim government after your resignation.
The very next day, even before the party leaders' meeting, we were told that some 117 MPs support you, that you will stay on as PM and that Gota maama never asked you to resign. I suppose the general public is supposed to listen to all this, say 'well, it's a family matter' and forget about it.
If that is the case, Mahinda maama, why was Gota maama sending letters about forming an interim government after you resign? Either there is someone in Gota maama's office forging his signature and sending letters on the sly, or he is losing his marbles. Either way, it is a serious matter, isn't it?
To confuse us even more, Aiyo Sirisena then emerges from the shadows and says he had a meeting with Gota maama who agreed to an 'interim' government with a new PM. We have learnt not to trust Aiyo Sirisena, but can you see why people are confused, and don't know whether you are staying or going?
Whatever happens, Mahinda maama, I hope that the 'sahodara samaagama' remains intact. Recent events may have put a strain on family ties and Basil maama and Chamal maama must be sulking about being stripped of their ministries; but desperate situations need desperate solutions, don't they?
During the New Year we usually see the entire 'R' family at Medamulana on TV, eating kiribath and enjoying themselves. We didn't see that this year. I hope that isn't because you are fighting with each other. Nothing brings down a dynasty more than squabbling siblings. Remember Anura and Satellite?
After winning the war, some likened you to King Dutugemunu who united the nation. Others treated you like a God. You could have retired and enjoyed that status forever. Sometimes, Mahinda maama, it is better to go when people ask you why you are going rather than wait till they ask you why you aren't.
Yours truly,
Punchi Putha
PS: I do feel sorry for Namal baby. The poor chap had dreams of becoming the boss one day, simply because he was the 'heir' to the throne. Now, in a way, he has become like Sajith: just as much as his surname got him a head start in politics, it may also become his biggest liability.