GotaGoGama: Peaceful protesting through art and performance
By Tharushi Weerasinghe
Galle Face Green protests still on after two weeks, despite dwindling numbers
View(s):
Two weeks after it kicked off, 'GotaGoGama' has transformed from a satirically-named protest site to a community of people expressing themselves through art, performance and public service.
"This is a new generation of dissent," said 59-year-old advertising professional Jude Marlon Silva. "I have never seen a revolution like this before." He recalls the clashes of the 1980s, the bloodshed, and the violence. This "aragalaya" was nothing like it. The protest at Galle Face was consistently peaceful without a weapon in sight–just placards and chants.
Mr Silva has participated in this "youth" protest, board around his neck, for eight days saying Sri Lanka's leaders have "beggared" the country. He says he will support it for as long as it takes for these leaders to listen. "This is not just a protest now," he declared. "It's the birth of a protest culture."
Hot food makes its way to the many tents. Volunteers bustle about every day; some have been there from day one. Muslims have been partaking in the Iftar organised for them by fellow-protesters of all races and religions.
The national anthem was initially sung each day at GotaGoGama in Sinhala. After this was criticised as being dismissive of the Tamils who have undergone decades of repression, it is being sung now in both languages. It is popularising and familiarising Sri Lankans with the Tamil words of the anthem.
Other groups are protesting across the country. Journalists, artists, even Central Bank employees marched to Galle Face with their demands. But for a few, most gatherings have been peaceful. Multiple GotaGogama "branches" have sprung up in Anuradhapura, Kandy, Galle, and Negombo.
Compared with the previous week, however, the numbers at Galle Face have dropped significantly. And donations, while sufficient, were not as overabundant as they were. And fewer people were camping overnight in tents.
"More people have returned to start 'occupy' movements in their hometowns since the Rambukkana violence happened," observed Buwanaka Perera, who has been on-site for 15 days. He expects the protests to now multiply. "Because they are doing the battle out there, the Galle Face movement, which is more of a symbolic movement, is surviving without dispersion," he analysed.
Mr. Perera attributed several positive developments–including notable resignations, accountability for bad policy and proposed constitutional amendments–to the continuing efforts and pressure of the People's Protest. Multiple petitions are still being signed. One containing five demands including resignation of the Rajapaksas, repealing of the 19th Amendment and a six-month interim Government, received 13,500 signatures as of Thursday. Another petition with 70,000 signatures calling for sanctions against the Rajapaksas and justice for the shooting in Rambukkana was handed over to the United Nations compound on Friday.
Police use of live ammunition in Rambukkana has caused some apprehension around protests. But people now seem more determined to remain peaceful.
Even the war veterans joined in. Sarath Mahindasiri, 40, rested with his prosthetic leg on the pavement under the veterans' tent. "We are sad about what the country we risked ourselves to save has come to," he said. Thieving rulers are their new enemy. Their loyalty was with the country, not the Government.
"We can't stay home when our young ones are out here fighting for their future," he insisted. "We will make sure that the freedom we won is sustained into their future." By Thursday, they had been there for 11 days and said they would continue till demands were met.
Outside the gate of the Presidential Secretariat, young men and women continue chanting, emboldened by the Rambukkana shootings. "If any of Gota's spy goons are here, take a good look, this is what we look like and we aren't scared!" one man challenged via a loudhailer.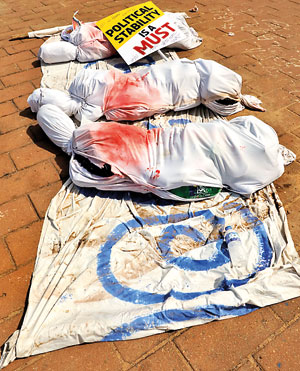 "We won't hit them even if they hit us," said Pavan Jayasinghe, 35. "These are our boys from the villages. We play cricket with them back home. We won't hurt them." Mr Jayasinghe was working in the donation tents across the road from GotaGoGama–now called 'Ehagama' or the village on the other side.
Those who continue their efforts at Galle Face insist on remaining "non-political". "We are all individuals here with one goal–getting the Rajapaksa family to leave and holding them accountable," he said.
According to a protest tracker compiled by Sri Lanka's Team Watchdog, an open-source research collective, 304 protests were recorded island-wide between April 1 and April 19. Of these, 280 people were from areas that overwhelmingly voted Sri Lanka Podujana Peramuna (SLPP).
While teeming with intelligence and some police and military intimidation, protestors in the South have been relatively free to express themselves. But this right is not equal across Sri Lanka. It was an illusion to believe protests against the Rajapaksas is new or unique. The fight is decades-old among Tamils.
"They have been protesting since the Rajapaksas came out of power," said Amalini De Sayrah, a post-war reparations researcher. Families of the disappeared were on the roads for years seeking justice and answers. Even the practice of camping out happened in Northern protests for years despite militarisation. "People have camped right outside army camps in protest to reclaim the lands that were taken from them," she pointed out.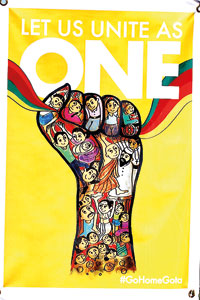 Meanwhile, demonstrators in the former conflict areas continue to be treated differently. Parliamentarian Shanakiyan Rajaputhiran tweeted this week that Courts prohibited him and eight others from attending gatherings in Batticaloa due to "COVID-19 restrictions"–during the period when the Health Ministry lifted the mask mandate.
"There is diverse participation in protests," said Ms De Sayrah. "There is an acknowledgment that politicians have thrived on division. But we have 70 years of unlearning and undoing to do." Facing uncomfortable histories is vital to ensure unity lasts beyond economic crisis. She was hopeful that conversations started here would not be in vain and that longstanding minority hurts would be dealt with.
Cross-cultural interactions and free access to information have turned GotaGoGama into a knowledge hub. People were seen using these resources. The tent library is always full of readers hunched over books in deep concentration amidst the noise.
At the "People's Forum" next door, there are thought-provoking statements hung on the sides. People read them and write down their views on a book at the desk. Tent-holders say these ideas will be compiled and published.
A "People's University" for intellectual discussions is humming with the sound of conversation. A giant screen at the site play clips from Parliament and so on. There are always viewers. Over the past week, a free "childcare" center, free counseling center and more legal advice centers were set up.
"People have a lot of questions, especially about the constitutional solutions available to them," noted 24-year-old student Anjana Kalindu who was at the "law advice tent" on Thursday.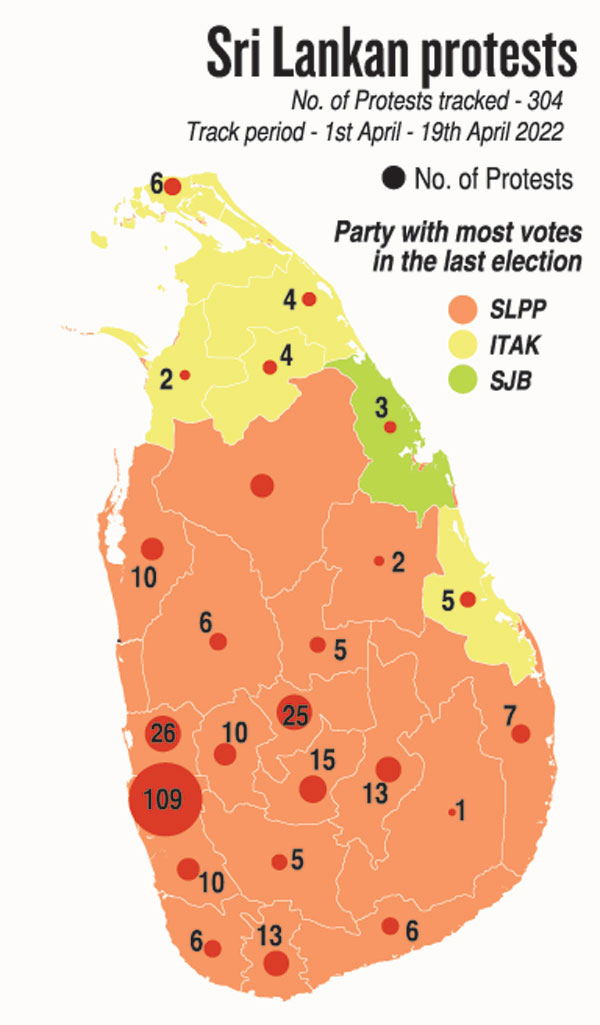 Started by a group of friends from the University of Colombo Law Faculty, it has been addressing questions about how the President could be removed, the possibility of reclaiming stolen national assets, the right to protest, the no-confidence motion, the travel bans and the recourse available when the President does step down.
"All the solutions we give are ones that are available within the Constitution of Sri Lanka," Mr. Kalindu said.
Art is a key component of GotaGoGama. There are murals against ecological harm caused by the Government and portraits of murder victims. Painters are creating politically vibrant caricatures on-site. Memorials, music, poetry and performance art pieces keep adding on to the landscape.    While visibly exhausted, participants are persistent. And the chants are GotaGoGama are still reverberating around the country: "We won't go home, till they do."
The best way to say that you found the home of your dreams is by finding it on Hitad.lk. We have listings for apartments for sale or rent in Sri Lanka, no matter what locale you're looking for! Whether you live in Colombo, Galle, Kandy, Matara, Jaffna and more - we've got them all!