Fuel crisis a chance to create tracks for pedal power
By Malaka Rodrigo
View(s):
Senior manager of the Nations Trust Bank Wattala branch, Ruwan Kolitha leaves his residence at Udahamulla, Nugegoda every day around 6.30 am,, while his colleagues spend hours in fuel queues
Mr. Kolitha rides his bicycle from Udahamulla to the office, about 20 kilometres, which takes him about one hour.
"If I use my car, it take at least one hour to cover this distance and on days with traffic jams, it takes more time," Mr. Kolitha told the Sunday Times. The car consumes about four litres for the two-way trip. Based on the fuel price, Mr Kolitha saves over Rs.1,000 daily, or at least Rs. 25,000 a month.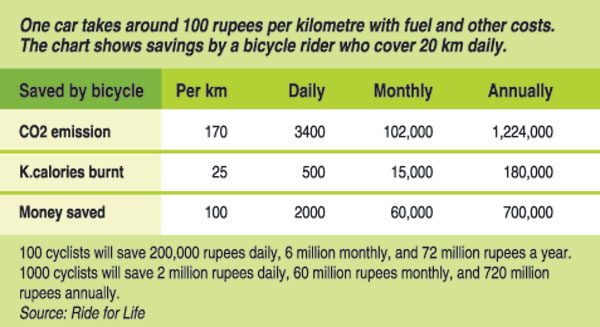 He suggests cycling could also help to reduce the country's fuel import bill.
Cycling is good for one's health, says Dr. Asela Abeydeera. Riding a bike for 30 mins at 12 miles per hour, one can burn 298 calories. This will boost your immune system and keep you fit, said Dr. Abeydeera who rides his bike from Piliyandala to Borella every day. He rides about 15km and during the morning and evening rush hours, he beats the traffic.
The bicycle has been termed as the 'poor man's vehicle', but architects, bankers, businessmen, doctors are among those who ride to work daily, said Mr. Kolitha.
Dr Abeydeera and like-minded people had created an informal group called 'Ride for Life', which has grown to 1,000. If a million people ride 10km a day for a month, it could help save US$250 million, (Rs 83.7 billion) the team estimates. Dr. Abeydeera said it is also estimated that to travel 1 km by car costs at least Rs.100, so if 100 cyclists ride daily from Moratuwa to Colombo and back Rs. 200,000 could be saved daily, 6 million monthly and 72 million a year. This will also be more environmentally friendly as it will reduce the Carbon Dioxide emission.
Dr. T. Shivakumar of the department of transport and logistics management of the Faculty of Engineering at the University of Moratuwa, said safety is a main concern.
Many developed countries have separate lanes for cyclists and cycling was promoted during the coronavirus disease pandemic.
In contrast, Sri Lanka spends billions of rupees on highways, but cycling lanes could be created at a fraction of that cost. At least new highways should have cycle lanes, Dr. Shivakumar said.
Riding during the day in the heat is also a challenge in the tropics, but countries including Philippines promote cycling.
Shade trees could be planted along cycling tracks,
Dr. Shivakumar said. After a ride, one may need to take a wash, so locker and shower facilities in public areas, too, should be developed, he added.
The 'Ride for Life' team proposes six cycling lanes to Colombo starting from Panadura, Piliyandala, Kottawa multimodal centre to connect Port City / Parliament Lane, Kaduwela connecting to Peliyagoda, Ja-ela to Fort and a circular track across Moratuwa, Nugegoda, Rajagiriya, Wellampitiya, Peliyagoda interconnection to Port City/Pelawatte loop. These need not be built alongside busy roads, but alternative routes can be created along canal/river banks, railways, fields and parks.
Dr. Abeydeera, Mr Kolitha and most others have access to private shower facilities. They carry their office wear in bags attached to the carrying container fixed on the bike. They also propose shower and locker facilities for a fee at multimodal transport hubs and private and public buildings along with parking areas.
These proposals were submitted to the government through then environment minister Mahinda Amaraweera in January this year. Mr Amaraweera said later the ministry is preparing to promote cycling to reduce air pollution and also considering other factors. He said the government incurs a cost of Rs. 103.56 per km when a vehicle enters Colombo during traffic congestion (based on January fuel prices).
Dr Abyedeera said riding a bicycle when going grocery shopping to a nearest town could also help save money and also be environment friendly.
The University of Moratuwa is doing a survey on bicycle use and is inviting suggestions, through the link https://tinyurl.com/2x2j9u94

The best way to say that you found the home of your dreams is by finding it on Hitad.lk. We have listings for apartments for sale or rent in Sri Lanka, no matter what locale you're looking for! Whether you live in Colombo, Galle, Kandy, Matara, Jaffna and more - we've got them all!