Fares shock forces workers to skip the bus
By Chrishanthi Christopher
View(s):
The latest increase in bus fares to near 50% following the haphazard fuel price revision within weeks has made travelling much more expensive for the average wage earner.
Bus operators said fewer people are travelling and services have been limited to the mornings and evenings for school children and office workers.
Lanka Private Bus Owners Association said that only about 7,000 buses out of a fleet of 18,000 are operating.
Fuel prices have skyrocketed since the greenback was allowed to float in early March this year. The dollar which was pegged at Rs. 202 went haywire fetching Rs. 310 to the rupee triggering a fuel price increase two times within weeks. On March 11, petrol was increased by Rs. 77 per litre and auto diesel by Rs. 55 within days of the peg being loosened.
When the US dollar touched Rs. 340, another increase of 35% followed on April 18 with diesel price shooting up by Rs 113 and petrol by Rs. 84. Diesel is now at Rs 289 and petrol at Rs. 338.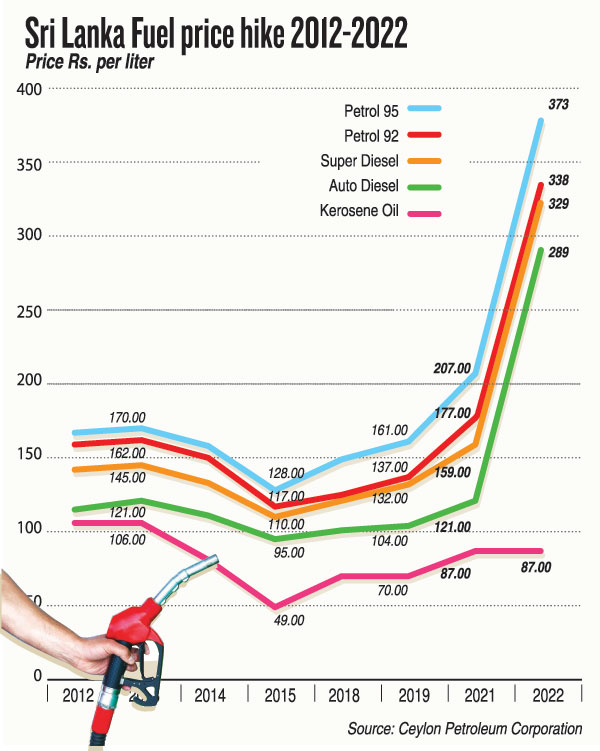 In addition, the cost of engine oil and spare parts have doubled.
Gemunu Wijeratne who heads the private bus owners group, said: "We have no choice but to increase prices in line with the fuel price increase.''
Earlier, the bus fare one way from Nittambuwa to Colombo was Rs. 110. But now it is around Rs. 200. A bus conductor who earns Rs. 800 a day traveling from Nittambuwa will spend Rs. 400 on bus fare alone. Add his food expenses and a cup of tea to the amount, and he has nothing left of his earnings to take home, Mr Wijeratne said.
The All Island School Children Transport Association said it was reluctantly compelled to increase charges.
The general secretary Lalith Chandrasiri said charges were increased in early March this year and feel it is not ethical to tax the parents again.
He said that they are discussing with parents to work out a formula for charges depending on distance travelled by a student.
The Inter Provincial Bus Owners Association, said passenger volume has dropped considerably.
Dhammika Gunewardena, who heads the group, said people are avoiding long distance travel.
The fare has nearly doubled from Rs. 570 to Rs. 1,190 per person. Many he said are public sector workers and they cannot afford the fares. Many are sharing motorbikes.
"The government has to give some relief in the form of fuel subsidies so that these people can travel as usual,'' he said.
In Jaffna, many people who travel by motorbikes switched to public transport because of the fuel shortage, but now they cut down on bus travel.
"Paying Rs 36 to travel one stop is too much to pay,'' said Jaffna IPBOA secretary Ponnuthurai Gunalan.
For those who hire three-wheelers to work and for errands, the revised fares are a shock.
Some three-wheeler unions have given the green light to members to stop using meters and negotiate the fare for hires.
But, many unscrupulous drivers are accused of charging up to Rs 400 for a distance that cost only Rs 100 previously.
The All Island Three Wheeler Drivers and Owners Association said that people should avoid such hires.
S. Jayaruck who heads the union said a nominal Rs. 80 has been suggested for the first kilometre and Rs 70 for every other kilometre travelled.
"We understand that the people cannot afford,'' he said.
Besides, he said that the price increase has been only calculated purely based on fuel prices. "Everything has gone up in price. Engine oil, spare parts, and tyres have skyrocketed,'' he said.
Meanwhile, the Railway Department is also lobbying for a fare increase. Recently, the fare from Colombo to Kandy was increased without any announcement.
Teachers plan general strike

The Ceylon Teachers Union (CTU) is planning a major protest campaign against the fuel price hikes.

General secretary Joseph Stalin said teachers would report sick tomorrow, as part of this campaign, and a general strike was being planned for April 28 countrywide to protest against the hike.

The protest campaign follows the Education Ministry's rejection of the union's request that teachers and children be allowed to report to the nearest schools.

He said following the fuel price hike teachers were facing hardship in travelling because of the limited bus service and increased cost of travelling.

Children who travel by bus were also being inconvenienced while their parents could not afford to pay high transport fares, he said .

"The government does not understand people's problems and we teachers have decided to protest," he said.
The best way to say that you found the home of your dreams is by finding it on Hitad.lk. We have listings for apartments for sale or rent in Sri Lanka, no matter what locale you're looking for! Whether you live in Colombo, Galle, Kandy, Matara, Jaffna and more - we've got them all!